THE NETHERLANDS is home to one of the largest and most exuberant street parties in the world: King's Day, which falls on the King's birthday on April 27. King's Day (or Koningsdag in Dutch) is a festive day celebrating the Dutch people's love for King Willem Alexander and the House of Orange monarchy. The first King's Day was celebrated in 2014 after the coronation of the present monarch, King Willem-Alexander.
The Dutch show their appreciation by turning all they can lay their hands on a bright shade of orange — hair, skin, clothes, cakes, you name it. Also included in the celebrations is oranjebitter, an alcoholic beverage made from orange peels soaked in brandy that was first concocted in the 1600s.
While the celebration is in the Netherlands, that doesn't mean you can't use King's Day as an excuse for a Dutch party if you're stateside. Several US cities have such strong Dutch heritage that they celebrate Dutch culture all year round. If you have FOMO from not taking part in King's Day, admiring Keukenhof Tulip Gardens, and enjoying other Dutch festivals in the Netherlands this year, head on to these cities and revel in some carefully curated Dutch cultural experiences.
1. Holland, Michigan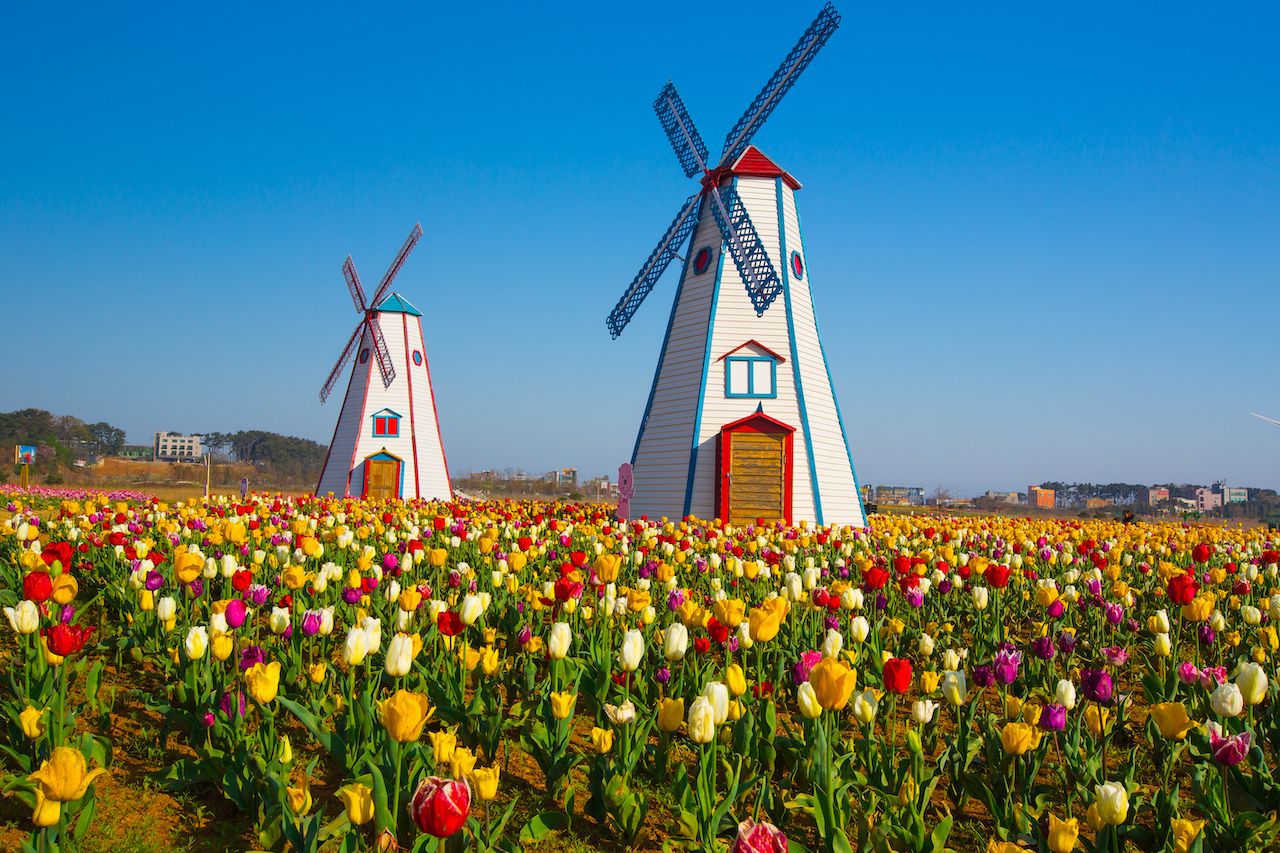 Photo: yochika photographer/Shutterstock
Dutch settlers of the Calvinist faith arrived in Holland, MI, in 1847 with their leader, Dr. Albertus Van Raalte. Over generations, the settlers sought to meticulously preserve their culture, which eventually led to the town's fame. To experience authentic Dutch heritage without crossing the Atlantic, spend time at the Tulip Time Festival taking place in early May and admire the colorful tulips along Holland's historic 8th Street downtown. Get a taste of Amsterdam's Keukenhof (the largest flower garden in the world) by exploring Veldheer Tulip Gardens, Holland's only tulip farm. In Holland, step back a century at Nelis' Dutch Village to shop at traditional marktplaats and tour the DeKlomp Wooden Shoe and Delft Factory — the only place in the US where the renowned blue and white glazed pottery is made. Don't forget to visit De Zwaan windmill at family-friendly Windmill Island Gardens to see the insides of an authentic mill, meet the certified grain miller, and check out a Dutch inn replica. Visit the Holland Museum for city history, Delftware collection, and artworks by Dutch painters.
2. Albany, New York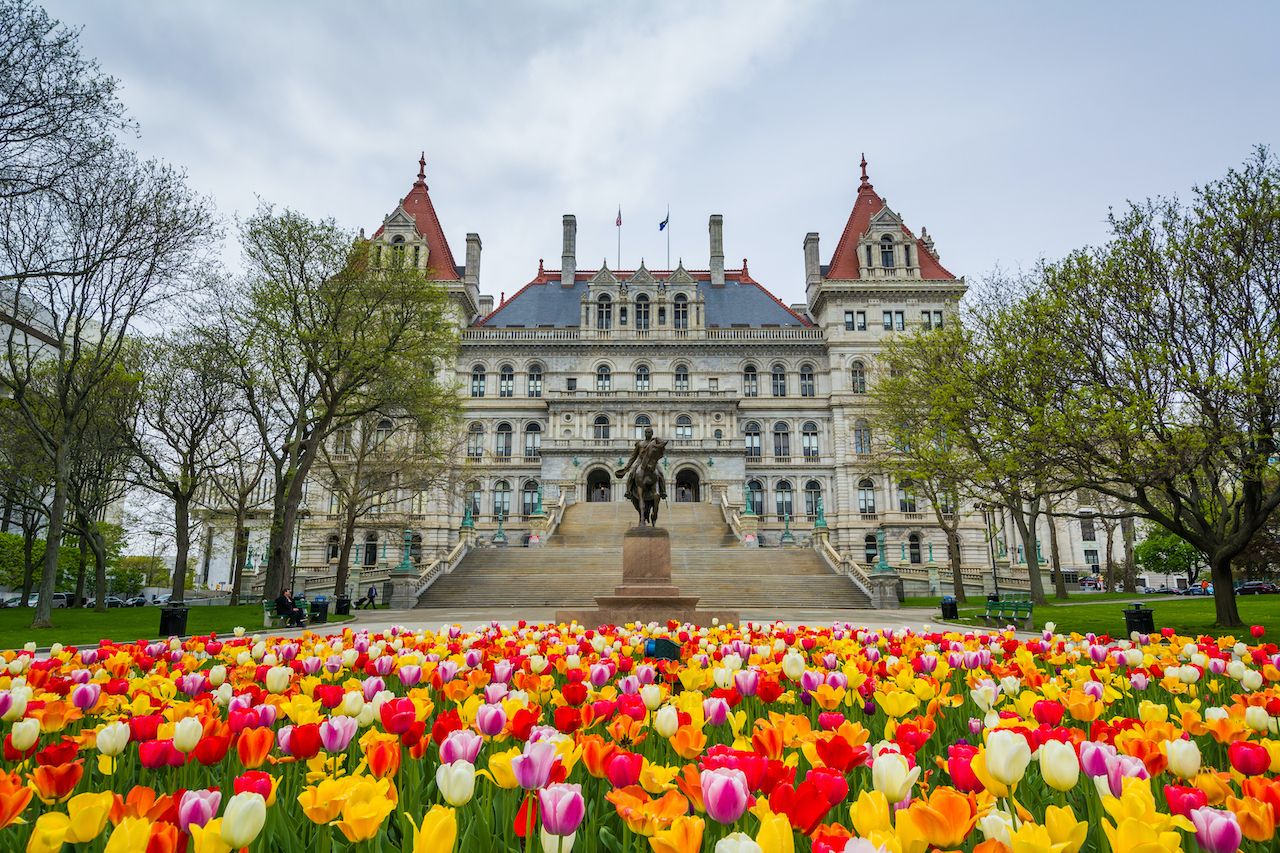 Photo: Jon Bilous/Shutterstock
Tulip lovers in the Northeast need not fly abroad to view these delicate bulbs because they bloom every spring at Washington Park in Albany. New York State, once named New Netherland, was settled in the 1620s by the Dutch, and cultural remnants abound. The origins of the tulip festival stem from when Mayor Corning declared the tulip as Albany's official flower in 1948 and got Queen Wilhelmina of the Netherlands to name a bulb variety as Albany's tulip in the same year. For over seven decades, Albany has held a Tulip Festival every May with a Royal Tulip Ball, celebrating the city and its Tulip Queen with arts and crafts, music, and food stands. Explore tulip blooms at specific locations like the Tulip Sculpture at Wallenberg Park, tulip beds at Historic Cherry Hill, and, of course, blossoms at Washington Park.
3. Lefferts Historic Home, Brooklyn, New York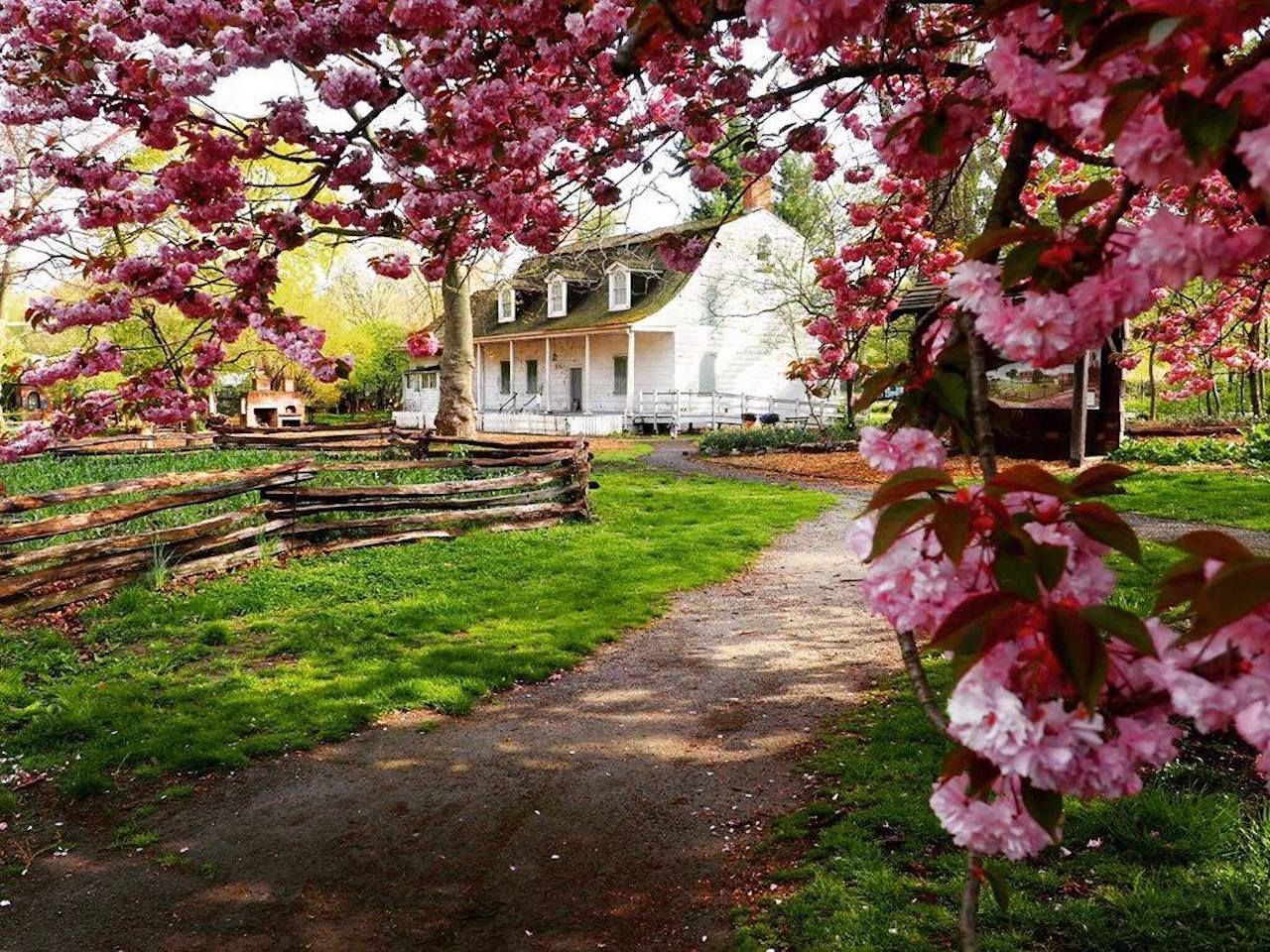 Photo: Prospect Park/Facebook
Pivot from tulips to the life of a prominent Dutch settler family in New York City, formerly New Amsterdam. Lefferts Historic Home was moved to its present location in Prospect Park, Brooklyn, from its original site on Flatbush Avenue and Maple Street, by the City of New
York for historic preservation. It is an 18th-century living museum depicting the lives of the Lefferts' and the enslaved people that lived with and farmed for them. The homestead features original and restored furnishing, settler life re-enactments, objects of a settler household such as crockery, and a working garden. Learn the early history of Breuckelen — now Brooklyn — as a farming village. Lefferts Home is currently closed for restoration with no fixed opening date, but you can remotely tour the home with these virtual programs.
4. Rhinebeck, New York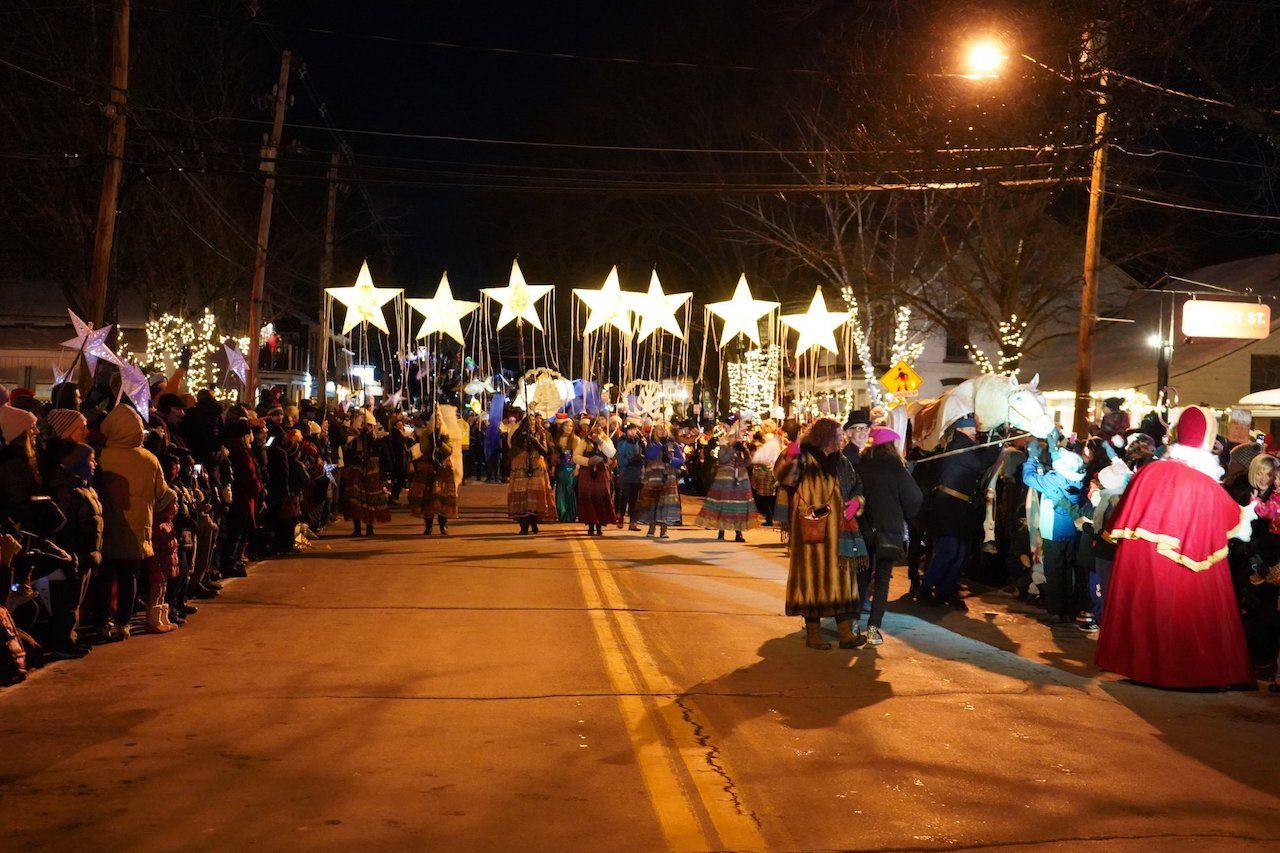 Photo: Sinterklaas Rhinebeck/Facebook
Rhinebeck in New York State's Hudson Valley is a picturesque town with strong Dutch roots. It may not have tulip blooms for you to check out in the spring, but it has a Dutch winter festival — Sinterklaas. Originally called "Dutch Christmas," it was brought to the area by Dutch settlers over 300 years ago. Held annually in early December, Sinterklaas features Nicholas Sinterklass, who was reputedly born in present-day Turkey, spends the year in Spain, then sails to the Netherlands to visit children with his controversial helper, Black Peter — or Zwarte Piet in Dutch. (Many Afro-Dutch citizens have campaigned against the blackface depiction of Zwarte Piet.) In 1985, Rhinebeck festival organizers voted to transform Zwarte Piet from its historical blackface to a friendly Grumpus — Sinterklaas' sidekick — who gives presents to children. Sinterklaas has parades, music, games, Dutch pastries, and a Snow King and Queen. After the British takeover of New Netherland (New York) in 1664, Sinterklaas was Anglicized to Santa Claus where it entered American folklore.
5. Pella, Iowa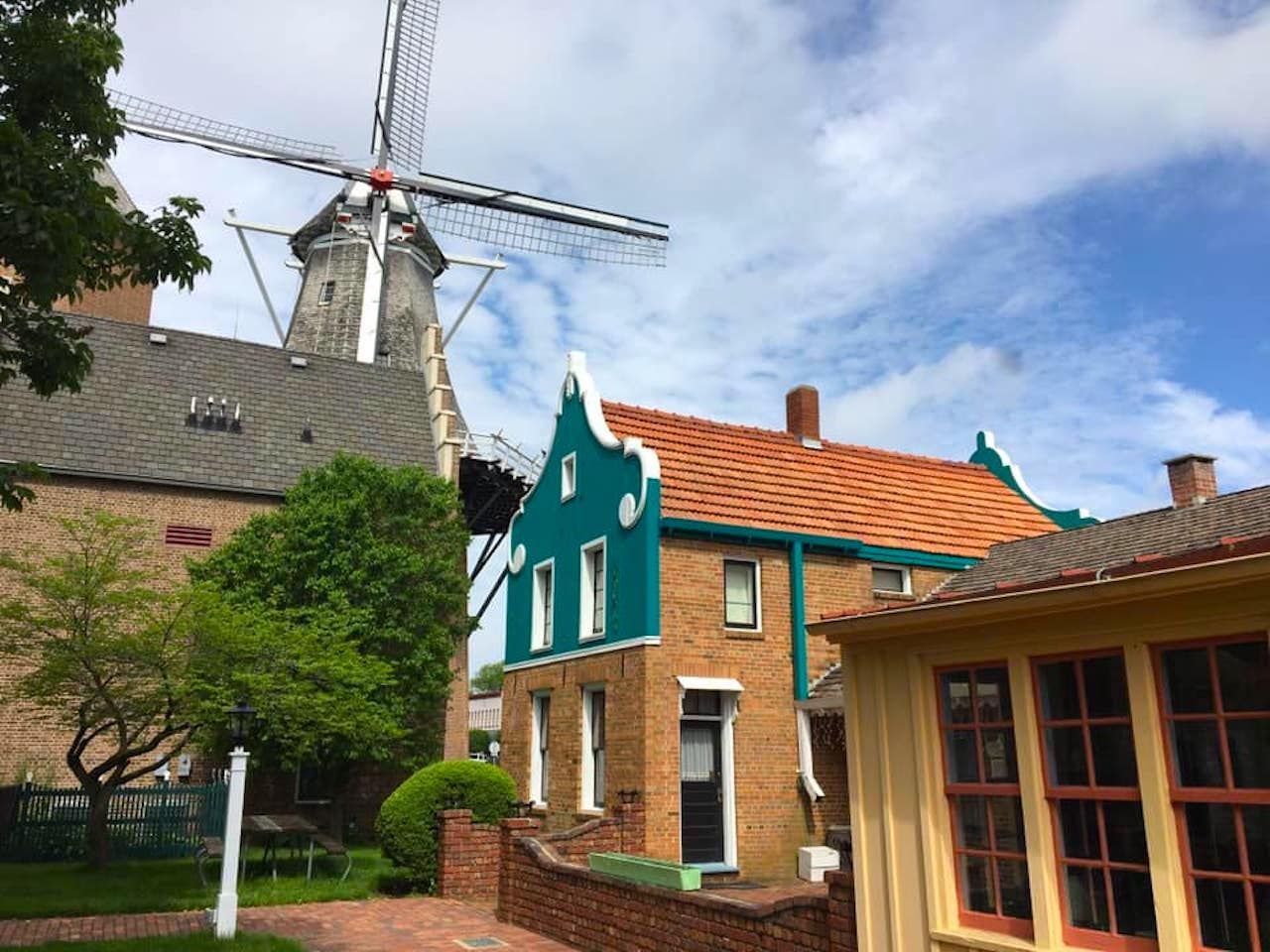 Photo: Pella Historical Museum and Tulip Time/Facebook
Pella was founded in 1847 by 800 Dutch immigrants and has grown to a city of over 10,000. Over generations, inhabitants have celebrated their Dutch heritage with traditional parades and festivals, attracting many visitors. Get into a belated King's Day mood with the annual Tulip Time Festival in early May and experience Dutch heritage at its finest. Feast your eyes on thousands of tulips at the Tulip Garden and eat your way through poffertjes — Dutch mini pancakes served with powdered sugar and butter — at food stands. Observe Pella's transformation into a Dutch town at Pella Historical Village with a visit to Werkplaats, where the famous Dutch wooden shoes are made. Climb all five floors of Vermeer Mill, the tallest working windmill in North America that mills grain; watch heritage bands in traditional attires; and tour Scholte House Museum, home of one of the famous founding families of Pella. Scholte House was home to Dominie Hendrik Scholte, leader of the band of 800 immigrants to Pella, and he lived at the house with his wife and three daughters till his passing in 1868. Finish with a stroll downtown and fantasize about being in the Netherlands with a Pella city tour of Dutch architecture and the Molengracht canal.
6. Orange City, Iowa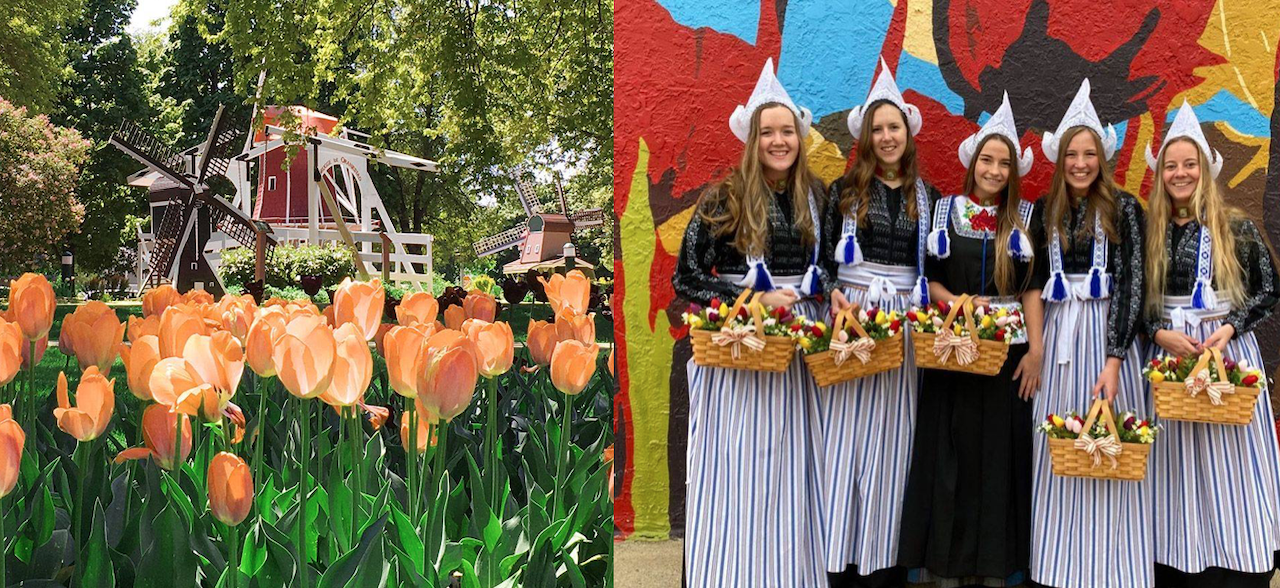 Photo: City of Orange City, Iowa/Facebook + City of Orange City, Iowa/Facebook
Founded in 1870 by Dutch settlers from Pella searching for arable land, Orange City was first named Holland before changing its name to reflect the Dutch Royal House of Orange. Like in Pella, settlers preserved their heritage by introducing their flower growing skills into this new city, resulting in the first Tulip Festival in 1933. There is a costume contest with authentic Dutch clothing handed down over generations; Queen and Court, where five high school seniors are chosen by the public and a Queen selected by a panel; Fietzen Zangers, bicycle singers serenading visitors with Dutch harmonies; Volksparade with Dutch-themed floats; wooden-shoe-carving demonstrations; and the six miniature windmills at Windmill Park along tulip beds and a canal. The Tulip Festival is held annually in the second week of May.
7. Skagit Valley Tulip Festival, Washington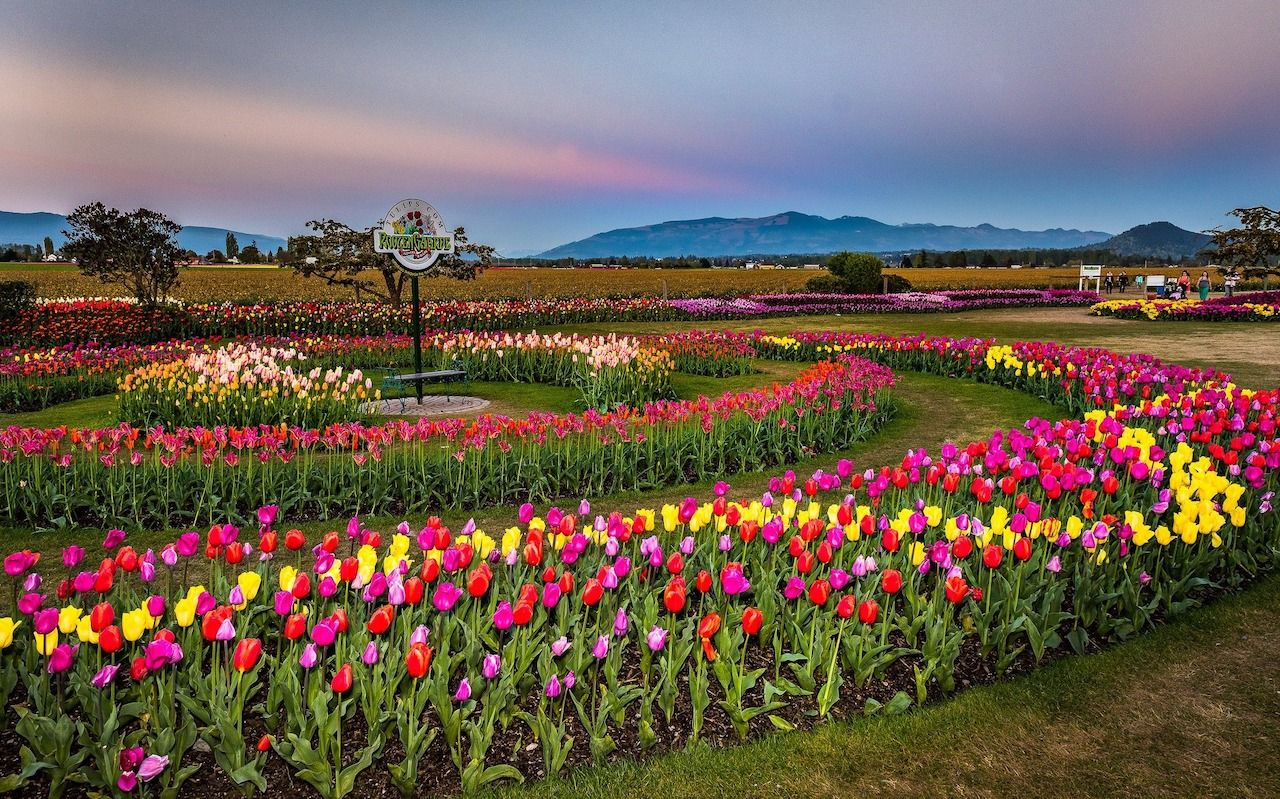 Photo: Skagit Valley Tulip Festival/Facebook
The Skagit Valley Tulip Festival, held every year since the 1920s for the full month of April, has bike tours, a Tulip Run, a street fair, art shows, and fields of brightly colored tulips that visitors can walk among. The bulbs are grown by two of the area's tulip-growing families — RoozenGaarde of the Roozen family and Tulip Town of the DeGoede family. Admire thousands of tulip bulbs at the RoozenGaarde Display Garden, a daffodil field, a gift shop, and a Dutch windmill. The Tulip Festival claims to be Washington State's largest with over a million visitors at its peak so download a festival map as the tulip fields have no exact addresses and are best accessed by driving through multiple points across Skagit Valley.