IF EVER THERE was a time for an excursion to call you away from it all, deeper into the mountains and further into the wilderness, it's now. Thing is, it's cold out there. The answer is the backcountry ski lodge, the sophisticated and well-kept cousin to the more common backcountry ski hut. With amenities like fine-dining, top-shelf wines, and even hot tubs, there's no reason to rough it on your winter wilderness escape. Add in easy access to backcountry skiing, and these luxury chalets prove that just because backcountry lodging is remote doesn't mean it has to be rugged.
1. Sheldon Chalet, Denali National Park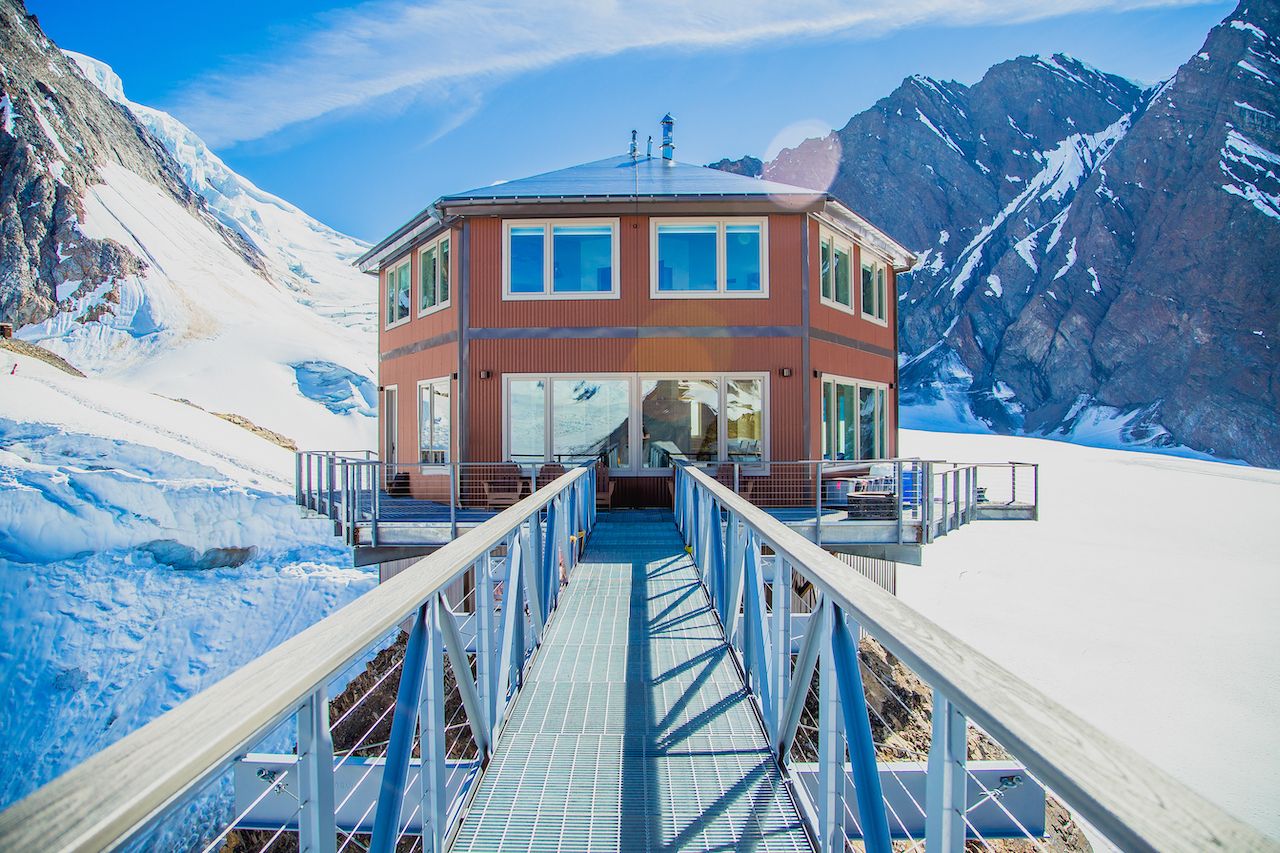 Photo: Alexandra Avila, courtesy of REYA Communications
Deep within Alaska's Denali National Park, the exclusive Sheldon Chalet is the perfect place to be far removed from the rest of the world without having to sacrifice a single comfort. The hexagonal chalet sits on Ruth Glacier, a mere 10 miles from Denali's summit, offering views of North America's highest mountain that are impossible to enjoy from most places within the park. The chalet is catered by professional chefs serving gourmet Alaskan cuisine, and after dining, you'll sleep under a sky full of stars.
Air service lifts you to the chalet, where you'll be outfitted with custom-sized outdoor climbing and exploratory gear. Beginning this season, the exploratory experience is as good as it was in the 1960s because guided backcountry skiing has been brought back for the first time in 50 years — and it comes complete with avalanche and glacier-travel training. Go ski touring up the towering backcountry runs of Denali with skins on your skis and then ski back down towards the lodge. If you're lucky, you'll enjoy the northern lights over happy hour.
2. Red Mountain Alpine Lodge, Colorado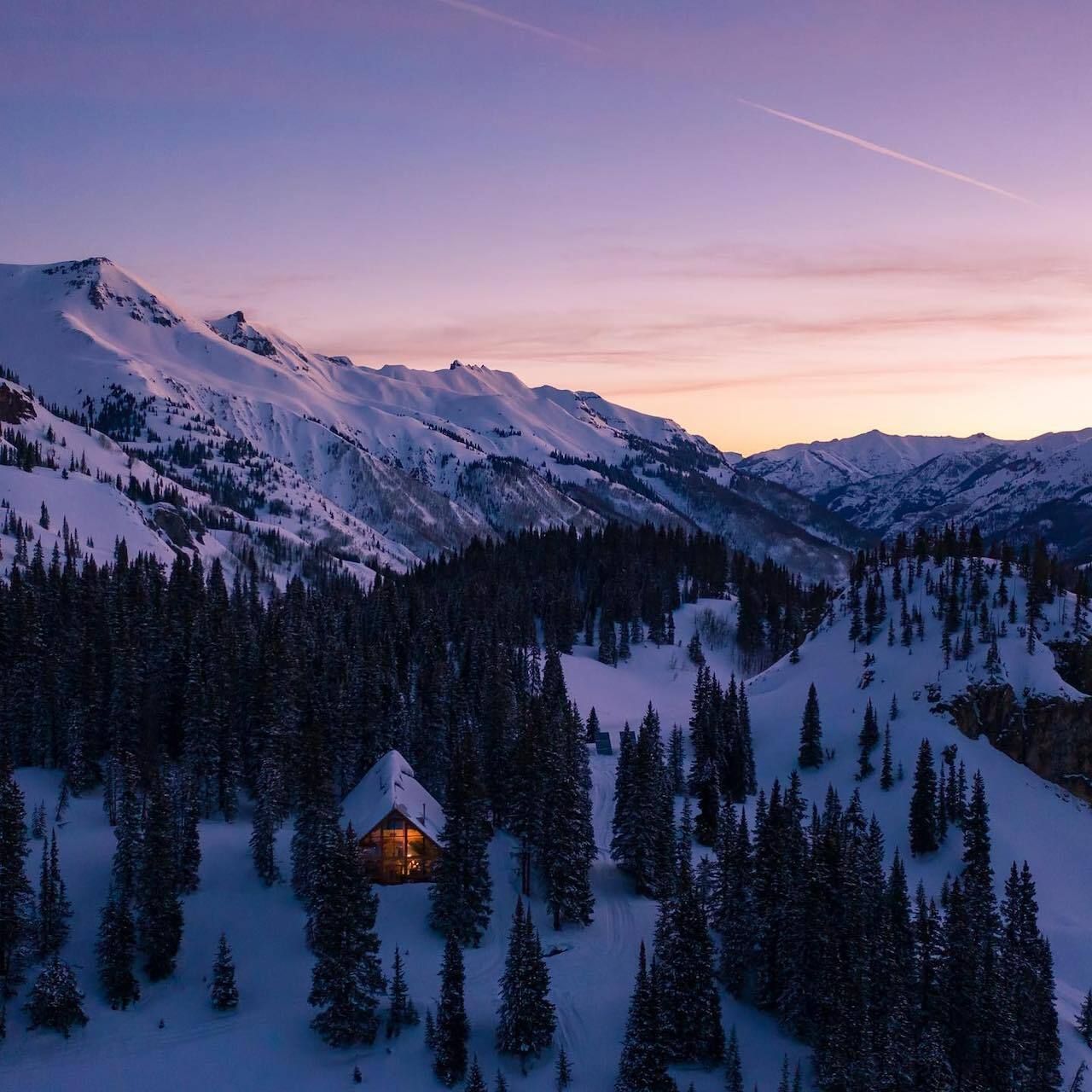 Photo: Red Mountain Alpine Lodge/Facebook
The rugged San Juan Mountains of southern Colorado are the closest thing to the European Alps that North America has to offer, and you'll be atop them at Red Mountain Alpine Lodge. At 11,000 feet and high above the already high-mountain town of Ouray, the term "lodge" is used loosely here. The spot sleeps up to 22 guests; features an onsite coffee bar and après bar stocked with draft beer, fine wines, and spirits; and serves fully catered meals three times per day (including a piping hot soup as soon as you return from the outdoors).
From the lodge, depart on snowshoes or skis and explore the steep ski lines of Red Mountains #1, #2, and #3 or any of the surrounding basins, where more than 200 inches of snowfall annually. San Juan Mountain Guides leads guests into the backcountry and provides expertise on where to ski safely and where the best pockets of untouched powder lie. Afterward, sip hot chocolate by the fireplace, go out on the deck to watch the snowflakes fall, or relax with a book in the living room while pausing occasionally to listen to stories of alpine heroics from the guides, staff, and other guests. When it's time to crash, you'll either sleep in the bunk room or in one of the private bedrooms, equipped to be more comfortable than even the nicest of mountain town hotels.
3. Hideout Lodge, California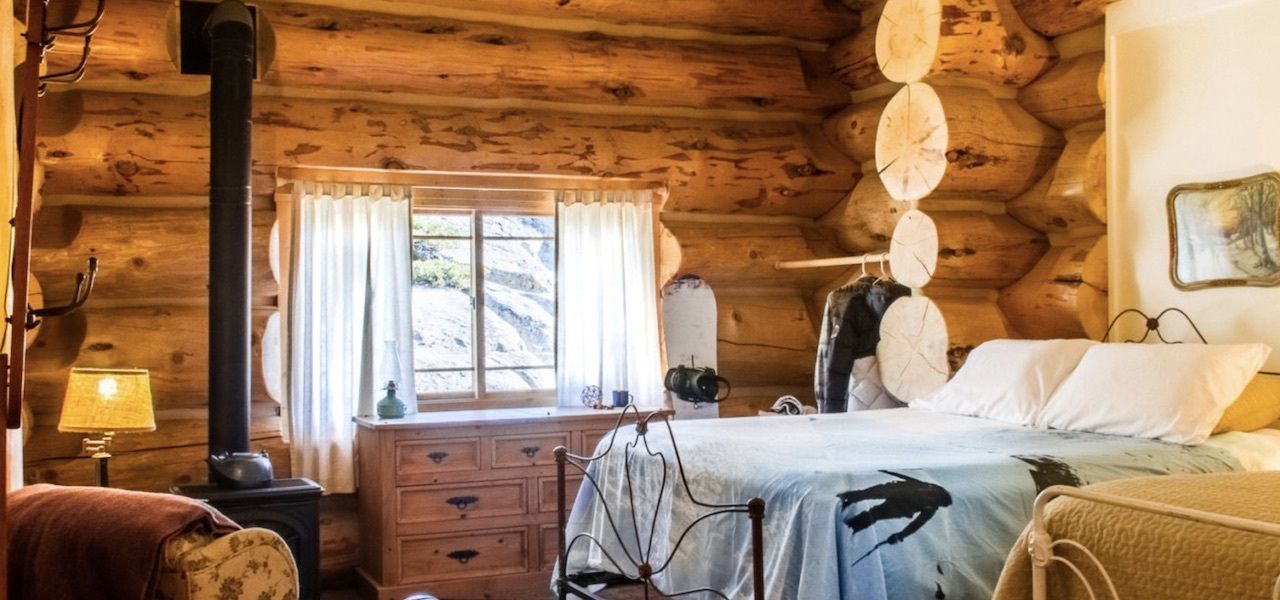 Photo: Hideout Lodge
At 7,100 feet in the Tahoe backcountry, the Hideout Lodge is a luxury mountain retreat mixed with a bit of western charm. The lodge itself, made of wood from the land on which it is located, has five private fancy bedrooms, two kitchens, and even a movie loft for a quiet night in. The onsite chef prepares everything from hearty breakfasts to fuel a day of exploring the mountains to steak and potatoes for dinner, with the ingredients on your plate as likely to be locally sourced as the beer in your pint glass.
Across from the lodge is another lodge better suited for socializing. Here you'll find a sauna to fit your ski crew, a saloon and game room, a hot tub, and postcard-perfect alpine views worthy of a raised toast in every direction. The Hideout also specializes in wellness, with onsite yoga and massages available on certain trips and a menu that can be customized to the pickiest of palates — because a hard day on the mountain doesn't have to be followed by a greasy spoon.
4. Bear Claw Lodge, British Columbia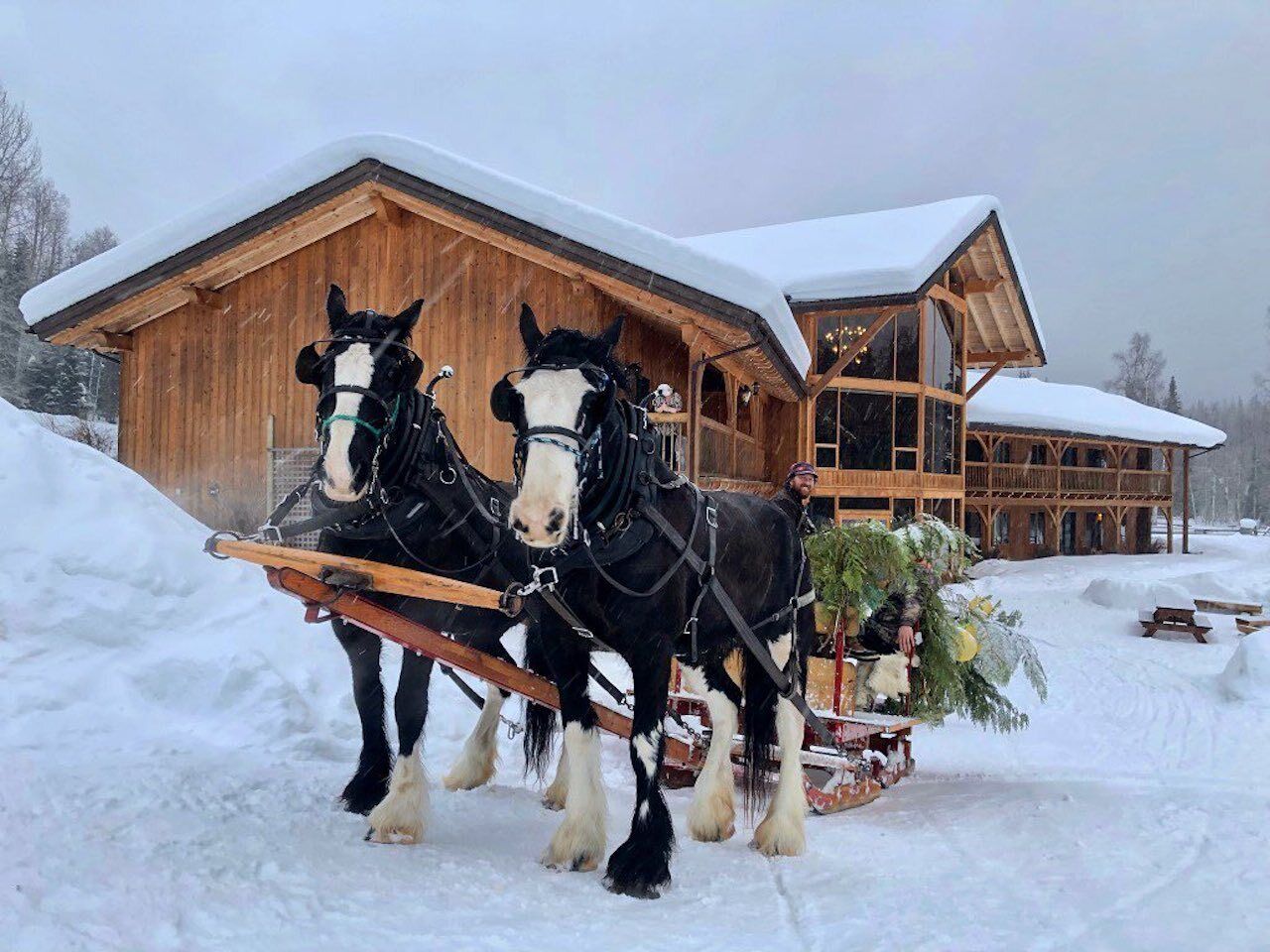 Photo: Bear Claw Lodge/Facebook
Built along the Kispiox River in what locals refer to as "The North," Bear Claw Lodge is the epitome of backcountry opulence. At 15,000 square feet, the lodge itself is huge — a two-story structure that has a massive game room and hot tub, along with eight guest rooms and a large lounge area with views over the river towards the surrounding peaks.
The experience at Bearclaw Lodge is unique on multiple fronts. First, the staff serves caffeinated beverages of choice to your bedroom each morning, setting the tone for a day of full-service, high-end dining. Offered from the lodge are backcountry heli-skiing and snowboarding expeditions, and make-it-yourself adventures like snowshoeing. Round those out with a beer or hot chocolate and a game of pool, and you have yourself a true mountain lodge experience.
5. Stratton Brook Hut, Maine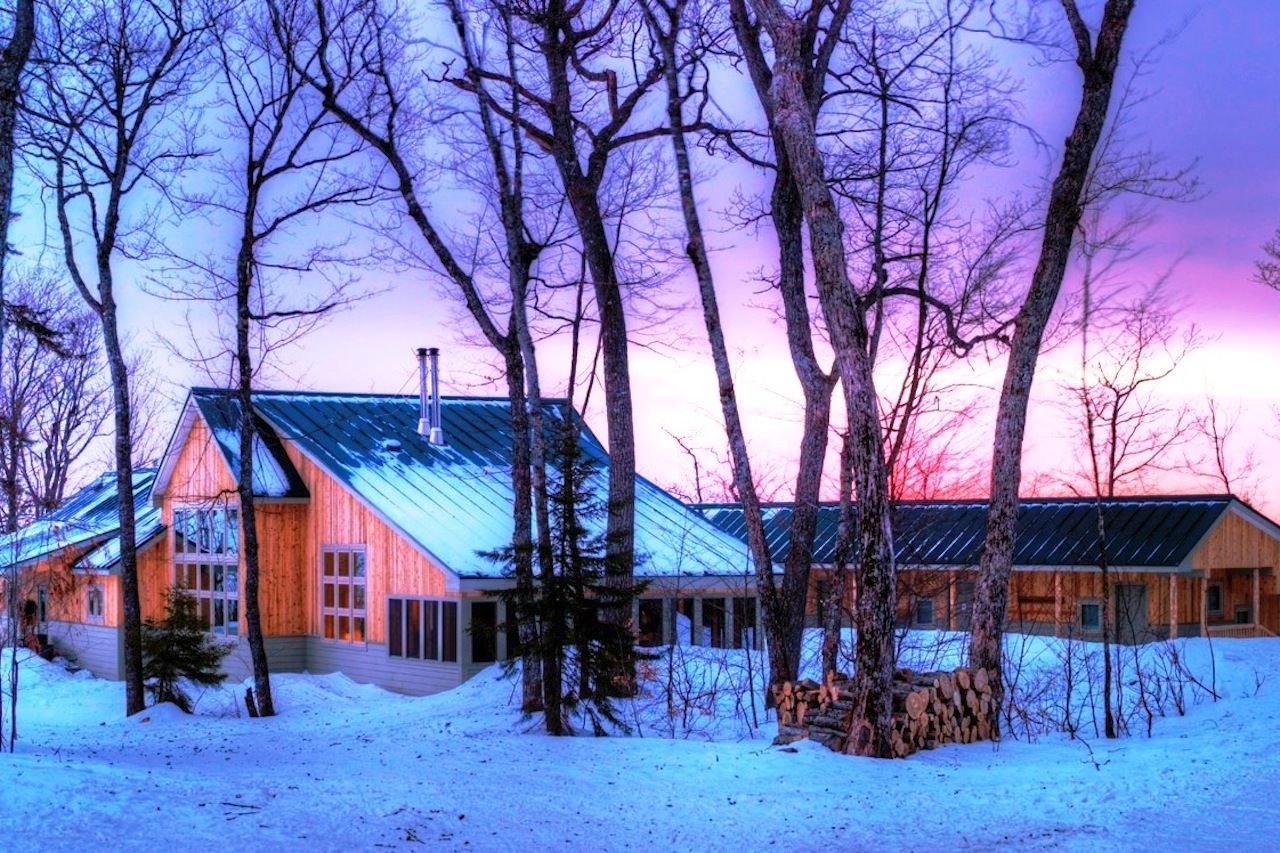 Photo: Maine Huts & Trails
With multiple 4,000-foot peaks surrounding it, Maine's Stratton Brook Hut, part of the Maine Huts system, offers the easiest access to epic ski lines and frosty snowshoe trails in New England. Located at the top of one of the state's most popular trails, the Oak Knoll Trail, the hut is the perfect weekend getaway. Strap on the skins and hit trails right from the lodge. Fat bike trails are available, as well, if you're willing to pedal hard and deal with steeps.