SLEDDING IN THE European Alps is serious business. It's got nothing to do with the casual backyard or neighborhood hill activity you might be used to. In Switzerland, Austria, and France, sled runs are maintained by ski resorts or local communities, and most extend at least a mile — often several miles. Some sled runs have their own trail maps, with information on sledding conditions available on smartphone apps. A few sled runs are reached by their own dedicated gondola while others are floodlit at night, serving as a hella fun, and hella scary, way to get back to village hotel rooms after a boozy fondue dinner at a mountain-top restaurant.
Even for sled runs geared to families, these multi-mile trails cut into the sides of mountains — with drop-offs, twisting turns, and serious steeps — may prohibit kids under 14 from descending solo and kids under eight from going at all. Either way, sledding — also called sledging or tobogganing — is an activity all its own in the Alps. Whether you're up for an out-of-control plunge down several miles of narrow mountain path or a tipsy slide after dinner, in Europe you'll find the most thrilling sledding hills in the world.
A note on the sleds and gear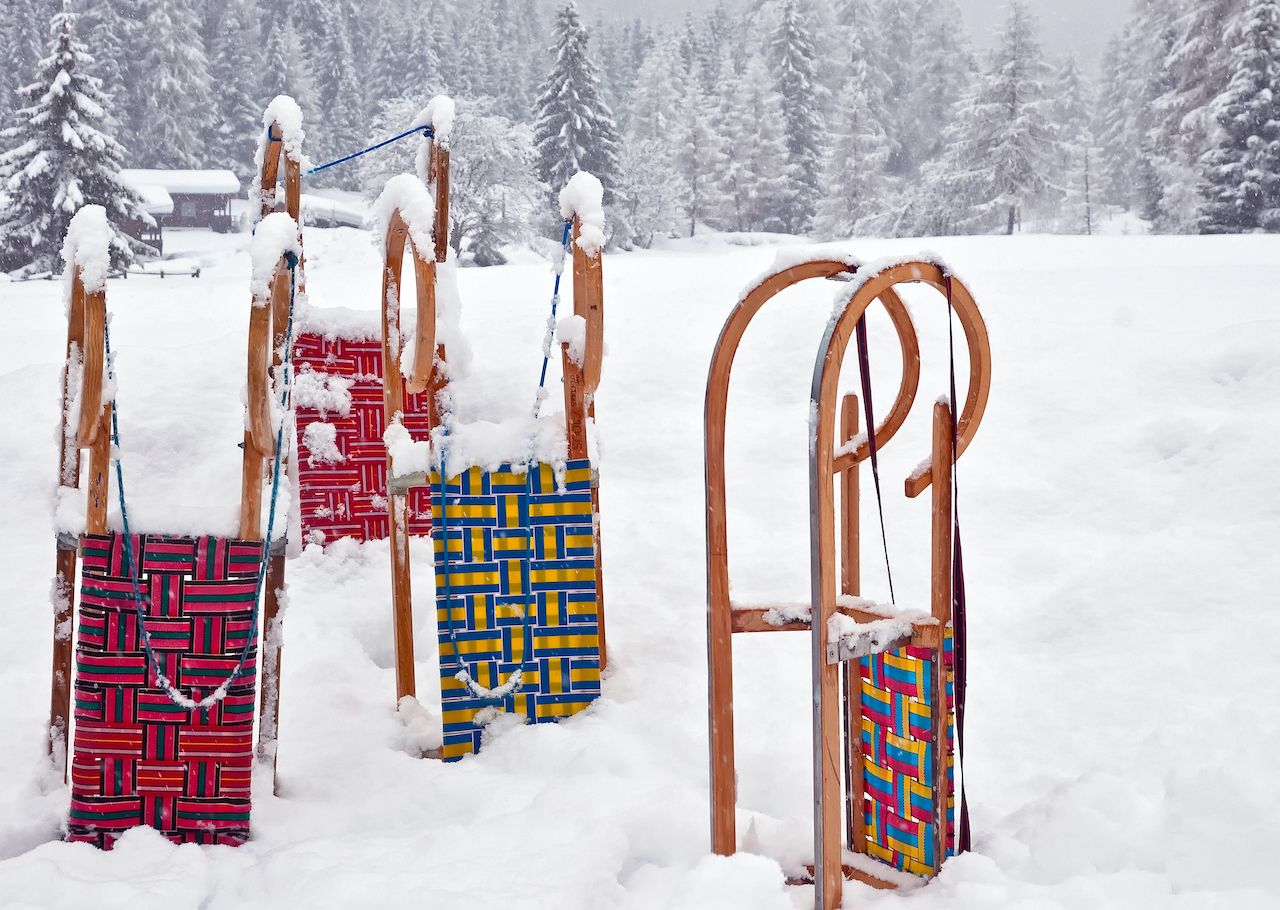 Photo: Marijs/Shutterstock
You may be used to plastic sleds made in primary colors shaped like saucers or vaguely pointed rectangles. While you might find a few of these, they aren't suited to the sledding you'll encounter in the Alps. Here, they prefer to stick to tradition, making sturdy sleds with wood and metal. In Switzerland, sleds are made the way they have been for centuries, with the seating area made of wood or stretched fabric and technical specifications detailed online for prospective buyers.
The straight metal runners are connected to the sides of the sled, which means that trying to lean your weight to one side or the other will have pretty much zero effect on turning it. Instead, you'll have to use your feet in front of you or drag your hands behind you like a rudder. However, a handful of newer wooden sleds, particularly in Austria, come with the two runners attached to a vertical strut that then connects to the middle of the seat, which means that if you lean one way or the other, like on a bicycle, you'll be able to steer a bit. Some newer sleds also have brakes, a welcome addition on these runs.
Beyond the sleds, the only gear you'll need is warm clothes, including waterproof boots, as you'll be using your feet to brake, and warm gloves or mittens, as you'll be using your hands to rudder. Some sled runs require helmets, and depending on the weather, goggles may be helpful.
1. Saas-fee sledding hill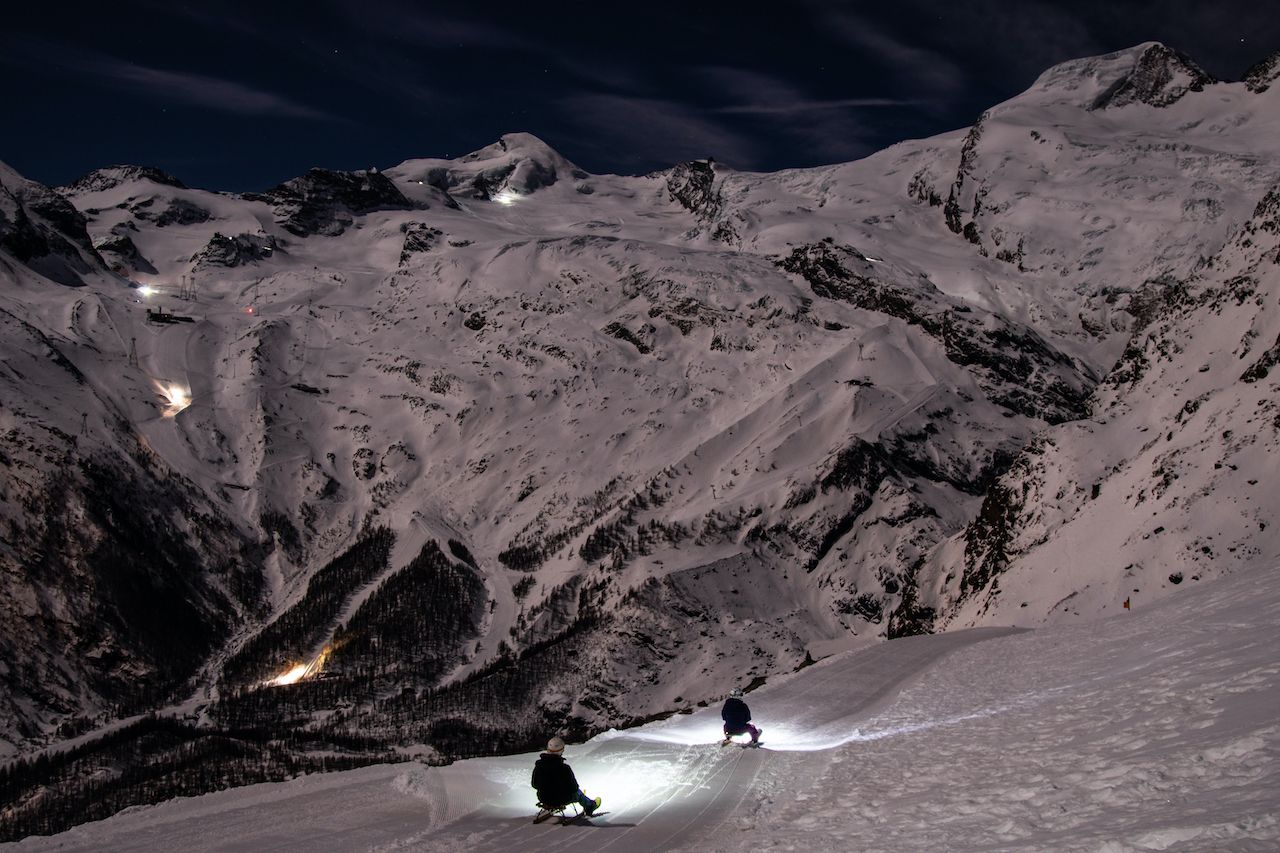 Photo: Saastal Tourismus AG
Switzerland's Saas-Fee is one of the most breathtaking ski resorts in a mountain range full of them. Peaks seem to shoot straight up from the village, reaching heights of over 13,000 feet, while the upper slopes of the resort allow you to gaze in awe at the Fee Glacier, with its multihued layers and fearsome crevasses. Backcountry skiing in Saas-Fee transports you to a wild, white world that extends as far as you can see.
It's no wonder then that Saas-Fee should have a sledding hill worthy of the rest of the resort, complete with its own gondola to service it. The Saas-Fee sledding trail runs six kilometers (3.7 miles) from the top of that gondola. The scariest section of the ride actually comes right at the top where you're descending a narrow trail — with a mountainside on one side and a steep drop-off into the other.
2. Saas-Grund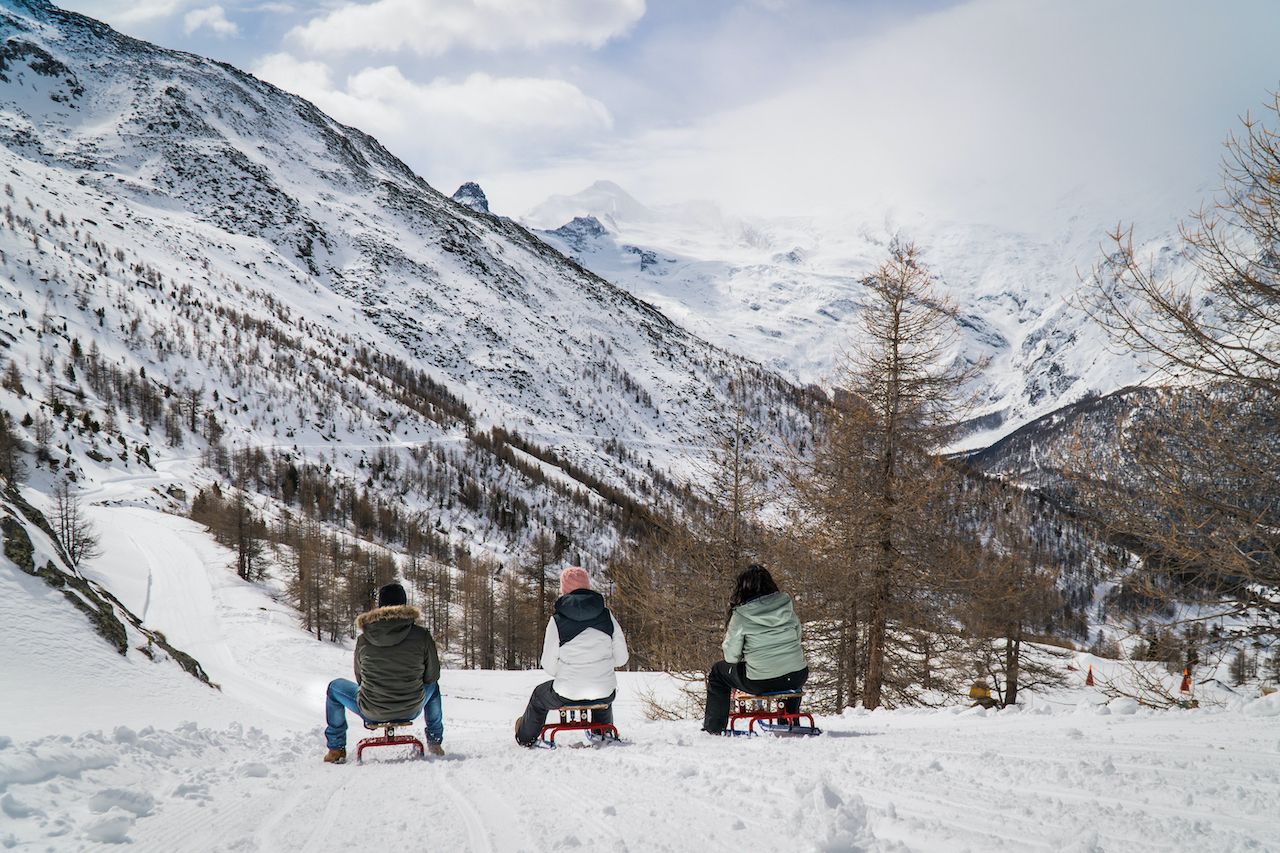 Photo: Saastal Tourismus AG
Near Saas-Fee you'll find Saas-Grund. The nearly seven-mile (11-kilometer) run there starts way up high, next to the ski runs, but then branches off and heads into the forest. It passes several small Alpine villages as it twists and turns its way down. In between the forest and villages, you'll whizz through open spaces that lend a view of the stunning mountain range. If an 11-kilometer sled run seems like too much, you could always choose to end or start your run halfway up at the Trift cable car midstation. The top half of the run is steeper while the bottom has more variety. Might as well do the whole thing. It will "only" take you an hour and a half to descend the 3,000-plus vertical feet to the village.
3. Grindelwald, Switzerland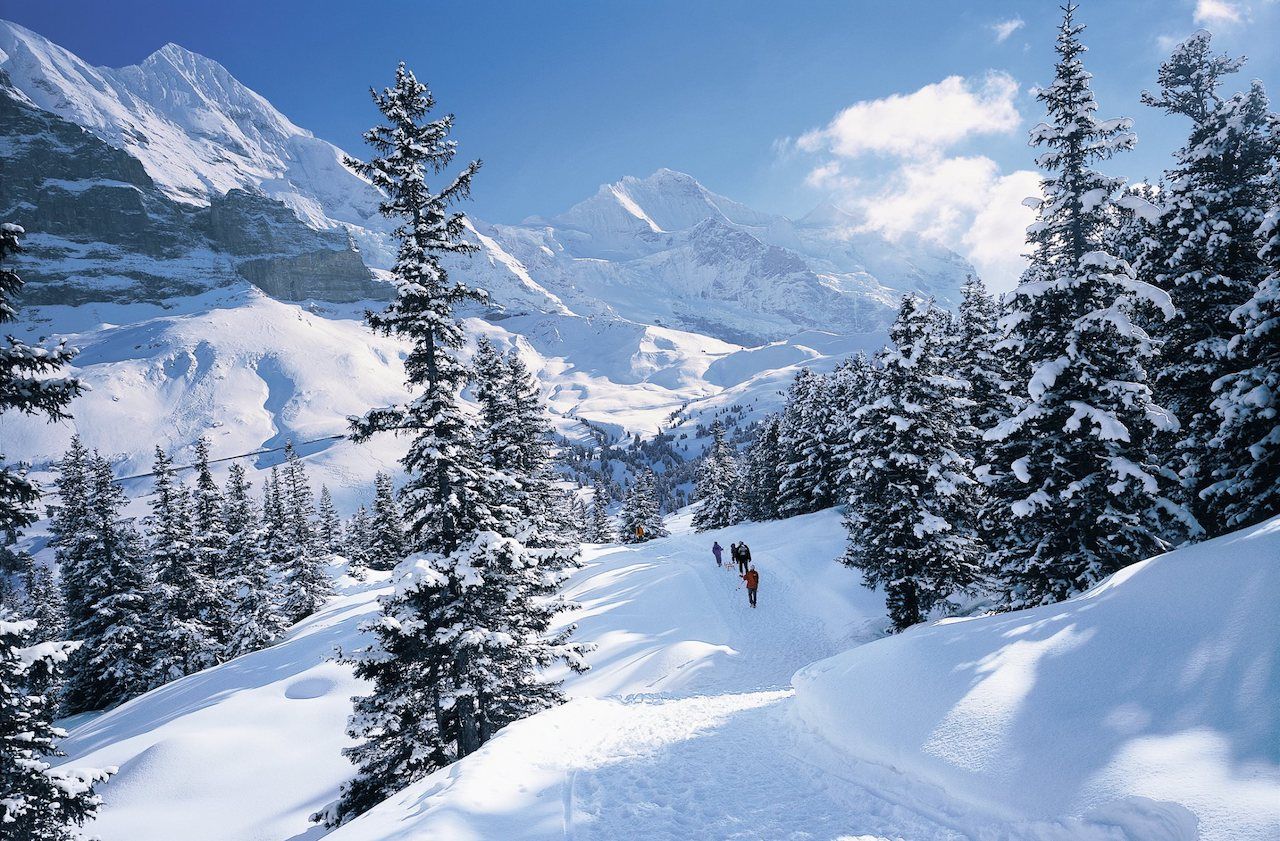 Photo: Jungfrau Ski Region/Facebook
In the Jungfrau ski area, you'll find the longest sled run in the world, the big Pintenfritz, which runs 7.8 miles (12.5 kilometers) to the alpine village of Grindelwald. It's not the only sled run that winds up in the photogenic village, but it's the only one that starts at the very top of the 9,353-foot-high Faulhorn peak. You can consult the Grindelwald sledding map to decide which trails to zip down. The good thing about Grindelwald is that it is possible to rent sleds with brakes. Just be sure to beware of sledders behind you if you decide to slow down suddenly, as the biggest crashes aren't usually caused by slamming into a tree off the side of the trail, but into another sledder.
4. La Tzoumaz, Switzerland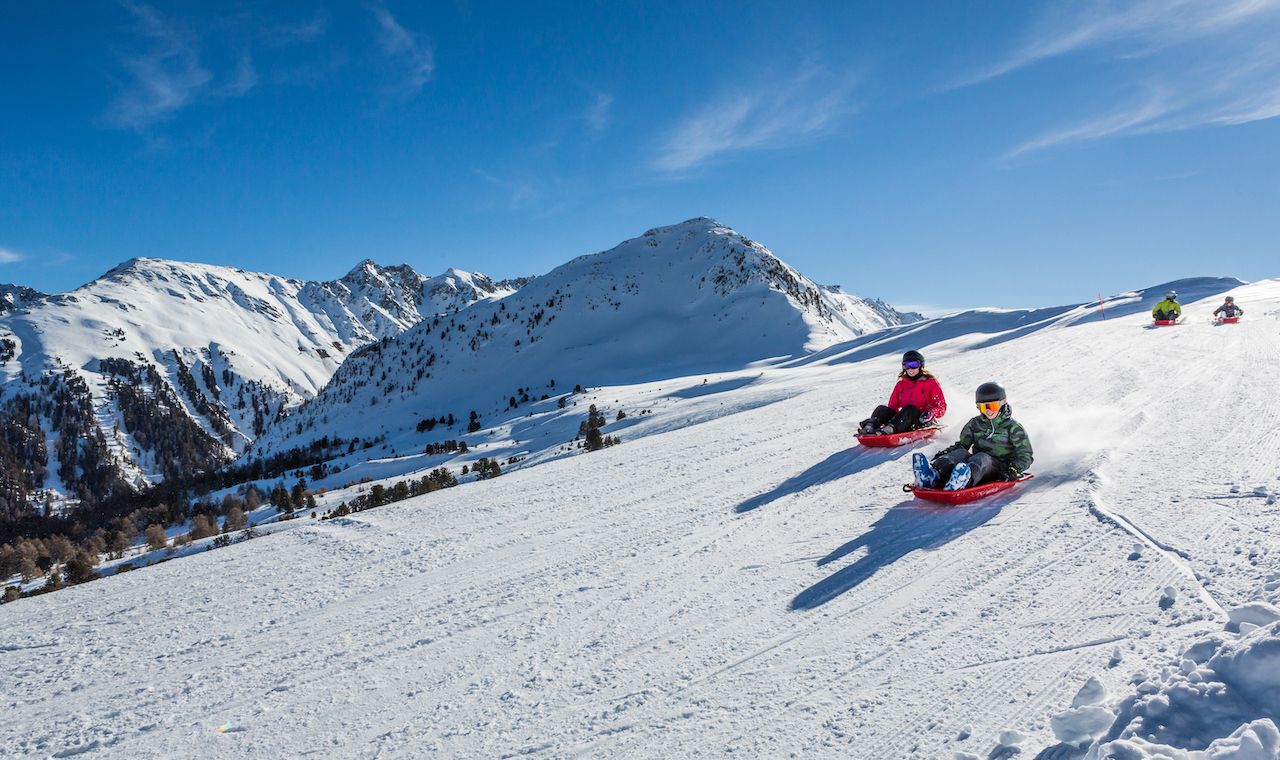 Photo: Valais/Wallis Promotion, Melody_Sky
This sledding run in French-speaking Switzerland is one of the fastest in the Alps, dropping 2,737 vertical feet in six miles. From its starting point at Savoleyres, at 7,723 feet above sea level. You'll get sweeping views of the Rhone Valley as you head down a wide snowy area and eventually turn into the forest-lined trail and its tight switchbacks. You'll end up back at the village of La Tzoumaz. Young kids need to go with their parents.
5. Bramberg, Austria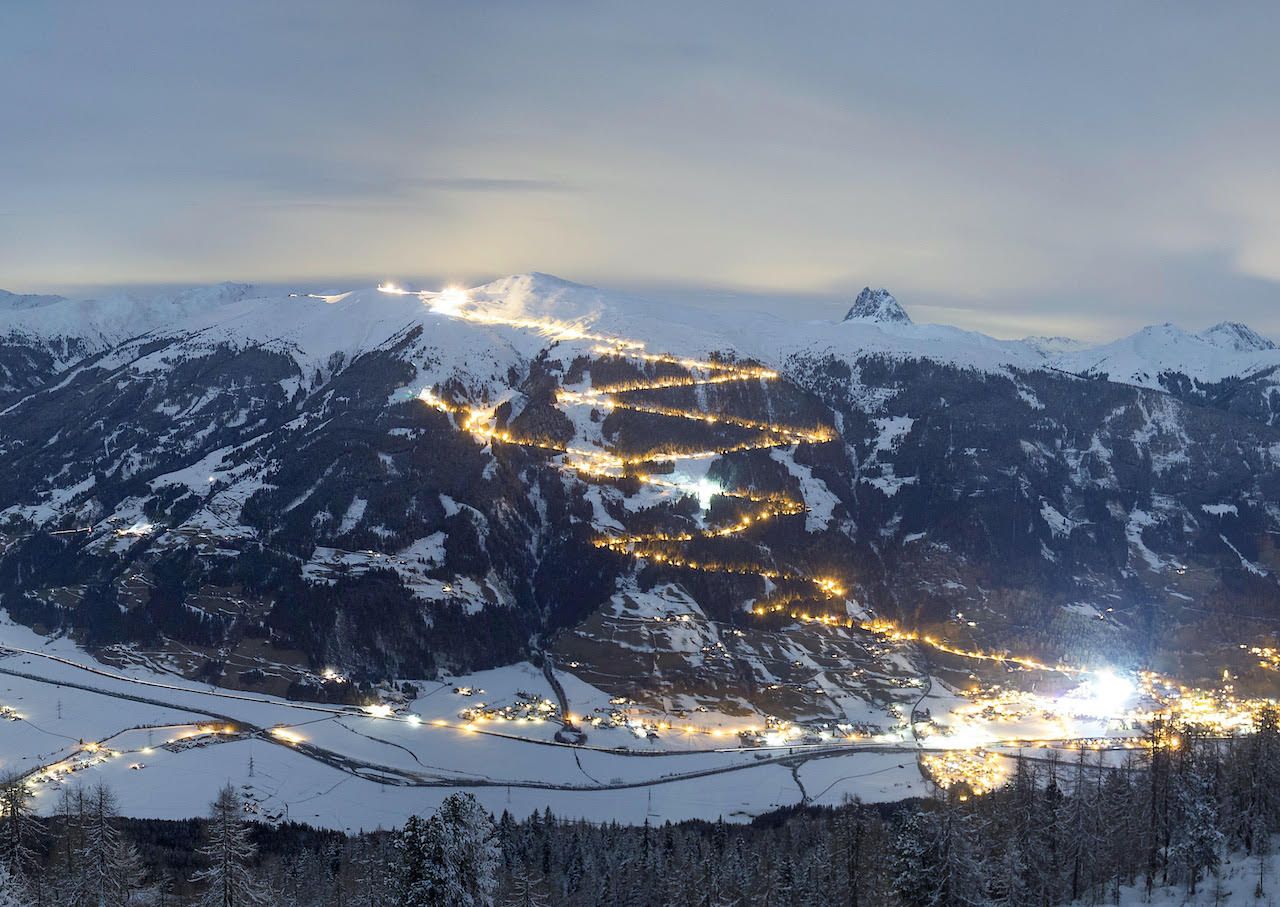 Photo: Wildkogel-Arena Neukirchen & Bramberg
If sledding back down to your accommodations after a cozy, wine-filled winter meal sounds appealing, but the idea of launching yourself off of the trail on a moonless night does not, then come to Bramberg, home of the longest floodlit sled run in the world. From the top of the Smaragbahn chairlift, you'll descend 8.7 miles (14 kilometers) and more than 4,200 vertical feet to the town of Bramberg. Depending on your sledding skills, the trip could take as little as 30 minutes, but novice sledders are sure to take twice the time.
Since things can get pretty crazy, helmets are advised (and obligatory for kids), you are asked to adjust your speed where snowbanks build up on the hairpin turns, and you are only allowed to stop for a break at designated areas. There are two restaurants at the top of the sledding area — just note the warnings against alcohol-impaired sledding. A one-time descent is 13.50 euros and 6.50 for kids, or you can get a day pass and sled all day until 10 PM for just 34 euros (about $41) or 17 euros for kids.
6. Elbigenalp, Austria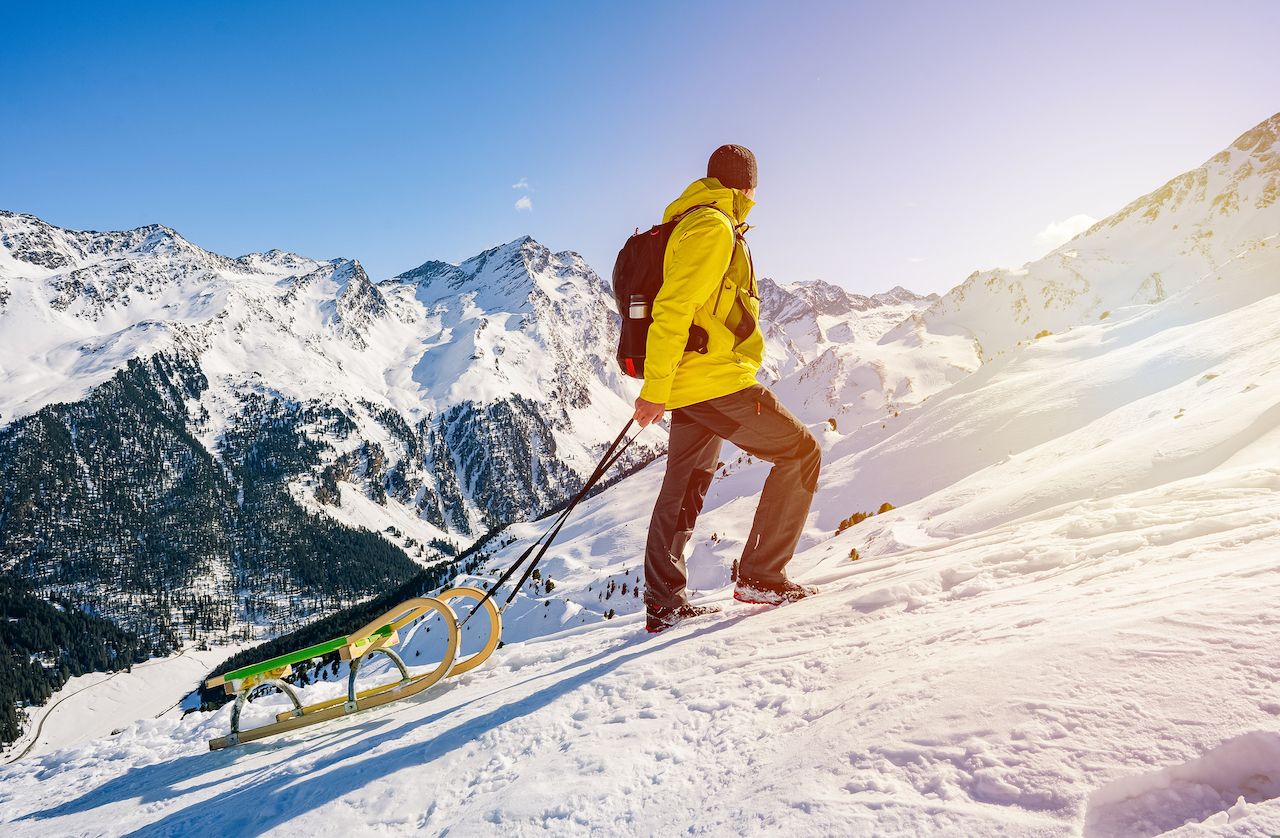 Photo: kasakphoto/Shutterstock
Earning your turns isn't only reserved for uphill skiing or heading to the backcountry. You can do it sledding, as well. To access the Bernhardseck run, you need to start in the village of Elbigenalp, hike up about 770 vertical meters (2,500 feet) to the Bernhardseck hut, which should take you over two hours. And since you're on your own here, you are also pulling your wooden sled behind you. But the thrilling descent, dropping those same 770 vertical meters in 5.8 kilometers (3.6 miles), will be well worth the excitement. Although you've earned your turns, you won't have to slog it out in backcountry powder, which as excellent as it may be on skis or a snowboard isn't really suited for sledding. This sledding trail is groomed regularly, meaning you'll be able to reach top speeds.
7. Schwaz, Austria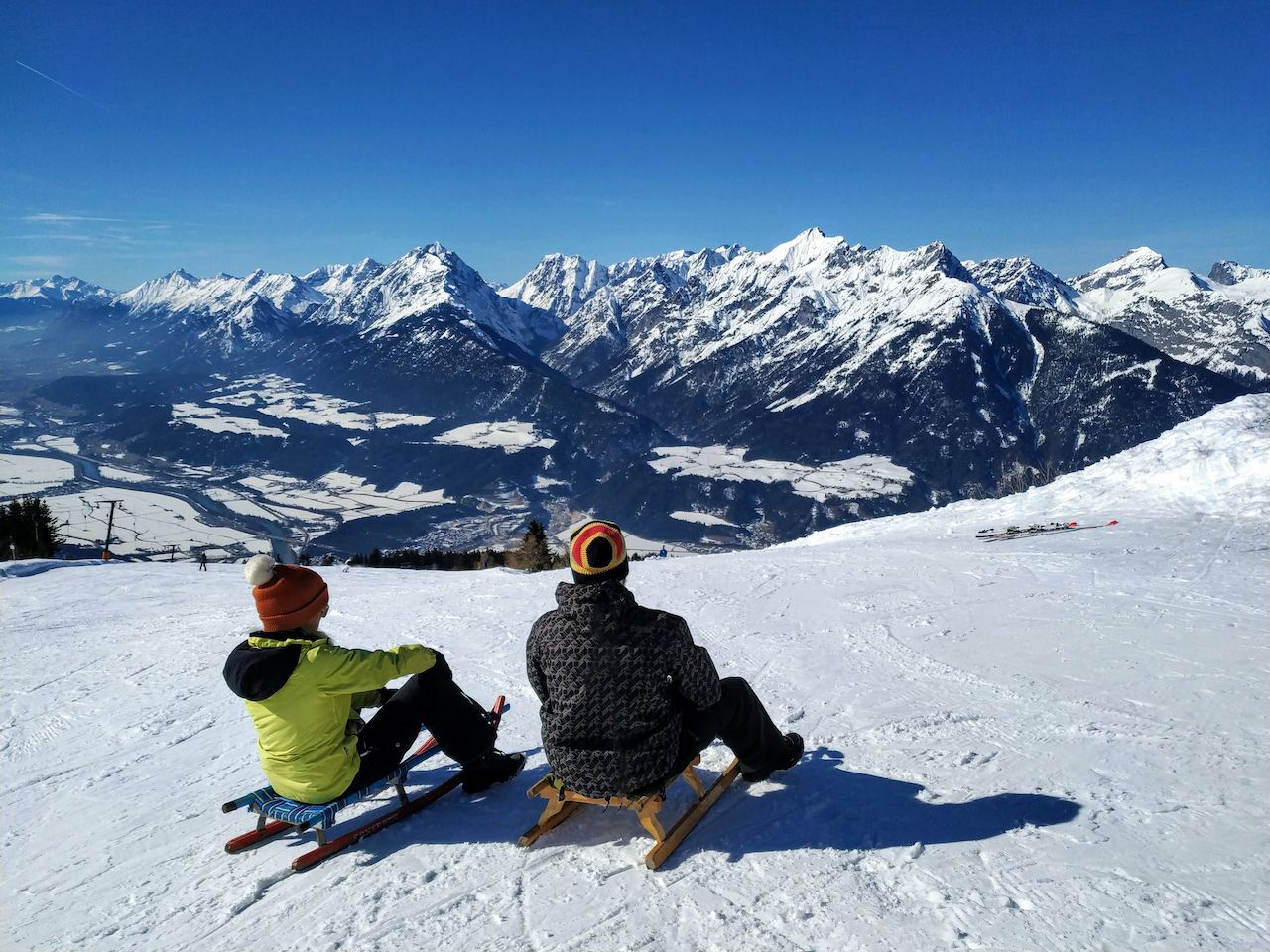 Photo: Dina Zaur.a/Shutterstock
Austria's Tyrol region alone boasts 95 official sledding runs. The longest one in Tyrol, and the second-longest in Austria, is the Kellerjoch-Grafenast run. From the top of the Kellerjochbahn cable car, it has a combination of swooping rights and lefts with hairpin turns, ending up at the Freundsberg Castle on the edge of Schwaz, a town once made wealthy from silver mining. Those feeling good about their sledding skills might consider joining in a race on Thursday. There's also floodlit night sledding at the lower elevations.
8. Val Thorens, France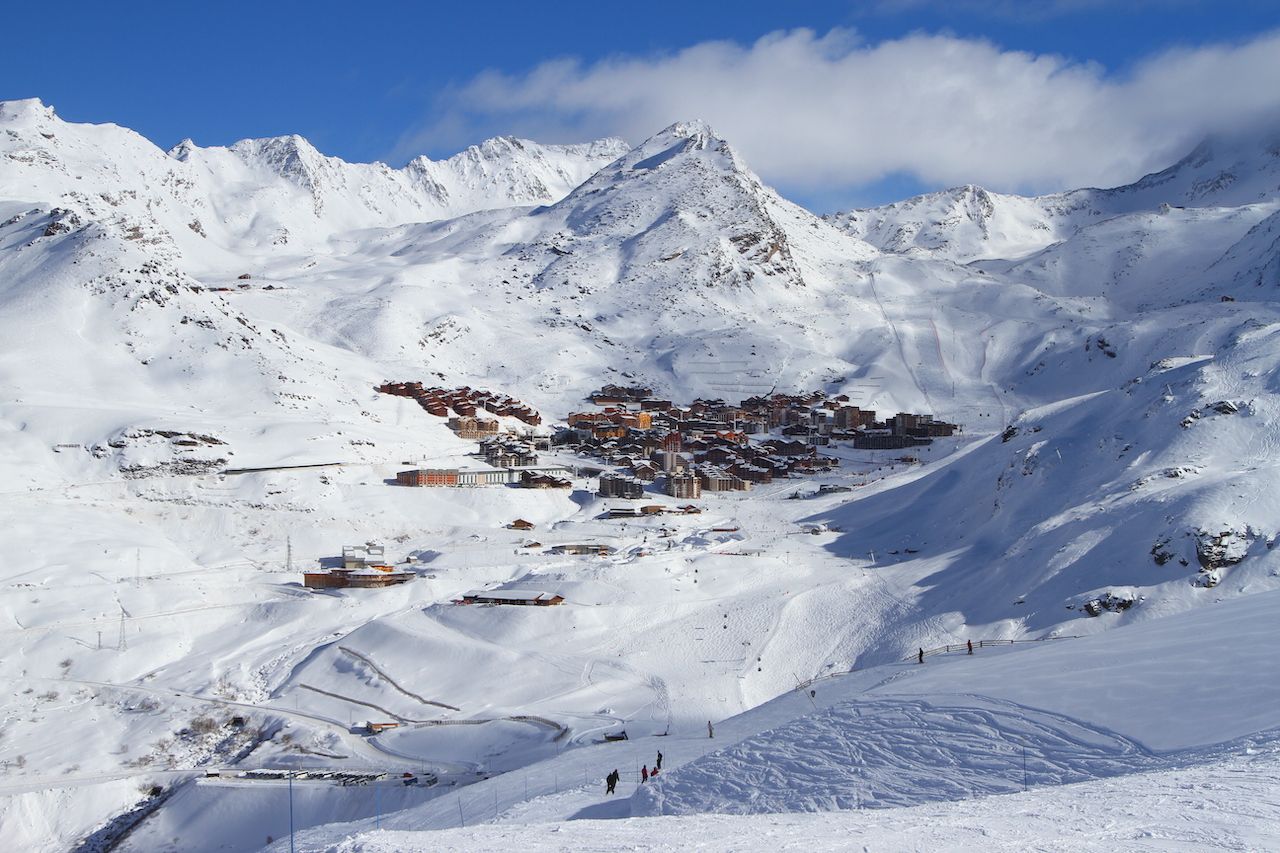 Photo: Vladimir Golovin/Shutterstock
The longest sled run in France starts right by the Péclet glacier at a height of about 9,800 feet and drops an entire 2,300 vertical feet in under four miles, meaning it's got plenty of steeps and not that many flat sections where you can slow down and take it easy. The track is also only 16 feet wide, so you'd better know how to control your sled. Fortunately, rentals include sleds with brakes and helmets as well. If you already have a ski pass, the gondola ride and rental will cost you 14 euros ($17) for one descent or $27 for two descents. (without a ski pass, it's $25 and $40 for one or two descents, respectively). The sled run isn't open late, but you can go until 6 PM, which in winter is already dark, and be rewarded with hot spiced wine at the bottom.
9. Super-Besse, France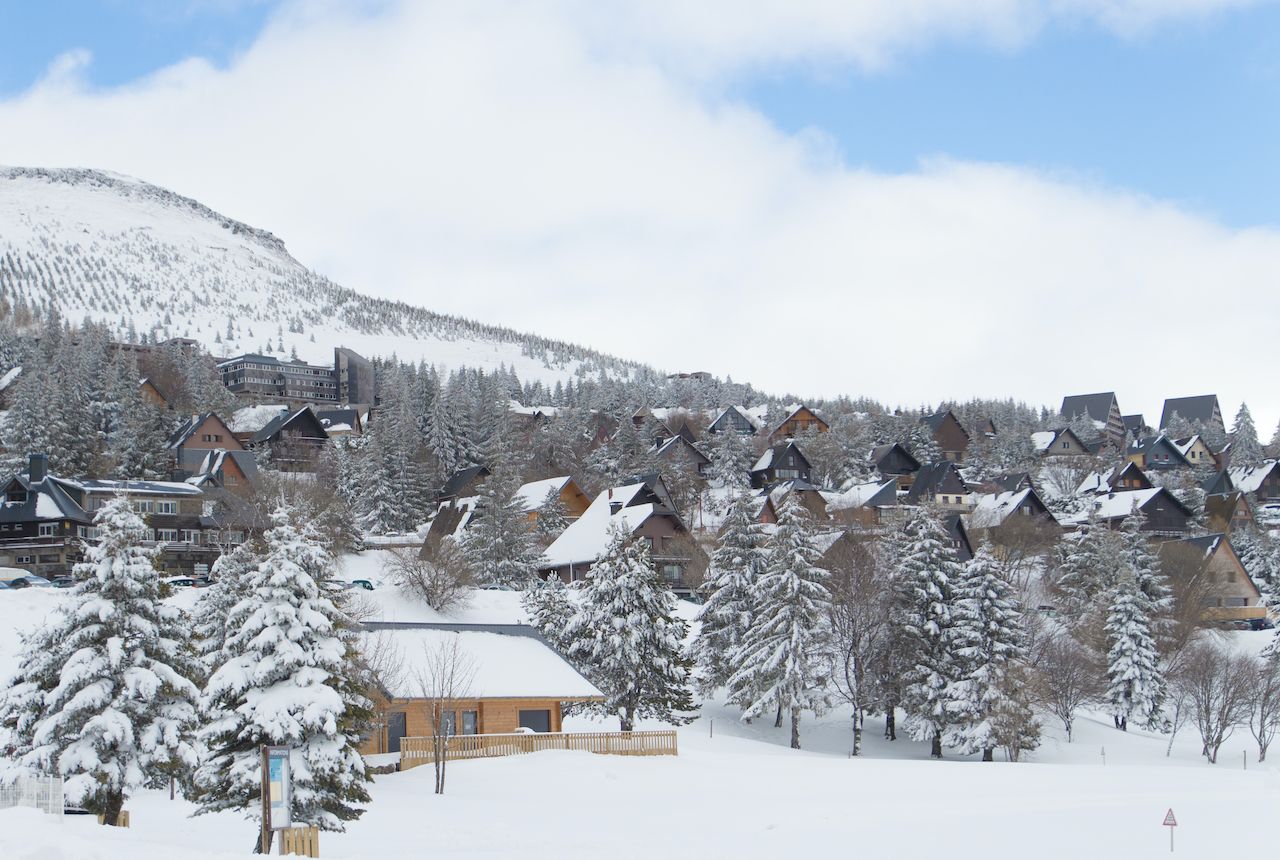 Photo: Panthere Noire/Shutterstock
One of the most thrilling sled runs in France is not necessarily the longest. The Fantasy Luge at Super-Besse drops 1,700 feet in just 1.8 miles, which means that all the sleds have brakes, helmets are obligatory, and descents are supervised. All kids below the age of 14 have to be with an adult, and no kids under six are allowed. (Depending on snow conditions, the age limit may be raised to eight years old.) The sled run is only open after the pistes close to skiers, so your thrilling drop will happen as dusk darkens the sky. You'll meet after hours at the La Perdrix cable car; it's four euros (about $4.85) to ascend the car and nine euros ($11) with the sled and helmet.