BENEATH THE FOREST of the Ozark Highlands of north Arkansas lies a unique, delicate, and fascinating ecosystem. Over thousands of years, the limestone bedrock in this part of the state has been dissolved by groundwater to create a karst environment full of sinkholes, disappearing streams, and incredible caves.
Of the nearly 2,000 documented caves in the Natural State, seven are privately-owned, commercial tour caves open to the public while the US Forest Service operates Blanchard Springs Caverns, the crown jewel of them all. Some of the smaller show caves contain decorative, living cave formations, while others have fewer formations. The latter often have great stories associated with them, such as being hideouts for outlaws or sites of unfound, hidden treasure.
Numerous undeveloped caves can be found throughout the Ozark Mountains. However, many of these wild caves on public lands are no longer open to the public due to an effort to stop the spread of white-nose syndrome in bats. This fungal disease causes hibernating bats to lose their stored fat needed to sustain them through the winter. With that being said, there are numerous underground adventures available. Here are five unique caves to visit in Arkansas.
Matador's Newsletter
Subscribe for exclusive city guides, travel videos, trip giveaways and more!
Blanchard Springs Caverns, north of Mountain View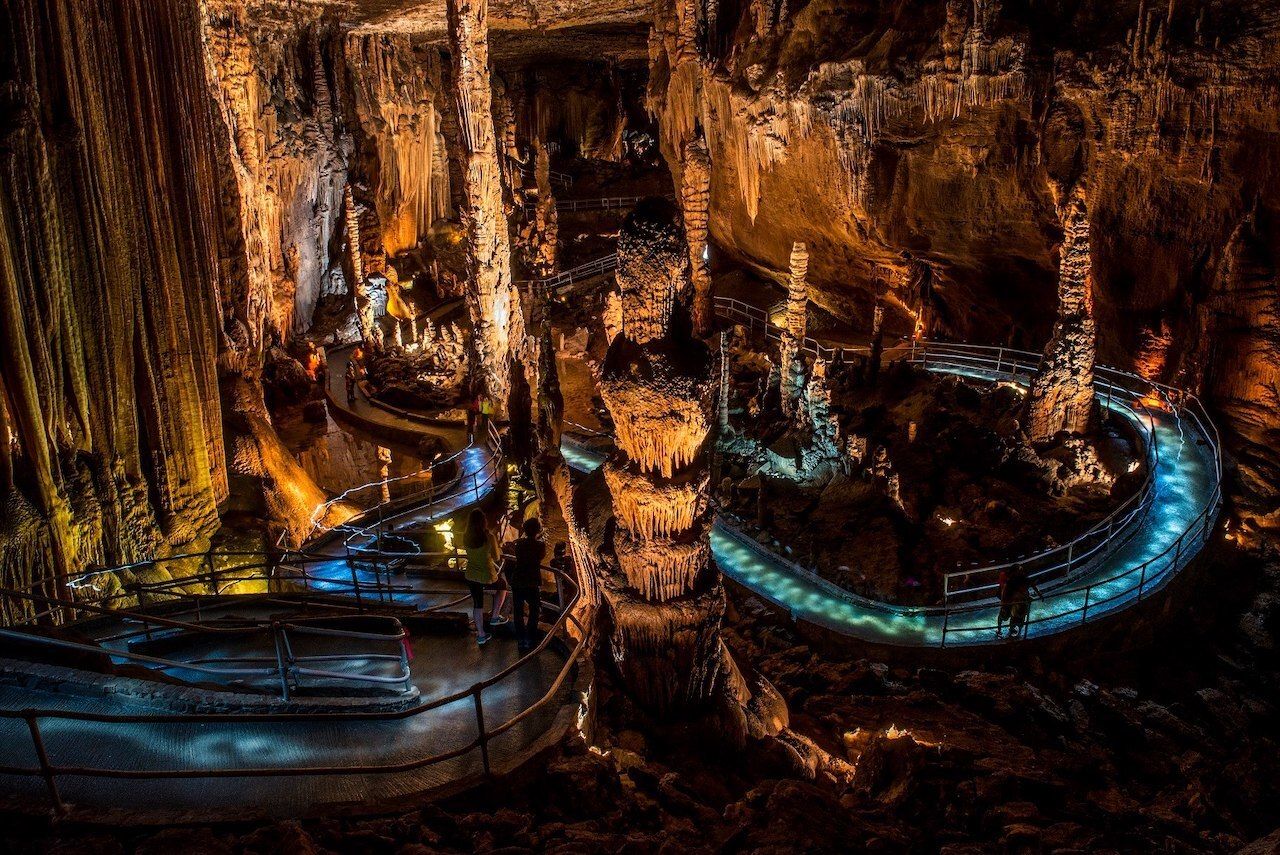 Photo: Arkansas State Tourism/Facebook
One of the most beautiful underground discoveries of the 20th century, Blanchard Springs Caverns has lighted walkways leading to stunning limestone formations and massive rooms, one as long as six football fields.
Guided walking tours through this active cavern system feature sparkling calcite formations, such as stalactites, stalagmites, soda straws, draperies, cave bacon, and columns. Blanchard is a three-level cave system. Two levels with handrails on a paved trail for easy walking are open for tours. There's also a Wild Cave Tour option for the physically fit. Don headlamps and knee pads for this one to walk, crawl, and climb through an undeveloped portion of the cave to a large formation called "The Titans."
Blanchard is open all year with a restricted tour schedule during winter months. The visitor center contains a gift shop, books, maps, educational material, and a movie. The Blanchard Springs Recreation Area and Campground is popular for its crystal clear streams, a large flowing spring (12,000 gallons/45,000 liters per minute), a small lake, scenic trails, picturesque bluffs, swimming, and fishing. Like other caves mentioned here, Blanchard works hard to utilize preventative measures to stop the spread of white-nose syndrome.
This epic underground system is the only developed cave operated by the US Forest Service. It's located deep in the Ozark National Forest in the small town of Fifty-Six, near Mountain View.
Beckham Creek Cave Lodge, Parthenon
Photo: Beckham Creek Cave Lodge/Facebook
Located inside a natural cavern on a high bluff overlooking the valley, Beckham Creek Cave Lodge looks like the setting for a hobbit movie on the outside. Inside, it is 5,800 square feet of pure luxury. It sleeps 12, has four bedrooms, four bathrooms, a big screen smart TV with satellite, Wi-Fi, lofts and balconies, and a natural waterfall in the living room. The numerous rooms have natural cave walls with unique cave features such as stalactites. There are outside seating areas, a fire pit, a catch-and-release pond, and a walking path to an overlook called "Eye of the Needle." Situated in a tiny town named Parthenon, the lodge is located on 256 pristine and remote acres at the end of a road.
Cosmic Cavern, Berryville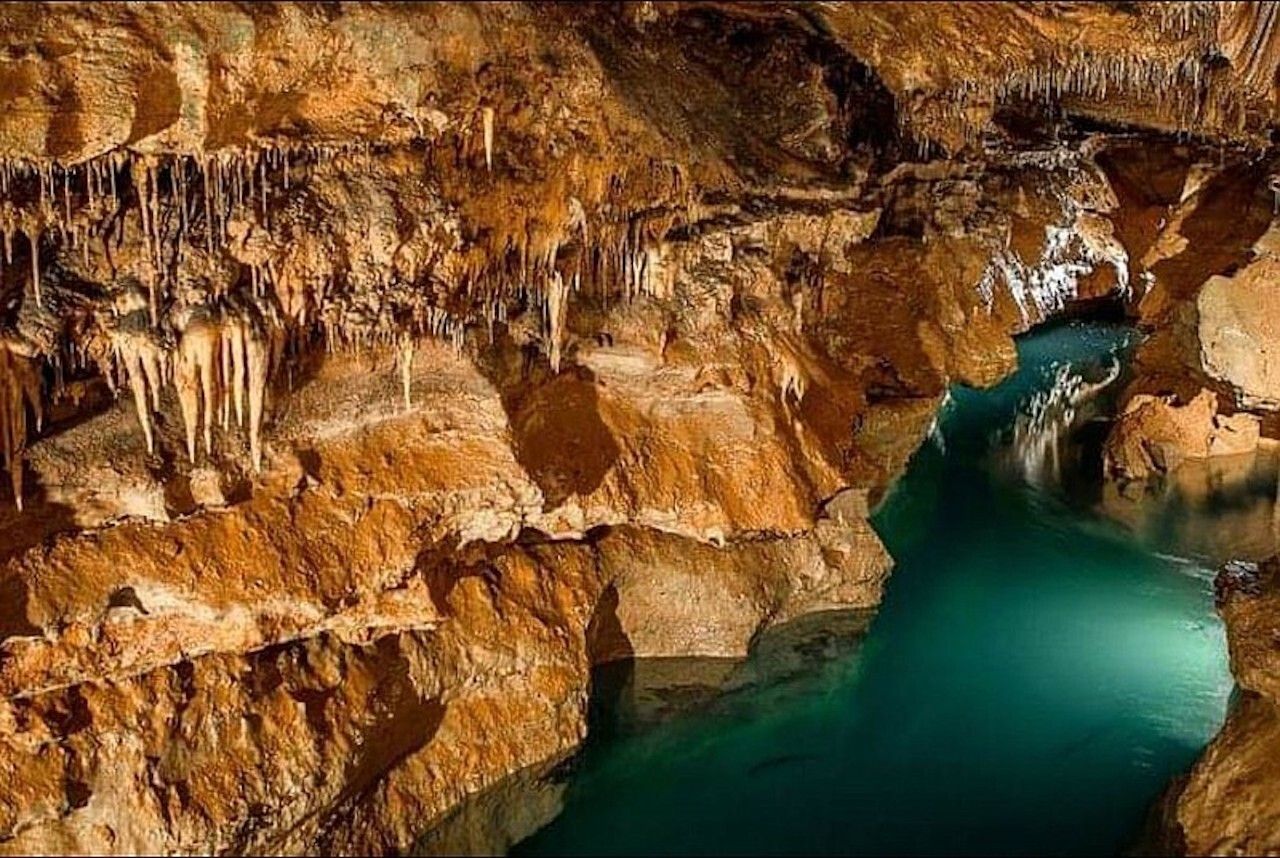 Photo: Arkansas
Prospectors for lead discovered a large cave and underground lake in 1845 in northwest Arkansas. While the cave has had many names and proprietors since then, today it is known as Cosmic Cavern. Randy and Anita Langhover have owned the cave since 1980 and had a discovery of their own in 1993 when Randy found a large passage of more than 1,000 feet and another subterranean lake.
Now Cosmic Cavern is the state's largest privately-owned show cave containing the Ozarks' largest underground lake.
The guided walking tour is about one hour and 15 minutes through the warmest cave in the Ozarks at a steady 64 degrees. The cave features a nine-foot soda straw and two bottomless cave lakes, the first of which has had trout in it for nearly 50 years. Visitors can also opt for a Wild Cave Tour experience. We recommend checking the site for requirements and you need to prebook. Cosmic Cavern is located in Berryville near Eureka Springs.
Eden Falls Cave at Lost Valley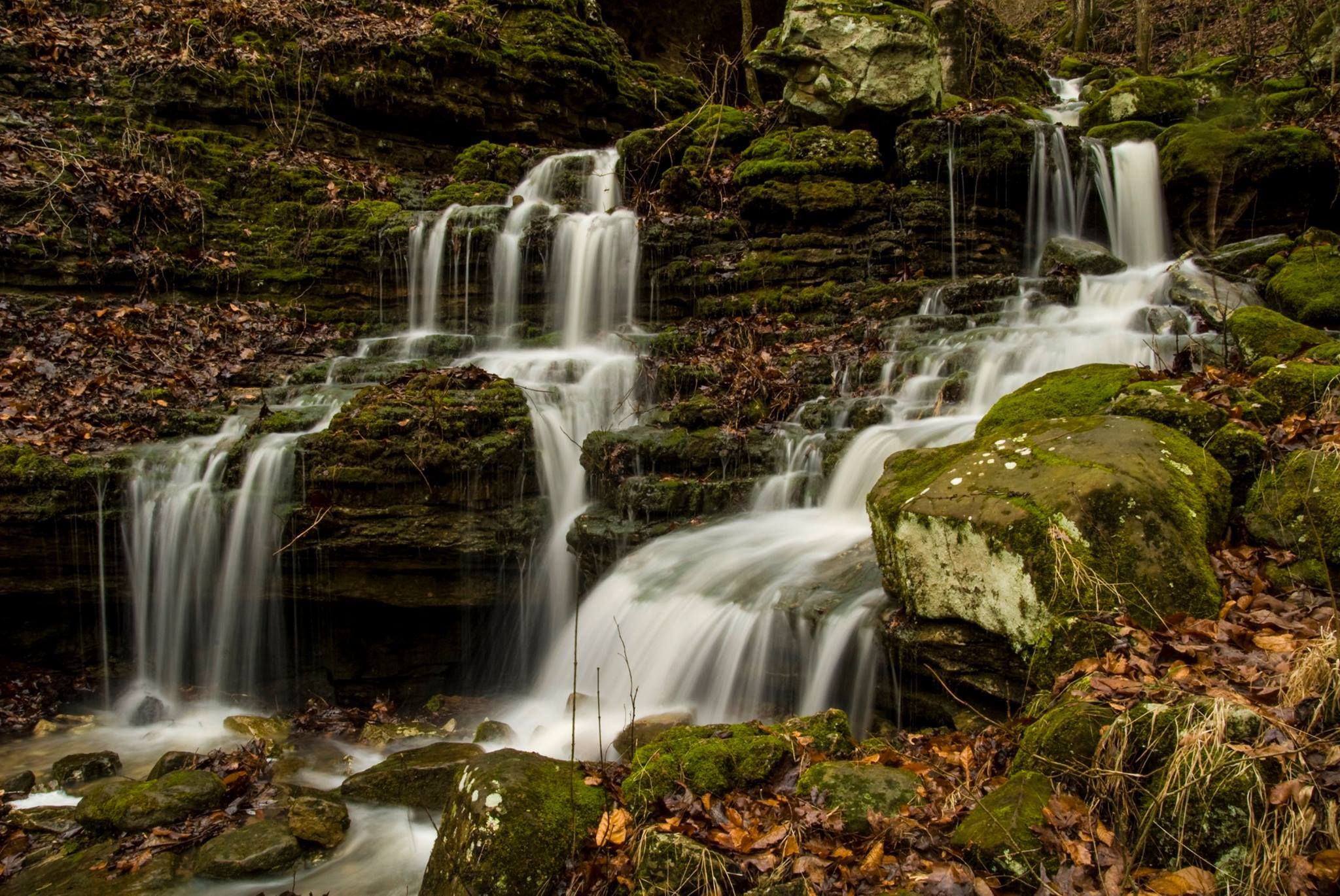 Photo: Keep Arkansas Beautiful/Facebook
The Lost Valley Trail, located near the upper section of the Buffalo National River, is a popular spot for good reason. It serves up nature at its best with a cascading creek, waterfalls, towering cliffs, large bluff shelter, natural bridge, hardwood forest, and a cave.
The trail follows Clark Creek up to its headwaters and ends at Eden Falls Cave, a small undeveloped cave. The cave is a tight squeeze for approximately 200 feet ending in a large room with a 35-foot-tall waterfall. Take a flashlight for exploration. The first mile to Eden Falls is level and easy going, and then it becomes a steep climb to the mouth of the cave.
It's around a 2.4-mile round-trip hike and it is recommended that visitors are physically fit. It's also wise to check weather conditions and depending on the time of year, Clark Creek, a tributary to the Buffalo River, tends to dry up or go underground. The waterfall flow is affected by the seasons as well, but the cave is fun to climb regardless of the season.
Mystic Caverns, Marble Falls, Harrison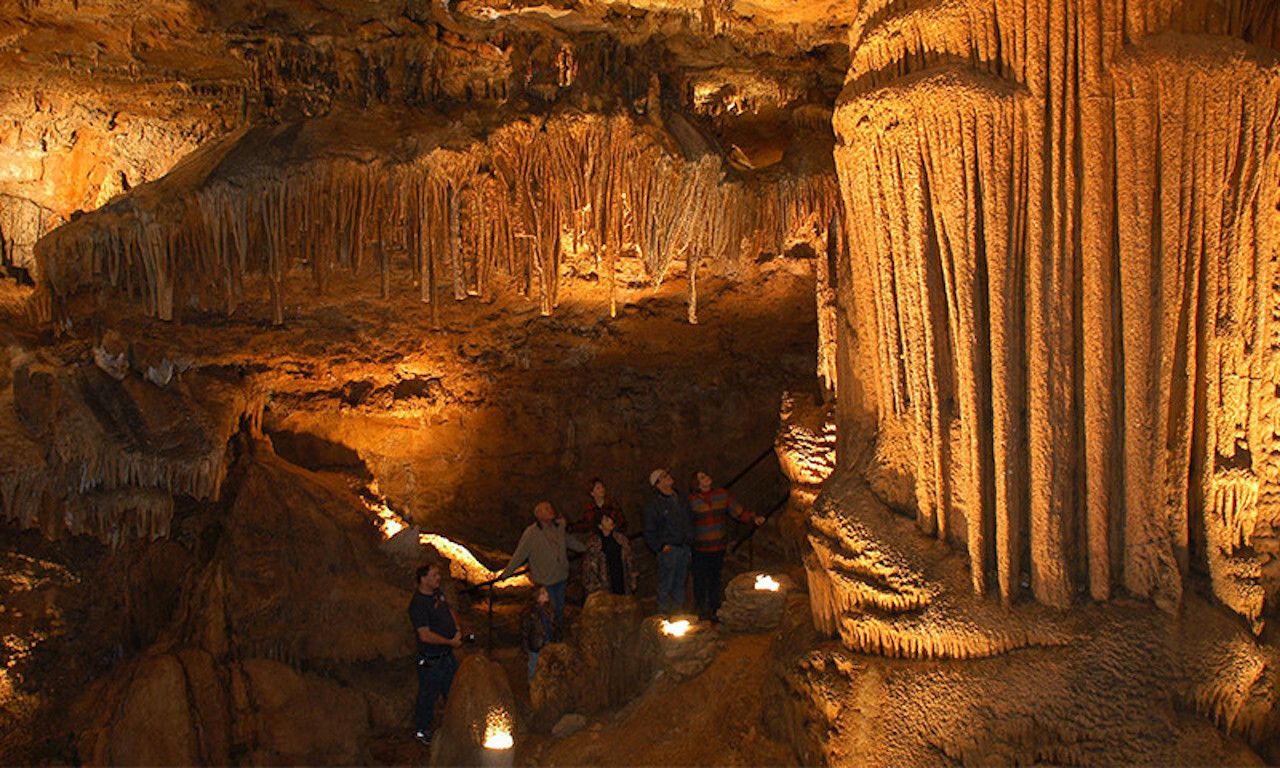 Photo: Arkansas
This cavern features guided tours of two spectacular caverns, Mystic and Crystal Dome. Mystic contains a 30-foot-tall calcite formation called the "Pipe Organ" and rare calcite formations such as helictites, shields, and spherical stalactites. Crystal Dome is nearly 70 feet high inside with pristine formations, including a dripstone of pure white calcite.
Both tours have stairs and are not recommended for people with walking difficulties or health problems. Mystic Caverns is located eight miles south of Harrison in Marble Falls.