WITH TIRES MORE than twice the width of normal mountain bike tires, fat bikes have the traction they need to get through slippery terrain, be it sand or snow. In many outdoorsy and mountain towns — or simply places that get a whole lot of snow — they've become a preferred way to get around. But they are also a spectacular way to cover more ground while taking in outdoor scenery, and to get in a good workout at the same time. Here are some of the best places to do just that.
1. Alaska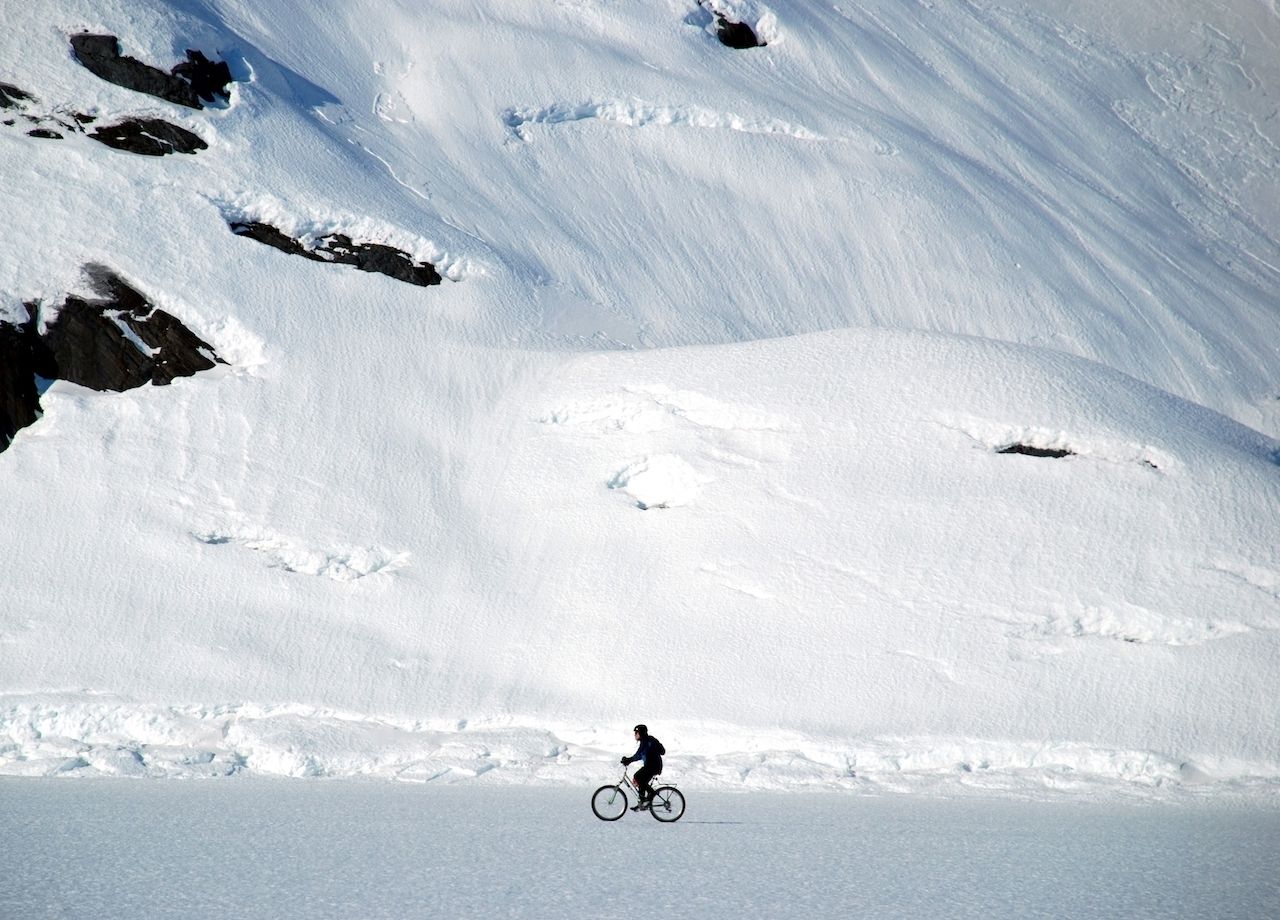 Photo: Alan T Bassett/Shutterstock
Alaska may well be the place in the US where biking on snow first took hold. At least that is what Alaskans will tell you, pointing to the fact that cycling on snow is nothing new in the state. In addition to dog sleds, hundreds of bicycles were used to travel the state's snowy expanses during its gold rush in the late 1890s. And while fat bikes weren't actually invented in Alaska, Anchorage native Greg Matyas of Fatback Bikes is credited with many of the engineering upgrades that later became standard for all fat bikes.
With so much snow and so few roads, you won't have any problem finding a place to fat bike in Alaska. Just outside Anchorage, you can ride with stunning coastal views and deep into the woods, where you'll likely pass a moose or two; if you prefer a guided tour, the women-owned Alaska Trail Guides offers a three-hour guided fat bike tour along just some of Anchorage's 150 miles of wooded trails. Similarly, Juneau is also full of mountain bike trails. Just note that in Alaska, you may find the best time to fat bike on the snow is actually early spring.
2. Wisconsin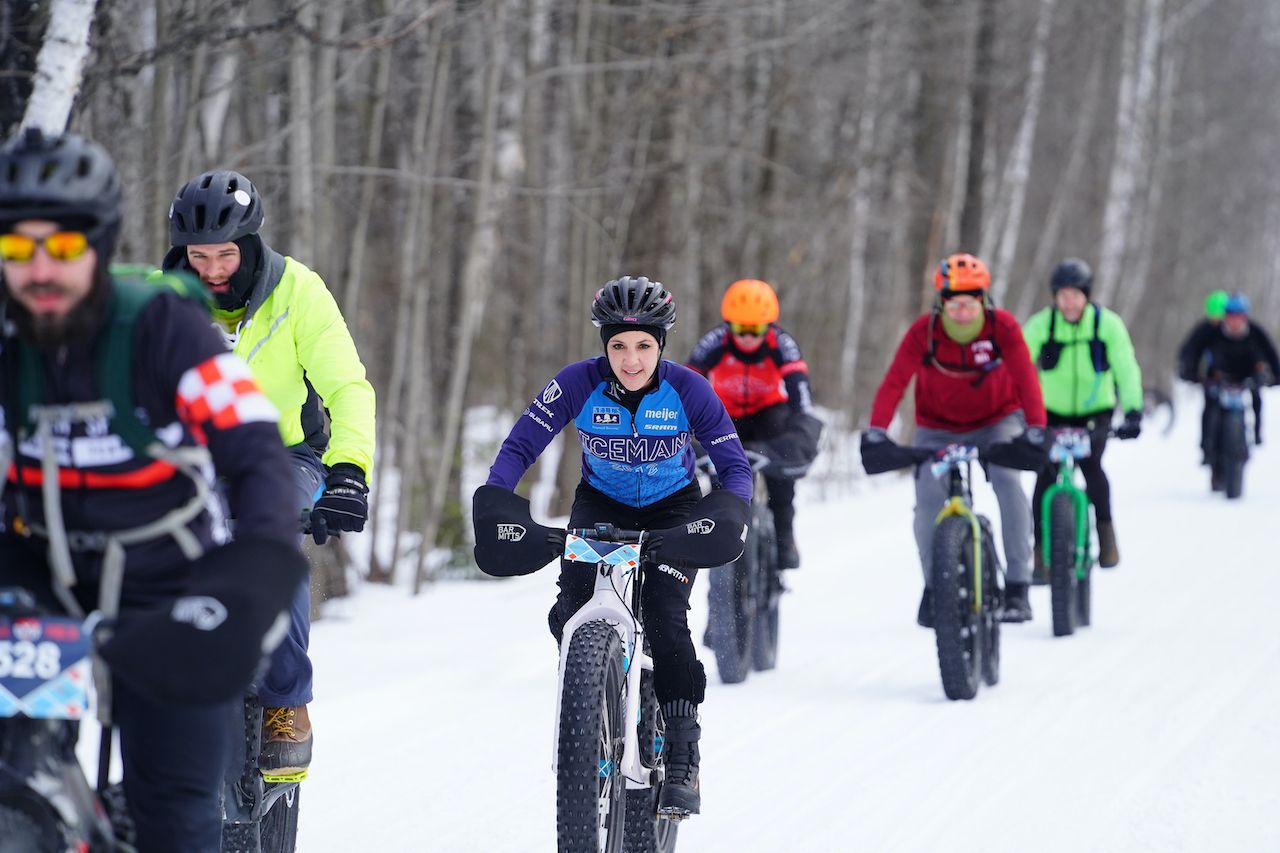 Photo: Aaron of L.A. Photography/Shutterstock
Fat biking is so popular in Wisconsin that there have been several events dedicated to it throughout previous winters — from the Sweaty Yeti race on the excellent fat bike trails at the Levis Mount Recreational Area in Neillsville to the Fat Bike Birkie, which takes place on the same trails that are used for the American Birkebeiner Cross-Country Ski Race, one of the top nordic ski events anywhere. Pretty much anywhere you go in Wisconsin in the winter, you'll find an excellent place for scenic fat biking nearby. Just north of Milwaukee you can bike over the glacier-cut hills of Kettle Moraine State Forest, and near Madison there's Quarry Park almost in town, as well as Pleasant View, Dawley Park, and Badger Prairie Park nearby — to name but a few. Even all the way northwest in Washburn Country, the Wildcat Mountain Bike Trail is another place to sweat your way through the snow.
3. Colorado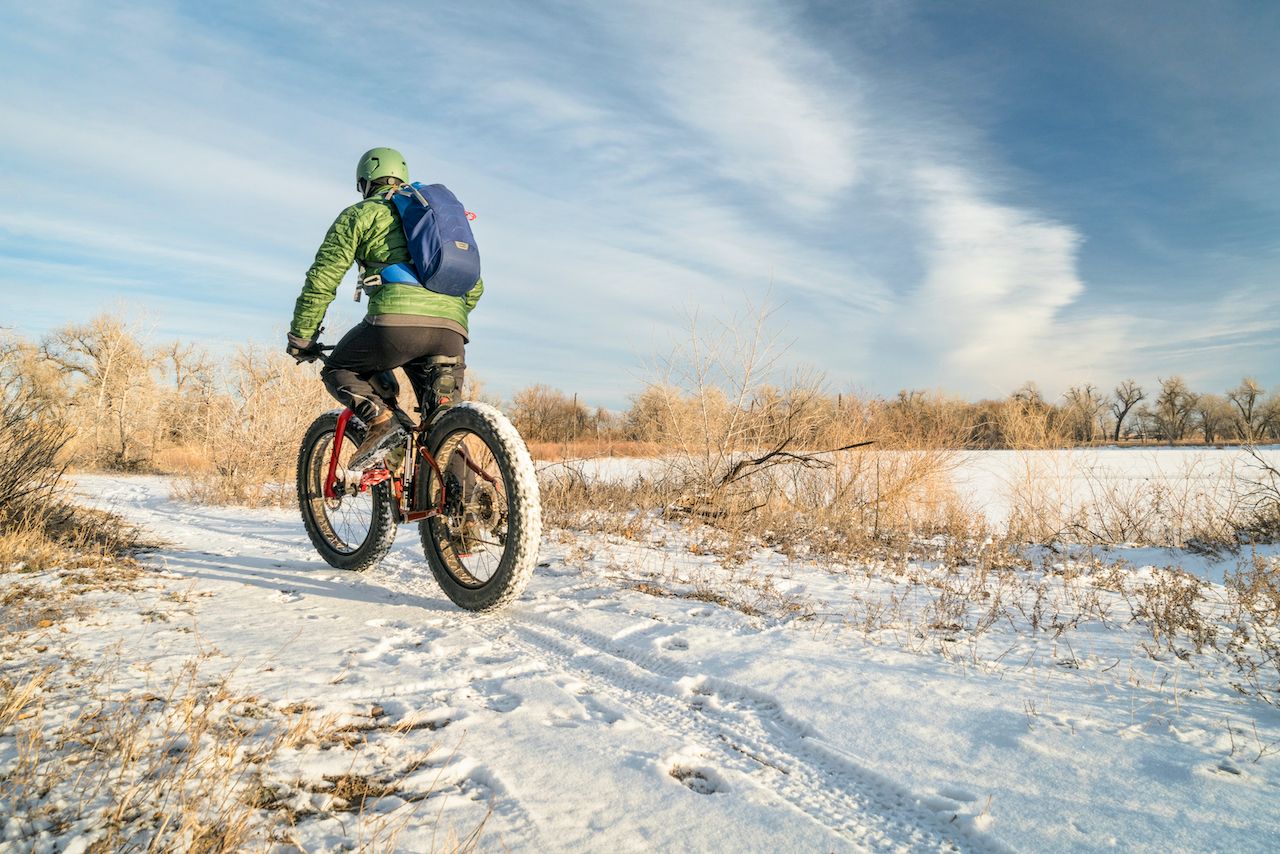 Photo: marekuliasz/Shutterstock
Given Colorado's fascination with mountain biking in the warmer months, the sheer number of fat bikes you will see there in winter should come as no surprise. There are also plenty of great places to do it. From Aspen to Vail to smaller, more isolated places like Telluride, Colorado's mountain towns are awash in fat bikes, which are an excellent way to both get around and get exercise off the slopes. But Denver also gets its fair share of winter snow, and you'll find plenty of fat bikes there as well. Try the bicycle loop path at Washington Park to get your footing before heading into the high country.
Another excellent place to enjoy fat biking is near Boulder, where you'll find a huge amount of places renting fat bikes, as well as many outfits offering tours. If you want to head out on your own, the 5.5-mile-long Boulder Creek path is an easy and lovely ride along the creek for beginner fat bikers and the Doudy Draw Trail is a short trail that connects to plenty of single-track options and gives you a view of the Flatirons, one of our favorite Boulder hikes. For more experienced riders, Heil Valley Ranch outside Boulder is full of single-track trails that are even more fun with some snow on them.
4. Vermont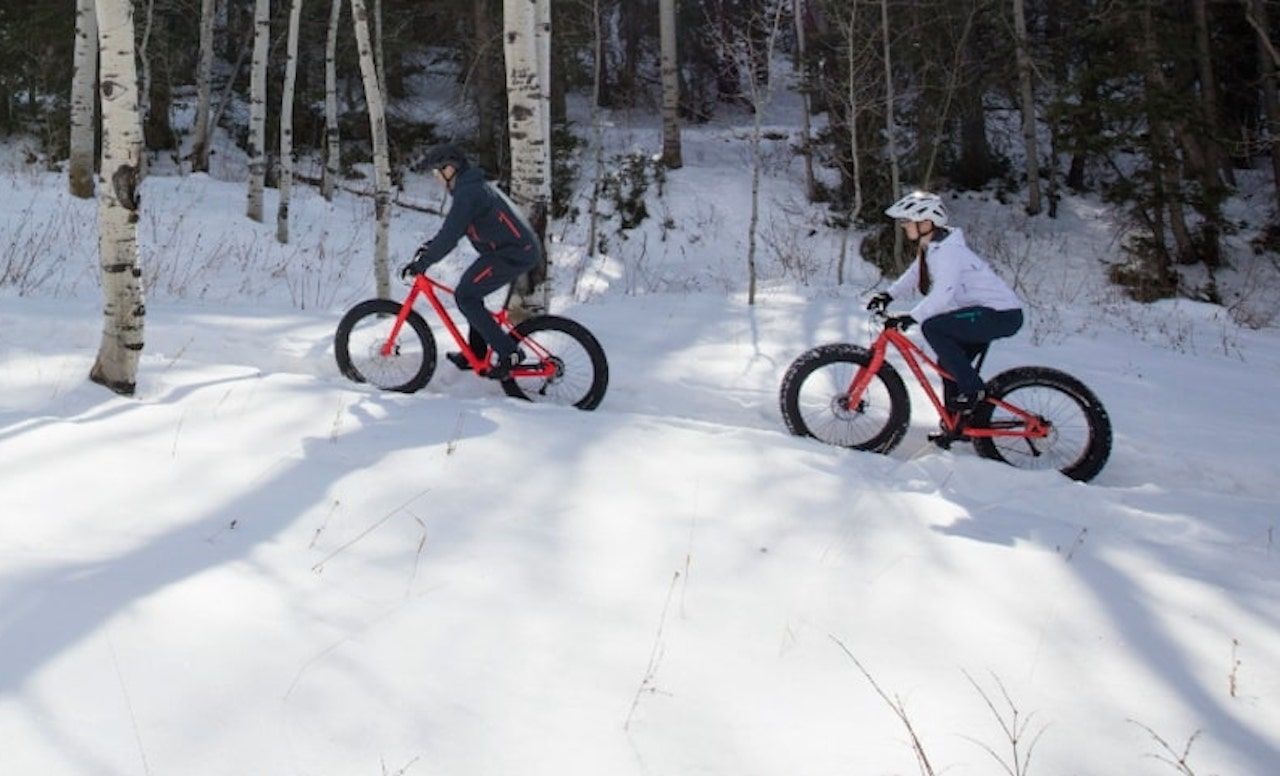 Photo: Vermont Mountain Bike Association/Facebook
Vermont is quite possibly our favorite place to fat bike in the Northeast, given all the opportunities to do so near one of its many ski resorts. You can ride on trails cut through the woods near Stowe, one of our absolute favorite ski resorts in North America, and near Stratton, one of the best resorts for beginner skiers. Beyond that, many regular mountain bike trails are maintained for optimal riding conditions throughout the winter. You can check in with the Vermont Mountain Bike Association for more information on where to do it. Yes, the wide tires of a fat bike are designed to get you over challenging ground conditions, but the fluffier the snow is, the more difficult it will be. If you want to ride out in the snow and want the paths to be a little more groomed, check out VMBA's website for where to go.
5. Utah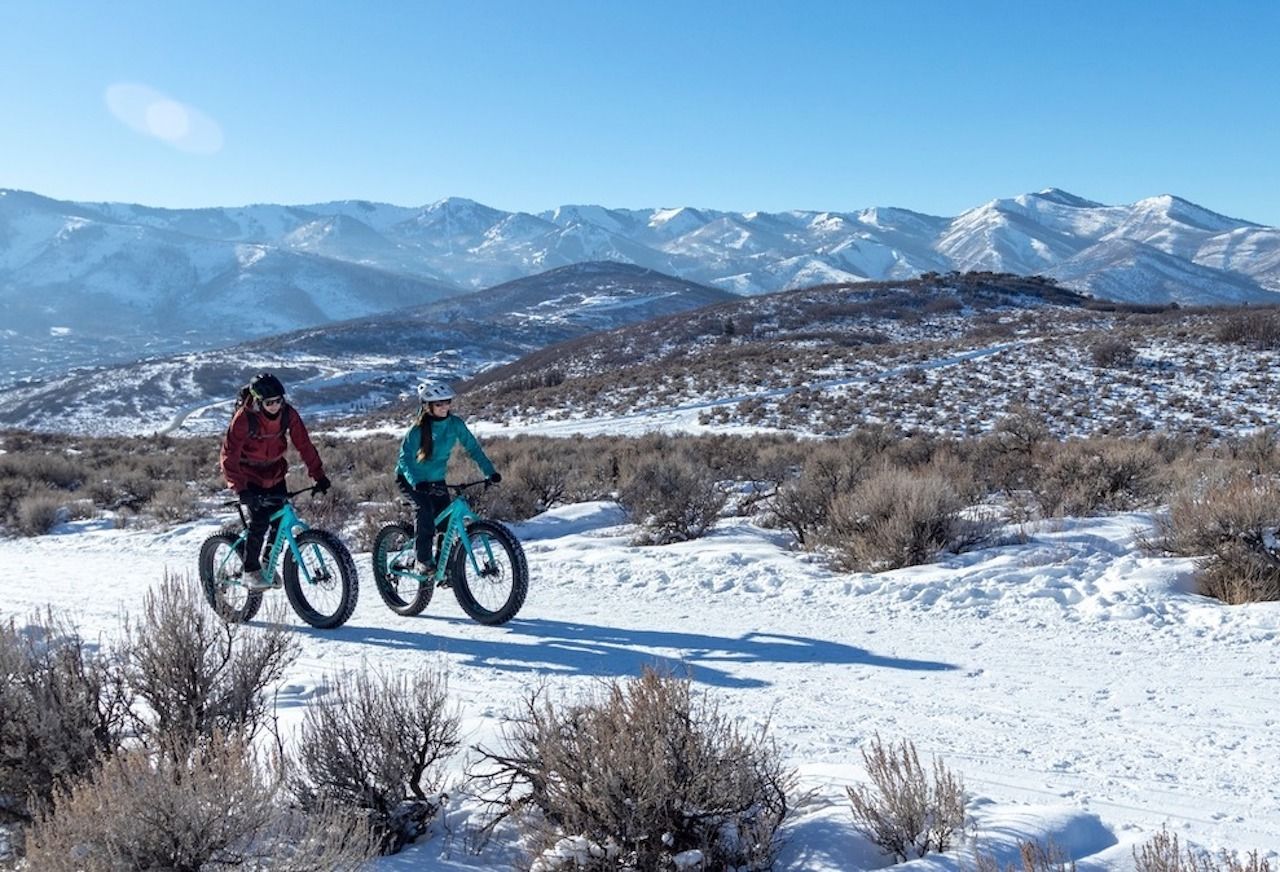 Photo: White Pine Touring/Facebook
Since Moab is considered by many to be the capital of mountain biking, it's little wonder that the state of Utah would be a great place for fat biking as well. But while you can fat bike in Moab, since fat bikes are great for dusty and sandy ground as well, the fat biking we are concerned with here involves using the extra traction that large tires give you to get across soft, slippery snow. And the place to find a lot of snow is in the Wasatch Mountains, home to multiple ski resorts from Alta and Snowbird to Deer Valley and Park City. But Park City isn't just a ski resort; it's also one of our favorite winter mountain towns. And it's chock-full of trails to take your mountain bike. You can ride over the snow as you take in the view of the Wasatch Mountains and Park City below. If you need some guidance, head over to Park City's White Pine Touring, which offers fat bike rentals as well as guided fat biking tours of the area.
6. Idaho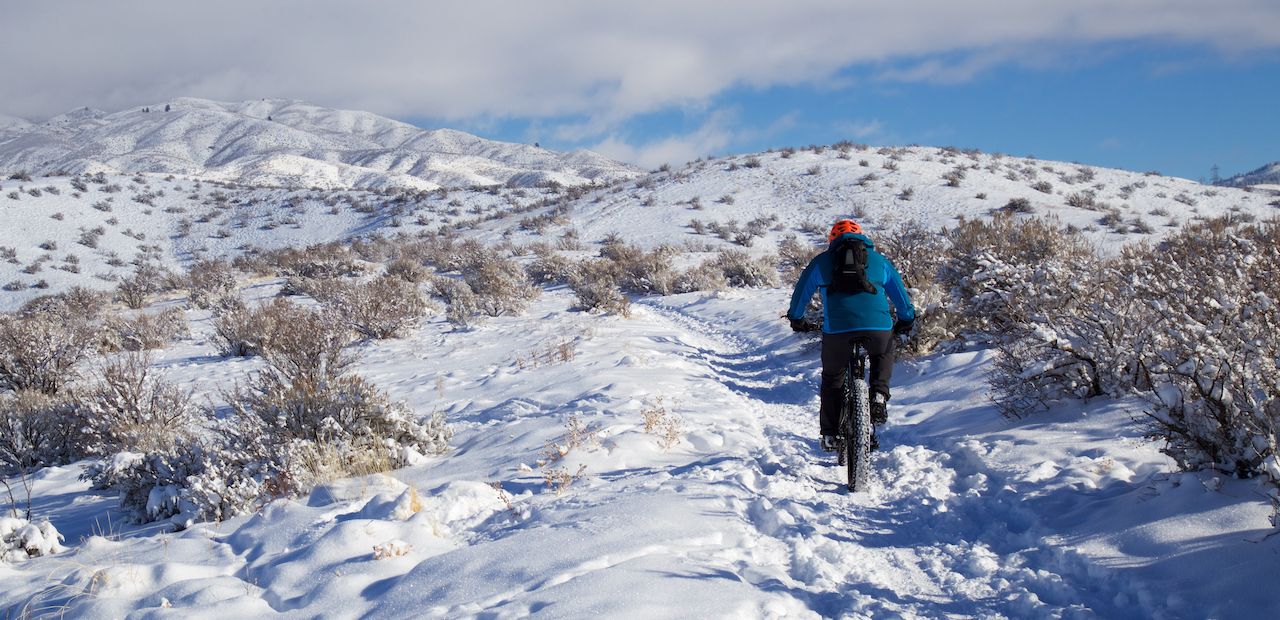 Photo: CSNafzger/Shutterstock
Few states are more rugged than Idaho, making it one of the better places best explored on a bike with extra-wide tires. Ketchum isn't just one of the coolest small towns in the country, it's right next to Sun Valley and more outdoor activities that you could do in a winter — among them fat biking. You could ride on the snow at the Big Wood Sports Park, at the Sun Valley Nordic area, or in the Sawtooth National Recreation Area, which has so many options the biggest risk will be getting lost among the evergreens.
7. Maine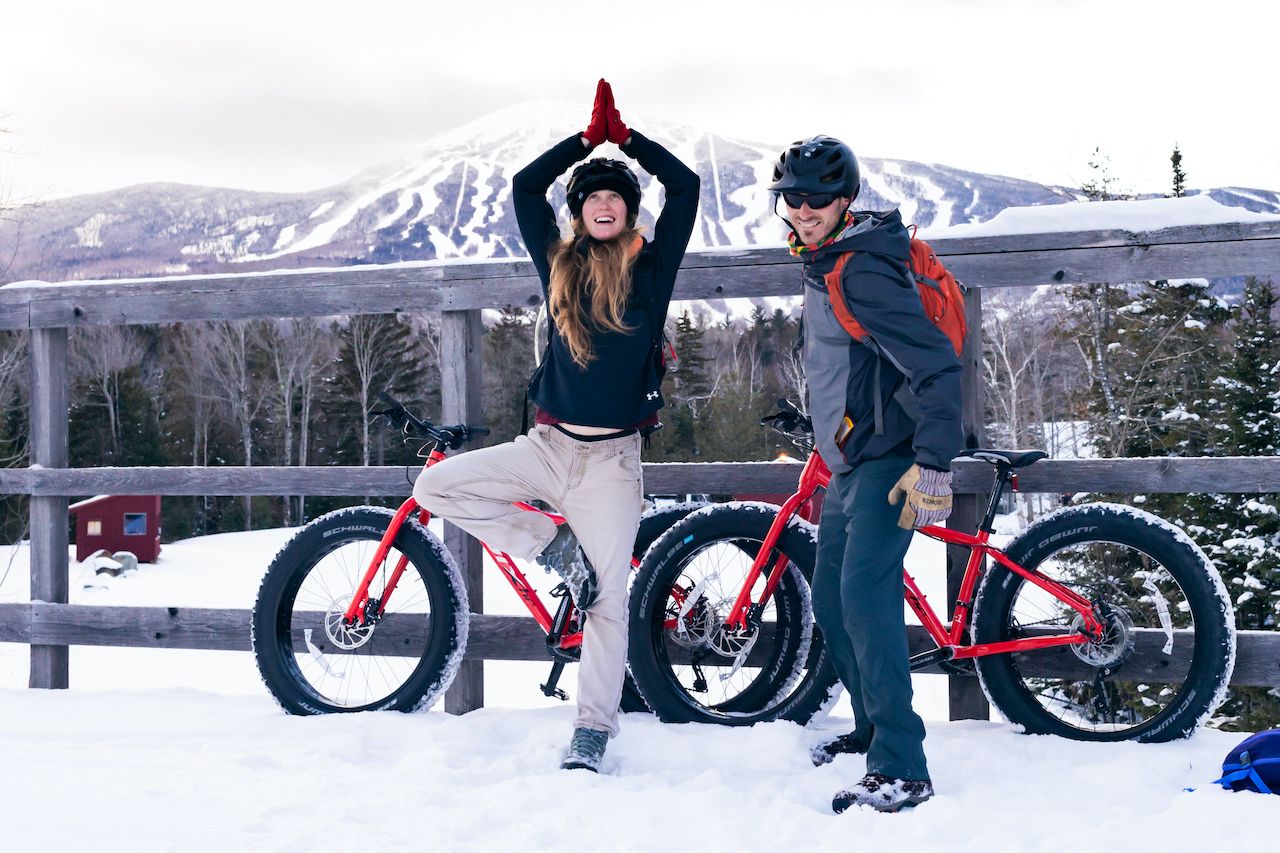 Photo: MLBailey/Shutterstock
Maine is a super choice for fat biking, and you can find rentals just about anywhere, from downtown Bangor or Portland. Rent in Bar Harbor and you can take your fat bike through the beautiful, snow-blanketed carriage roads of Acadia National Park. Or head to one of Maine's ski resorts and rent bikes there. You can also rent fat bikes at ski resorts like Sugar Loaf, but the all-around coolest way to fat bike in winter in Maine may well be on its hut and trail system, where trails are groomed so that you can take your fat bike on them.