THE UPPER MIDWEST has many tranquil resort towns that double as local ski towns in the colder months. They're chilly but beautiful when covered in winter's white cloak, and because it's the Midwest, they're also located lakeside. Many are right on the shores of the Great Lakes. They may not have the towering altitude of the Rockies, but they do have the skier's attitude and, as an added bonus, are both closer and far cheaper than traveling to ski destinations out West. Each of these three towns offers plenty to keep you occupied on and off the slopes.
1. Bellaire, Michigan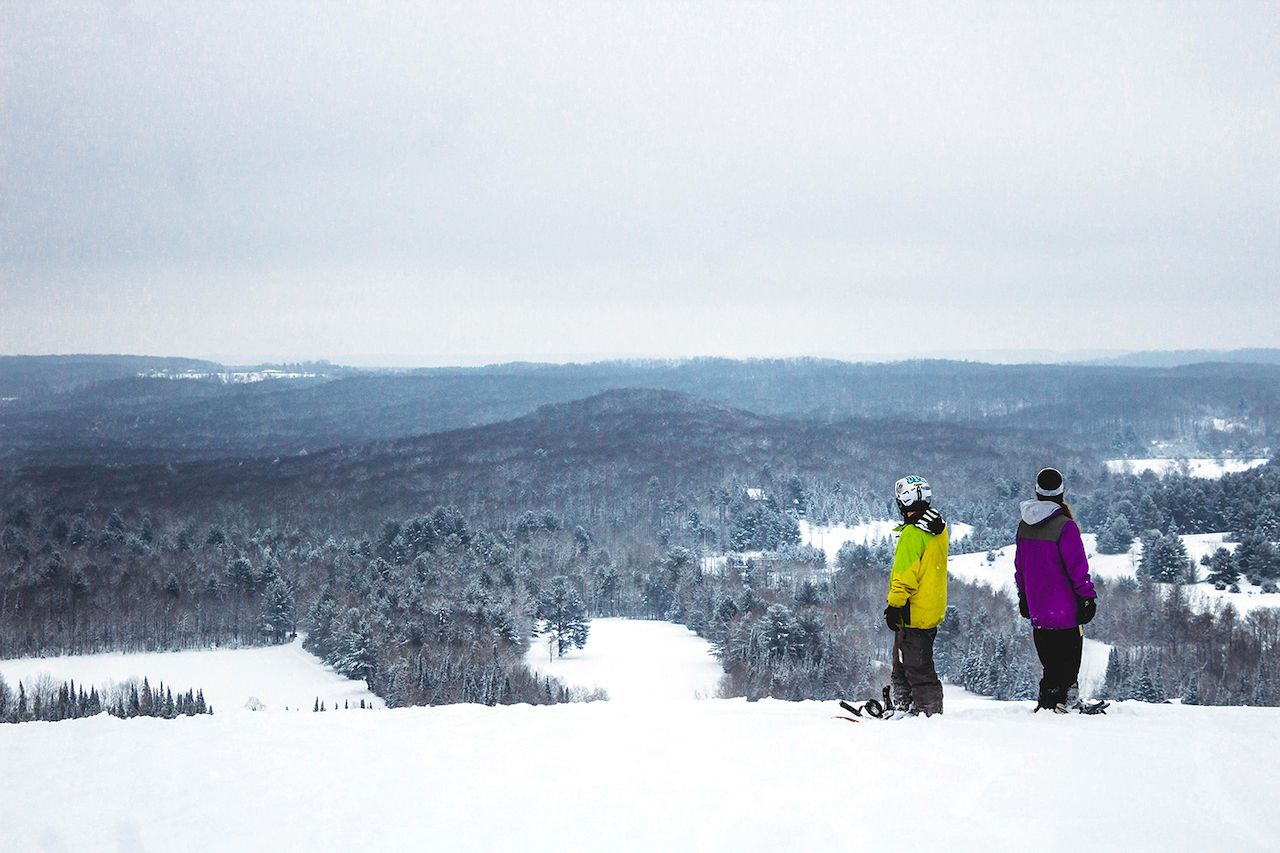 Photo: Shanty Creek Resort
If there's one great place in the Midwest to dip your toes into ski culture, it's in Bellaire, a town of about 1,200 that's just 45 minutes from Traverse City and its regional airport. You can ski, of course — the adjacent Shanty Creek Resort offers two connected ski hills and the best tree skiing in northern Michigan. But here it's all about the full experience. There's nowhere better to experience après culture for the first time than The Shanty, located at the resort, or to take that first hot tub plunge after a long, cold day out in the snow. Book a room at an on-mountain lodge in any of the resort's three villages and wake up to alpine views before making your first turns of the day, and pull into the lodge for lunch and a cup of hot chocolate. Indeed, Bellaire and Shanty Creek bring a welcome dose of European ski culture to the Midwest.
Bellaire's most famous pub, Short's Brewing Company, helped put Michigan craft beer on the national map and can now be found in high-end beer bars and mountain towns from the Great Lakes to Vail. Here is where you'll find the beating heart of Bellaire's social scene, with live music and jazzed up American cuisine making the pub a great place to head after a day on the slopes. The Glacial Hills Pathway packs into a somewhat strenuous but fun fat bike trail once the snow falls, with snowshoeing doable on the town's trails and ice fishing also available at Lake Bellaire.
As an alternative to staying at the ski resort, try quaint lodging in Bellaire like the Bellaire Inn, a motel within walking distance of the town center and its restaurants and shops. Airbnbs and other rental properties in and around town — many along Lake Bellaire and even further outside of town along the east arm of Grand Traverse Bay — provide a remote but still easily accessible way for families and larger groups to all stay together under one roof.
Local gear shop and rentals: Shanty Creek Resort Snowsports Center
Spot for après-ski revelry: Short's Brewing Company
The coolest Colorado ski town to spend your summer in
2. Harbor Springs, Michigan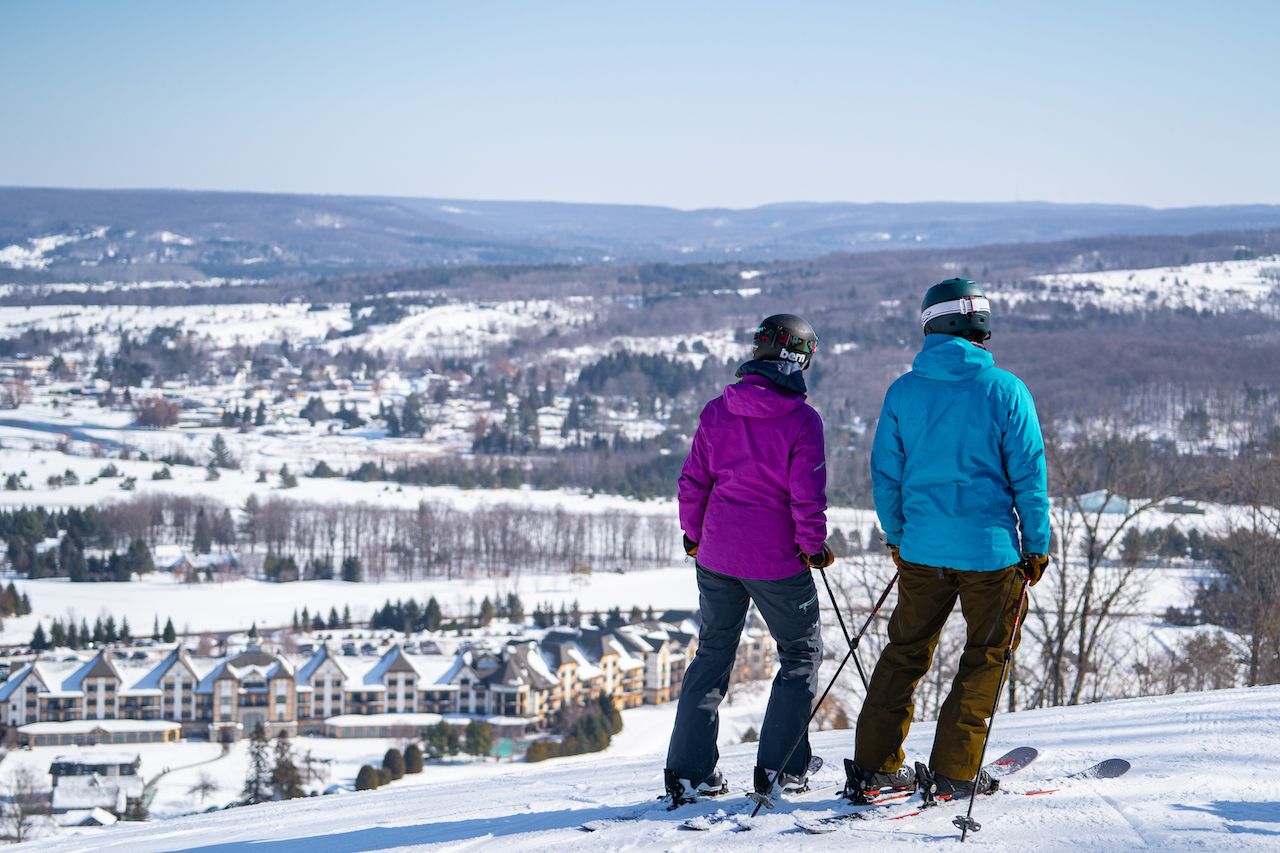 Photo: Thomas Doerr/Boyne Mountain
Located along the shores of Little Traverse Bay, Harbor Springs is incredibly popular with boaters, golfers, and other travelers from down south during the summer months. But it shines in winter as the Midwest's most authentic ski town, with three of Michigan's top ski resorts — Boyne Highlands, Boyne Mountain, and Nub's Nob — just up the road. Even if downhill skiing isn't your thing, each of the three resorts offers groomed cross-country ski trails and the full day lodge experience with dining, coffee, and cocktails around the fireplace.
On a non-ski day, stop by the Harbor Springs History Museum to learn about the role of skiing in the area's history, and consider sledding or skating at Kiwanis Park. A stroll from the corners of State and Main streets will lead you past restaurants including the trendy American kitchen Paper Station Bistro and its sister restaurant State Road Provisions, upscale The New York Restaurant, and the casual, beer-heavy Bar Harbor. Like good ski towns the world over, nearly anything to eat, drink, or do is available within walking distance of the town center. Just bring a warm pair of boots and a scarf — it's frigid once the sun goes down.
Local gear shop and rentals: The Outfitter
Spot for après-ski revelry: Turkey's Pizzeria
3. North Shore, Minnesota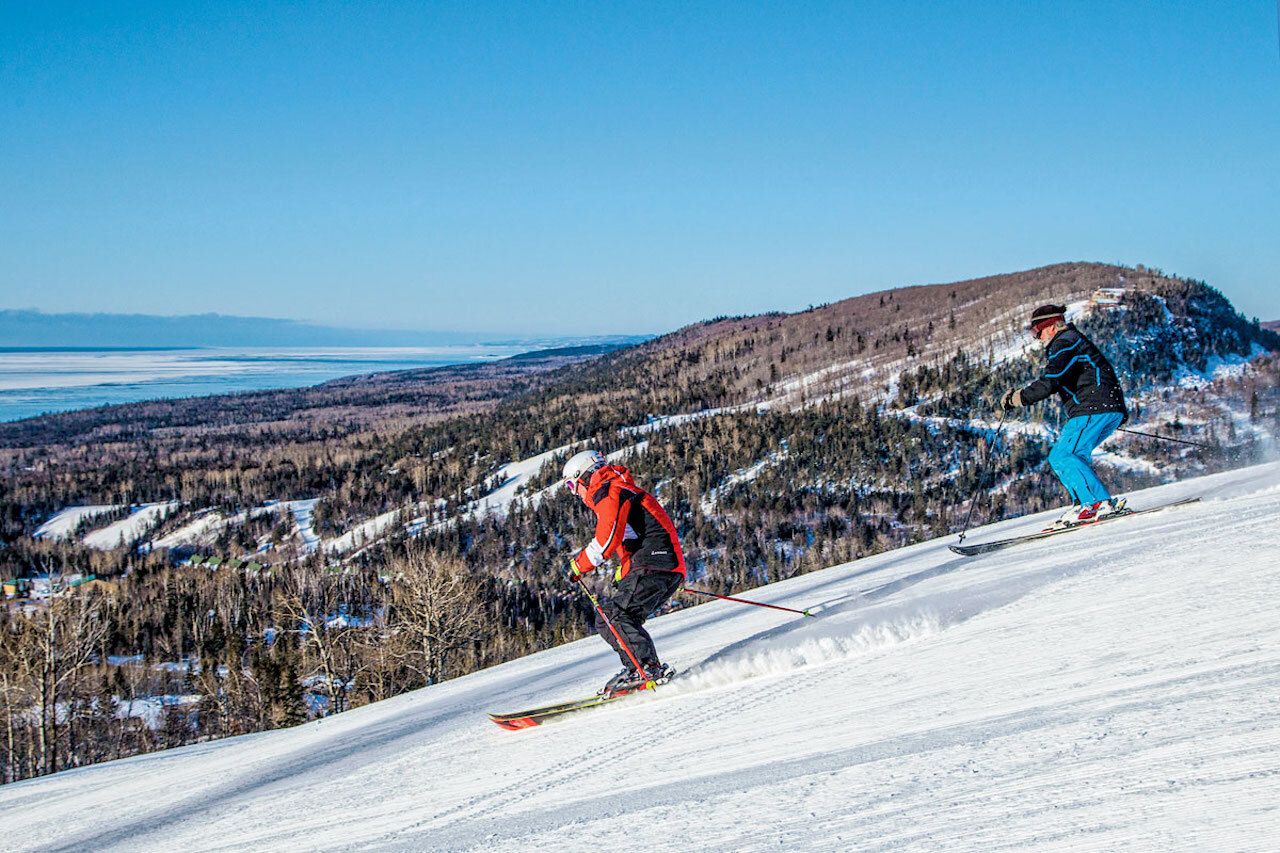 Photo: Lutsen Mountains Ski and Summer Resort
Say you're a true ski bum. The type that prefers to spend your evenings plotting the next day's turns and who has never let a bit of sunrise frost keep you from catching the first chair. For you, dear hardy skier or boarder, the best place to find yourself in between Colorado and Vermont is the Lutsen Mountains of northern Minnesota. Minnesota's North Shore offers on-water and on-mountain activities, with tiny towns including Lutsen and Tofte serving as basecamp along Highway 61 between the larger hubs of Two Harbors and Grand Marais. But it's the outdoor experience that defines this area, and that has brought canoers to the Boundary Waters Canoe Wilderness Area, boaters to the waters of Lake Superior, and skiers to Lutsen Mountains Ski and Summer Resort.
Comprising four peaks (in the Midwestern sense, at least, as the highest is a mere 1,688 feet), Lutsen Mountains Resort is a full-service mountain destination complete with lodging, dining, and one of the region's premier live music venues, Papa Charlie's. The Lutsen Mountains receive 120 inches of snow per year, meaning your chance at an elusive Midwestern powder day is better here than anywhere else. When it's time to head up to the pistes, you can ride in one of the nicest gondolas in the Midwest.
Snowshoeing is a common activity on the area's summer hiking trails, and if you're really feeling adventurous, try skijoring — a sport that involves enlisting your dog (or that of a willing companion) to serve as Rudolph-for-a-day while pulling you on skis across a frozen lake, road, or field. When hunger bites, stop into Mogul's Grill and Tap Room or the Summit Chalet, or head down to the lake to dine by the water at Poplar River Pub.
Local gear shop and rentals: Lutsen Recreation
Spot for après-ski revelry: Papa Charlie's at Lutsen