IN THE EARLY 1800S, industrialists dreamed of a canal that would connect the Eastern Seaboard to the Great Lakes and the Ohio River, shepherding trade and improving transportation between the two regions. Those plans became less grand as support waned, scaling back from Georgetown, DC, to Pittsburgh and eventually just Georgetown to Cumberland, Maryland. The history of the Chesapeake & Ohio Canal is fraught with obstacles, from budget cuts to floods to the Civil War. But throughout these troubling times, the canal could always count on the lockhouse keepers.
The lockhouse keepers lived full-time in humble stone abodes managing the locks, raising and lowering boats between different water levels in the C&O canal. Many of these lockhouses still stand today, and seven of them have been restored by the Canal Trust for overnight guests, be it larger groups like families, weary bikers traversing the 184.5-mile towpath, or solo travelers like me looking to finally leave my quarantine bubble.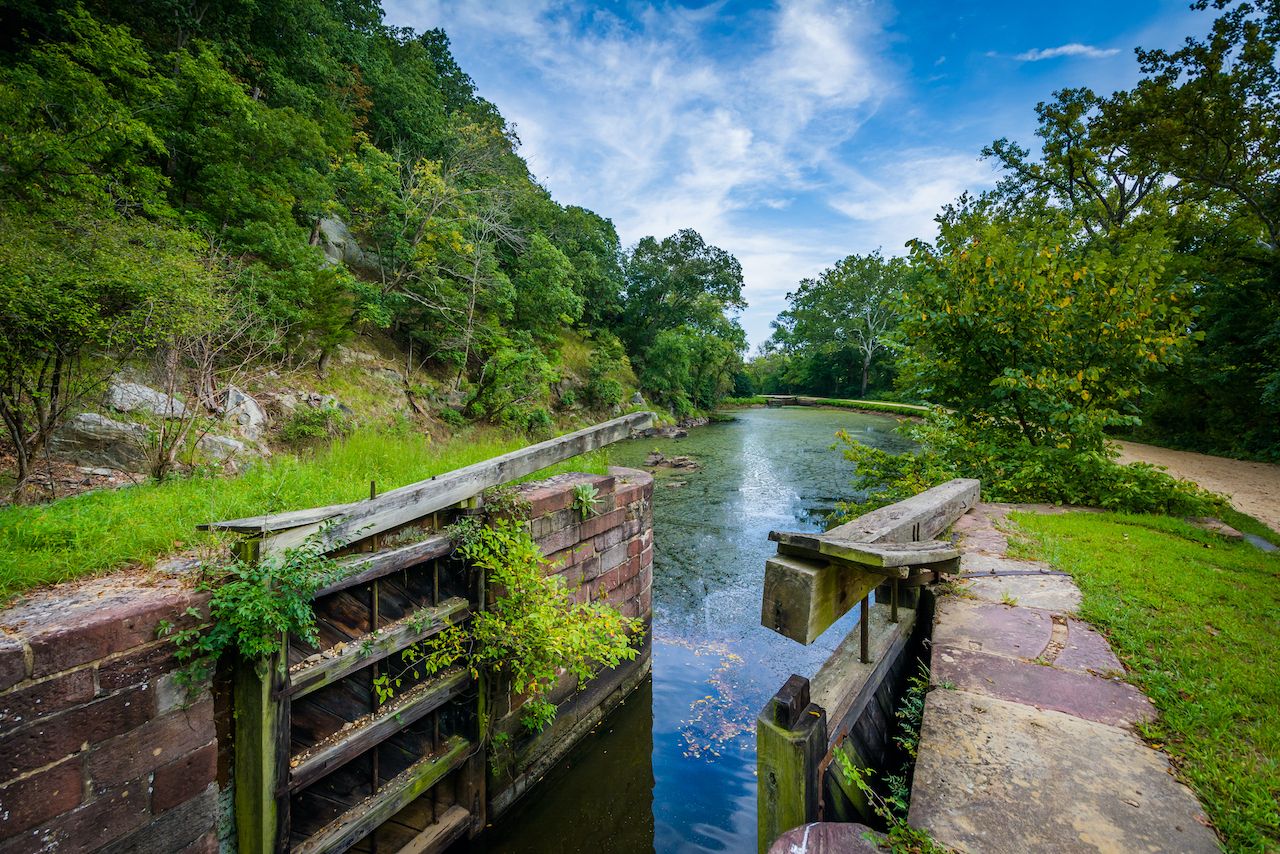 Photo: Jon Bilous/Shutterstock
I spent four days in early 2021 hopping between lockhouses, exploring the C&O Canal and surrounding attractions along the way. It was squarely the off-season, and in the middle of a ban on indoor dining in Maryland, so about as socially distant a getaway could be right now. While there was still plenty to do in late January, I kept thinking how nice the experience would be in the spring with wildflowers blooming, in the summer with crickets chirping, in the fall with bright foliage, and even around the holidays blanketed in snow (for the lockhouses with heat). But for those popular seasons, you'll have to book in advance to secure one of these exclusive spots.
The Chesapeake and Ohio Canal National Historic Park is actually the 12th most visited park within the National Parks Service — more than Yosemite, Yellowstone, and even the Grand Canyon. You can thank the many DMV (that's DC, Maryland, and Virginia) locals who take advantage of the canal daily for running, hiking, and biking. What few people I did run into on the towpath were indeed locals, yet almost none knew you could actually stay at the lockhouses they so often strolled past. While lugging my stuff to the door of Lockhouse 22 on my third day, one couple eagerly stopped me to ask what the experience was like — they'd seen the small signs advertising the opportunity in the last year but never pulled the trigger. If you stay overnight at one of the historic properties, you'll be in the minority of those in on the secret. If you treat the lockhouses like an experiential trail and make a long weekend of it, staying at multiple spots and exploring each surrounding area, you'll be among the first to do so.
How to book a stay at the lockhouses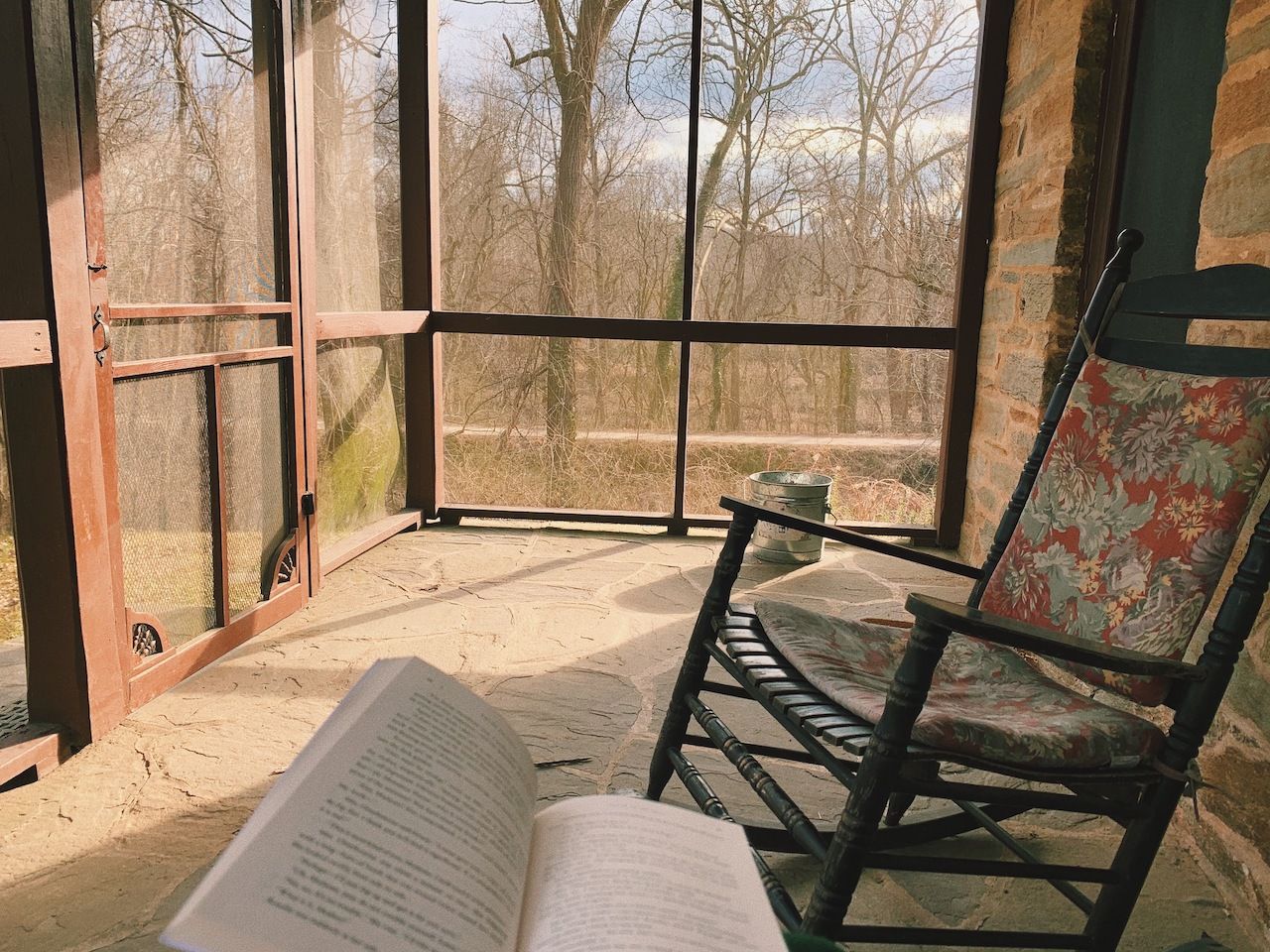 Photo: Laura Reilly
All of the lockhouses are operated by the C&O Canal Trust, a nonprofit that works in partnership with the National Parks Service to restore, protect, and promote the canal. You need to book directly on the Canal Trust website by selecting which lockhouse you want to stay at and confirming dates. You can book up to a year in advance, which is especially recommended if you want to stay during a holiday weekend or around popular events like the annual Heritage Harvest festival in September or the Cherry Blossom Festival every spring in nearby DC. You'll find plenty of availability throughout the week versus the weekends and more availability in winter. Rates start at $110 a night, and the money goes towards the Canal Trust's work maintaining these beautiful properties and restoring additional lockhouses. 2021 marks the 50th anniversary of the creation of the Chesapeake and Ohio Canal National Historic Park, and while COVID is putting a pin in some of the planned events, this will still be a busy celebratory summer. The end of August will see the 45th annual "Canal Days" event in Williamsport along with a World Canal Conference in Hagerstown for canal enthusiasts. You can also purchase gift certificates.
What to expect at the lockhouses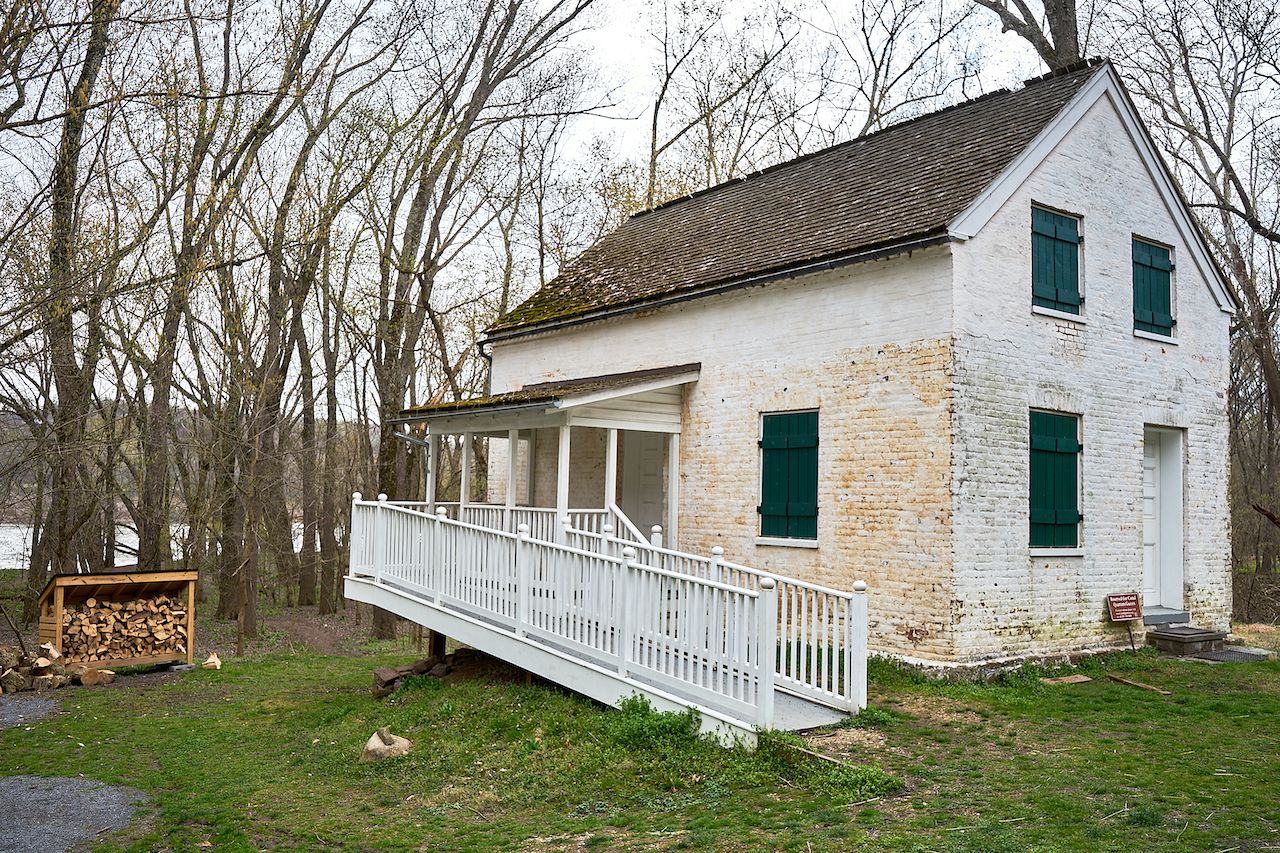 Photo: Deeper Look Photography/Shutterstock
Every lockhouse offers its own unique experience, but some are more suitable than others depending on your desired level of comfort and amenities. They can all sleep eight people, but linens and pillows are not provided. Some have air conditioning, heat, and other modern luxuries; others don't have running water or electricity. Note that indoor fireplaces for all lockhouses aren't functional, but most have outdoor fire pits. Pets and alcoholic beverages are not permitted. In normal times, you're responsible for cleaning up the place, but during the pandemic, the Canal Trust is employing a professional cleaning service to sanitize the rooms. Still, it's up to you to carry out trash and leave the lockhouse in tip-top shape. Think of the whole experience like camping indoors.
These are our favorite options based on location, group size, aesthetic, and rusticity.
For staying close to DC: Lockhouse 6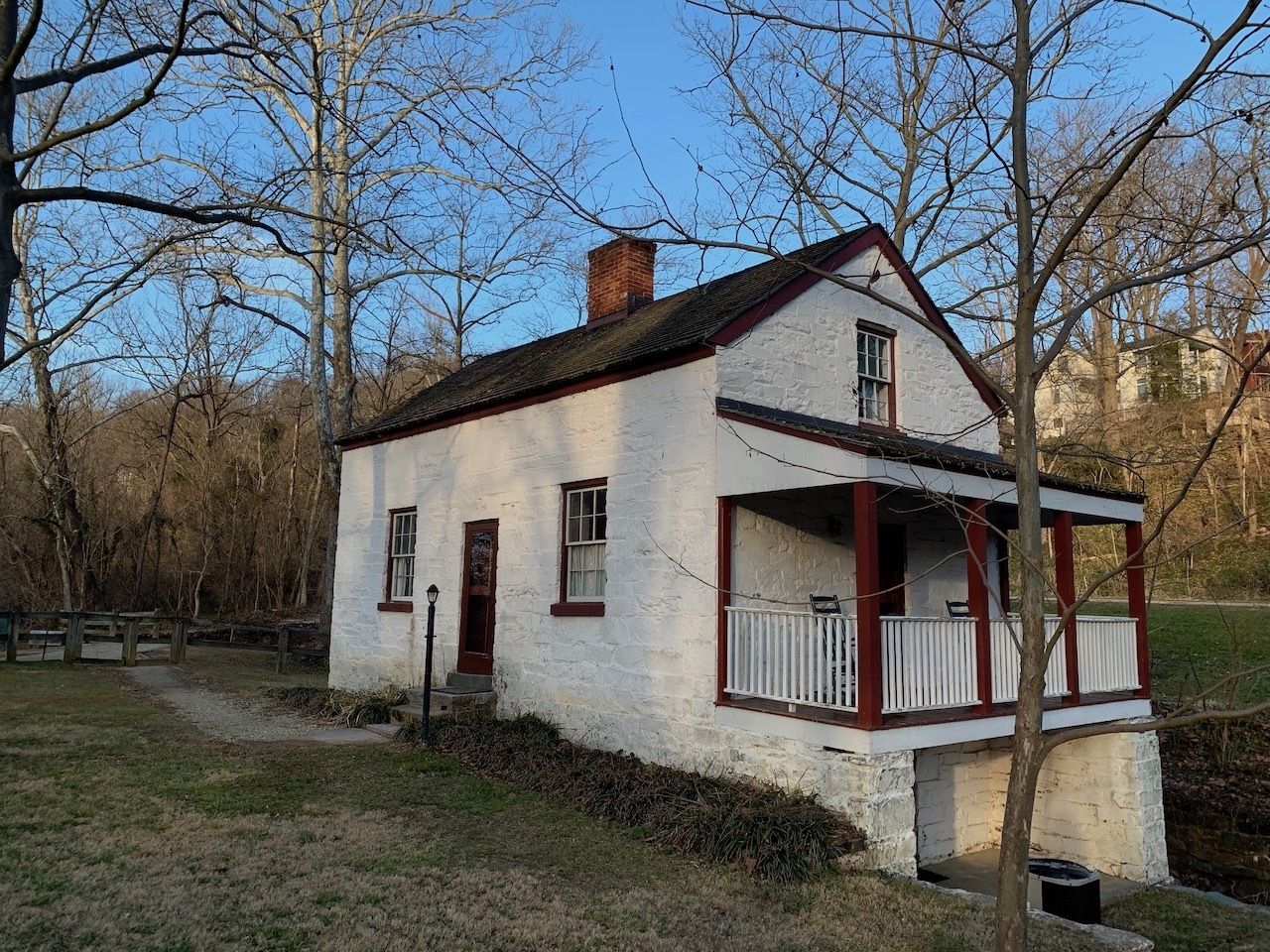 Photo: Laura Reilly
If you're looking to tack on a visit to the canal as part of a bigger visit to Washington, DC, and don't want to drive too far away from civilization, Lockhouse 6 is the spot to book. Surrounded by sycamores and steps away from the canal, it feels like you're away from it all, but in reality, you're so close to bustling Bethesda and Georgetown that you could order Doordash to the parking lot (speaking from experience). But you'd have a more memorable time spending the day exploring these neighborhoods, popping into their many diverse restaurants and trendy boutiques before retreating to your lockhouse for the evening. If you plan on biking the canal, Georgetown and Bethesda are the easiest places to rent all the gear you need; Griffin Cycle in Bethesda and Big Wheel Bikes in Georgetown are both solid options.
This white-washed stone lockhouse is styled to fit the 1950s in honor of Supreme Court Justice William Douglas's historic hike to preserve the canal as a linear park after the trade route was shut down in 1924. To fully set the retro mood, connect your phone to the vintage radio, cue up the Canal Trust's curated '50s Spotify playlist, and laze on the colorful mid-century furniture.
Amenities: electricity, A/C, heat, fast cell service, bathroom with tub/shower, modern kitchen, private porch
For a comfortable family vacation: Lockhouse 21, "The Swains"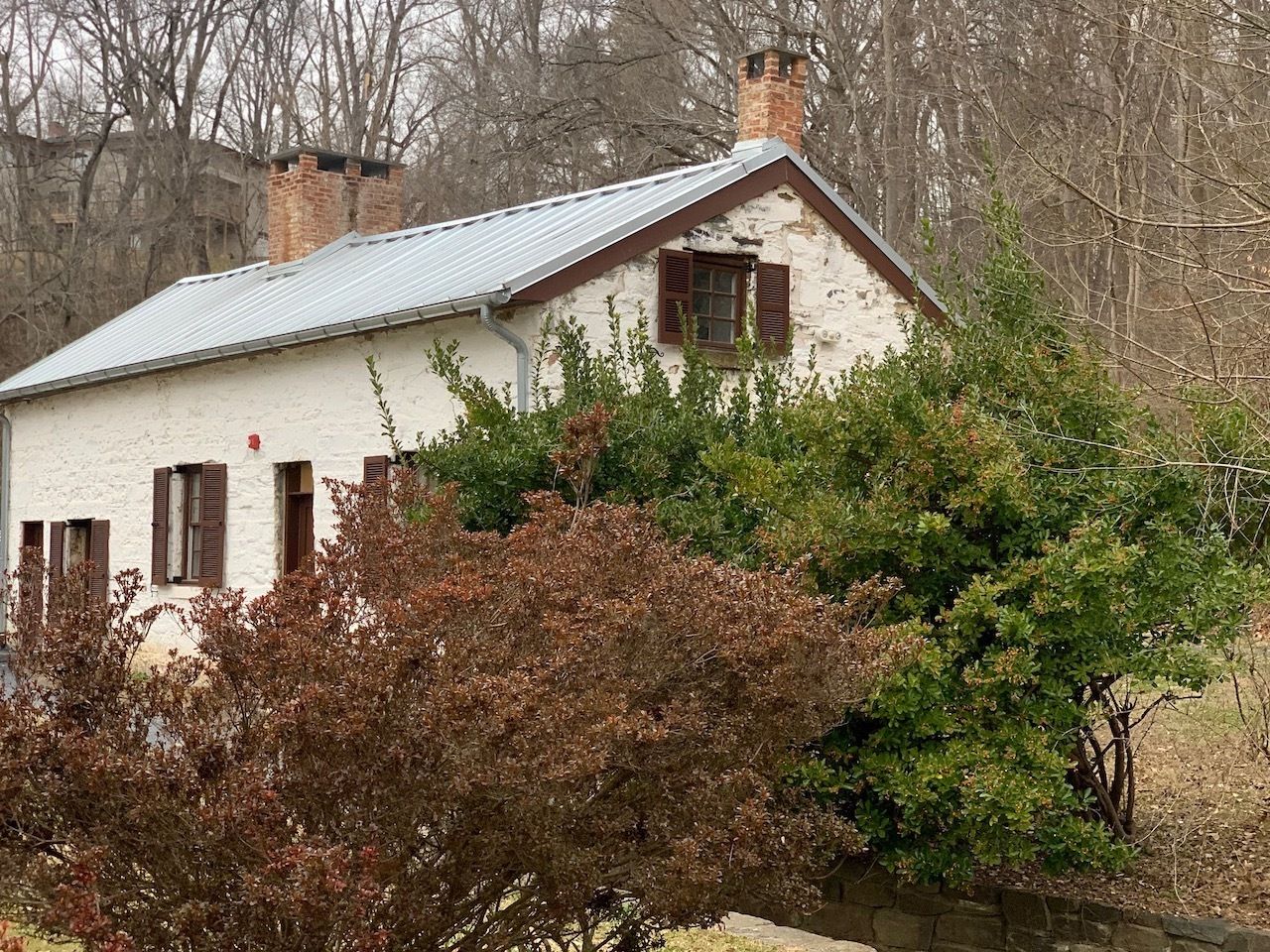 Photo: Laura Reilly
Lockhouse 21, otherwise known as "The Swains" after the family that used to live here, is emblematic of the incredible restoration and preservation work the Canal Trust strives to accomplish. The beautifully restored lockhouse opened in 2019 after three years of rehabilitation work. It's the most polished, modern lockhouse even though it interprets the year 1916, the year the National Park Service was founded. There's a large dining room, a huge kitchen, plenty of beds (including a Murphy bed on the ground floor, which is wheelchair accessible), an upstairs living space with comfy furniture and games, and an outdoor fire pit. If you're coming with a family — whether they're young children or elderly folk with mobility issues, the swanky Swains is your best bet. If you like what you see, consider donating more to the Canal Trust so they can continue this sort of restoration work elsewhere along the canal.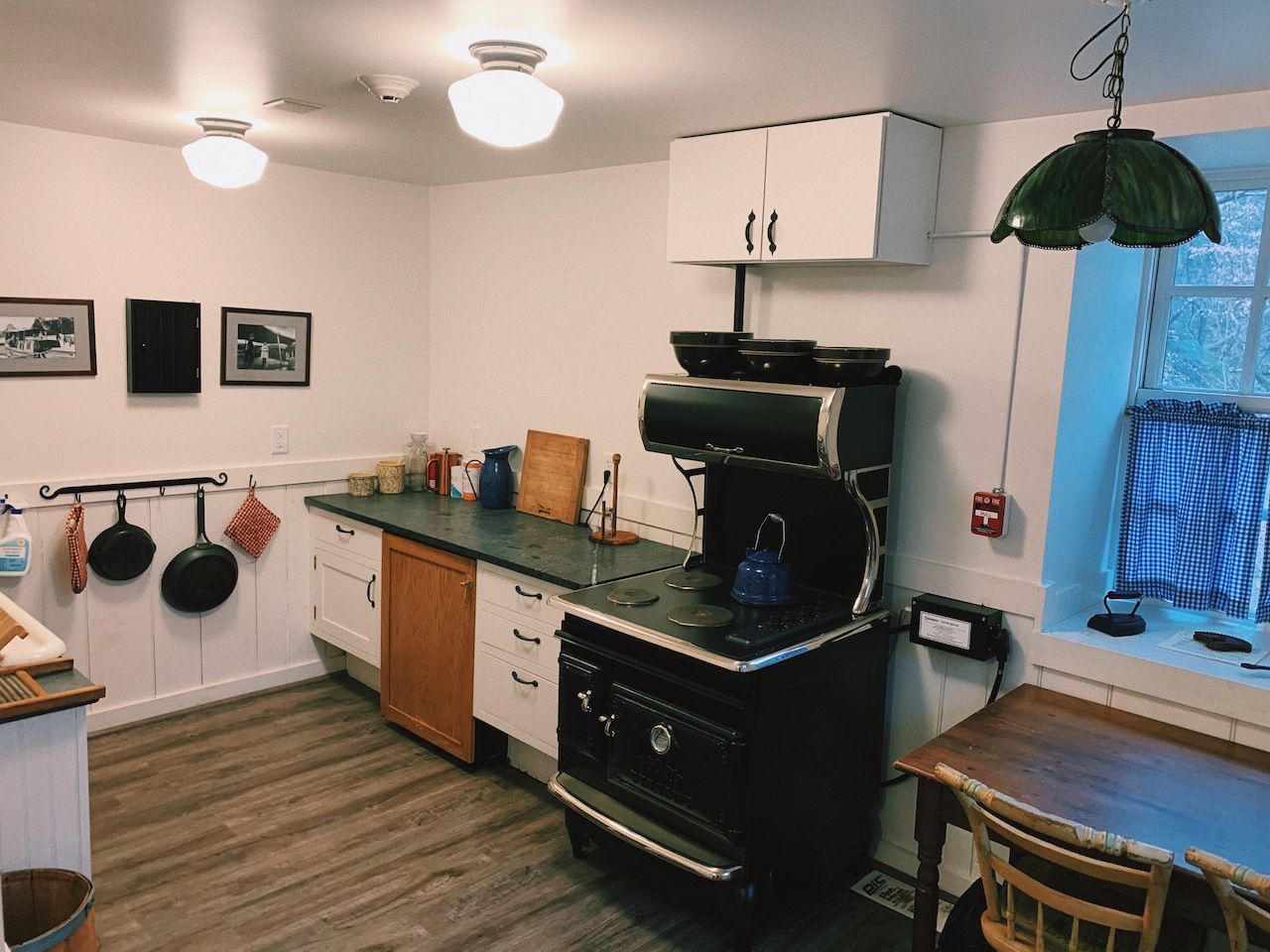 Photo: Laura Reilly
Note that this lockhouse is the least secluded of the bunch, sitting right in the parking lot of one of the busiest canal entry points. But once the park closes, you'll have one of the best views of both the canal and the Potomac River all to yourself. The tradeoff for not being remote is easy access to the Potomac Village Shopping Center, which houses a large Safeway grocery store, Starbucks, the gourmet Market at River Falls, and the incredibly indulgent Vie de France bakery where you can grab a few baguettes for the lockhouse.
Amenities: electricity, A/C, heat, bathroom with tub/shower, kitchen, fire ring, ADA-accessible
For the best Instagram pic: Lockhouse 10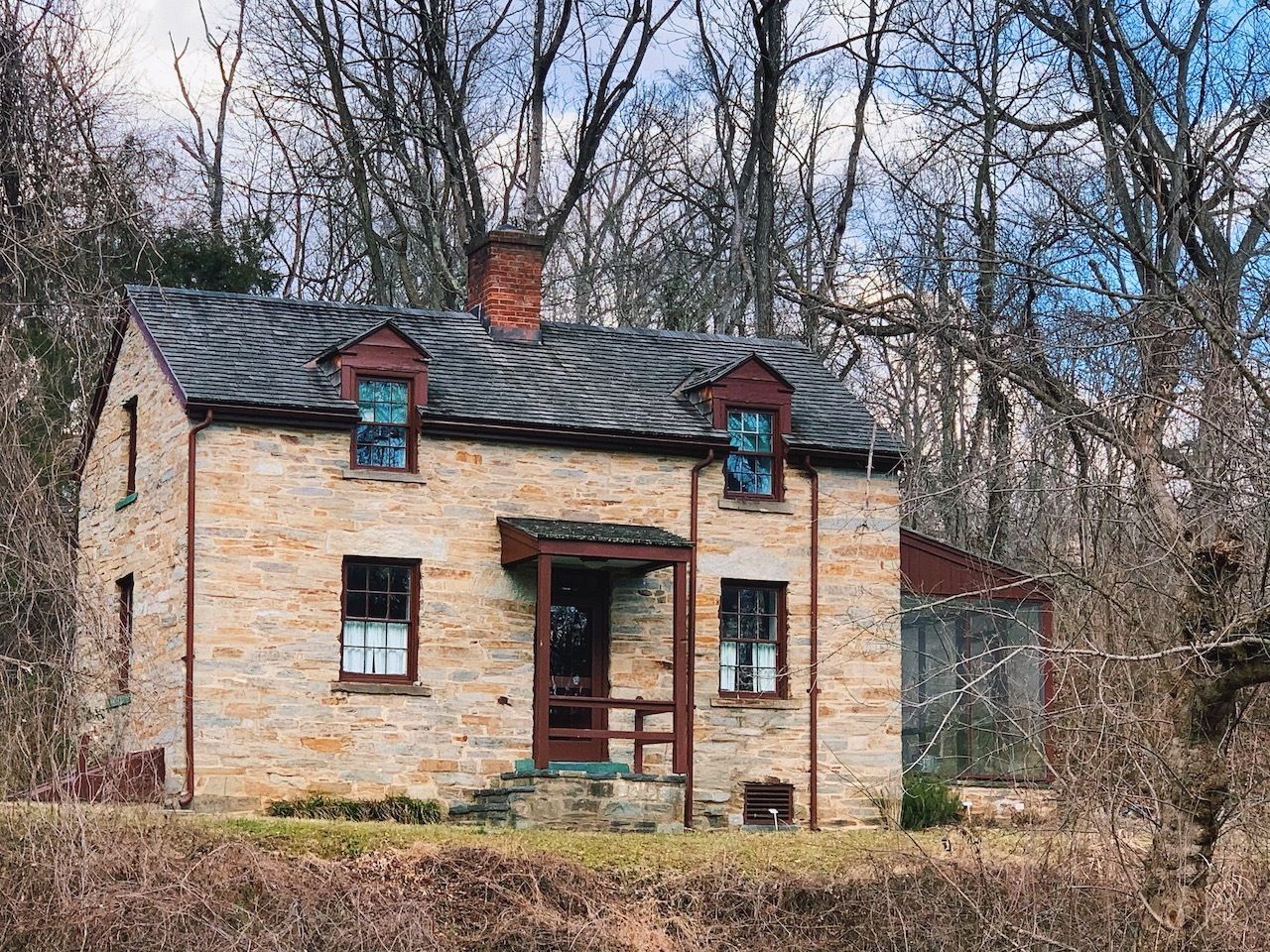 Photo: Laura Reilly
When it comes to adorable aesthetics, there's no beating Lockhouse 10. Styled after the 1930s and shrouded in greenery, this lockhouse is painted beautiful pastel colors, has lovely 1930s kitchen appliances and decor, and comes with a private screened-in porch with cozy rocking chairs. It's also fairly close to the Bethesda area and nearby towns Cabin John and Glen Echo.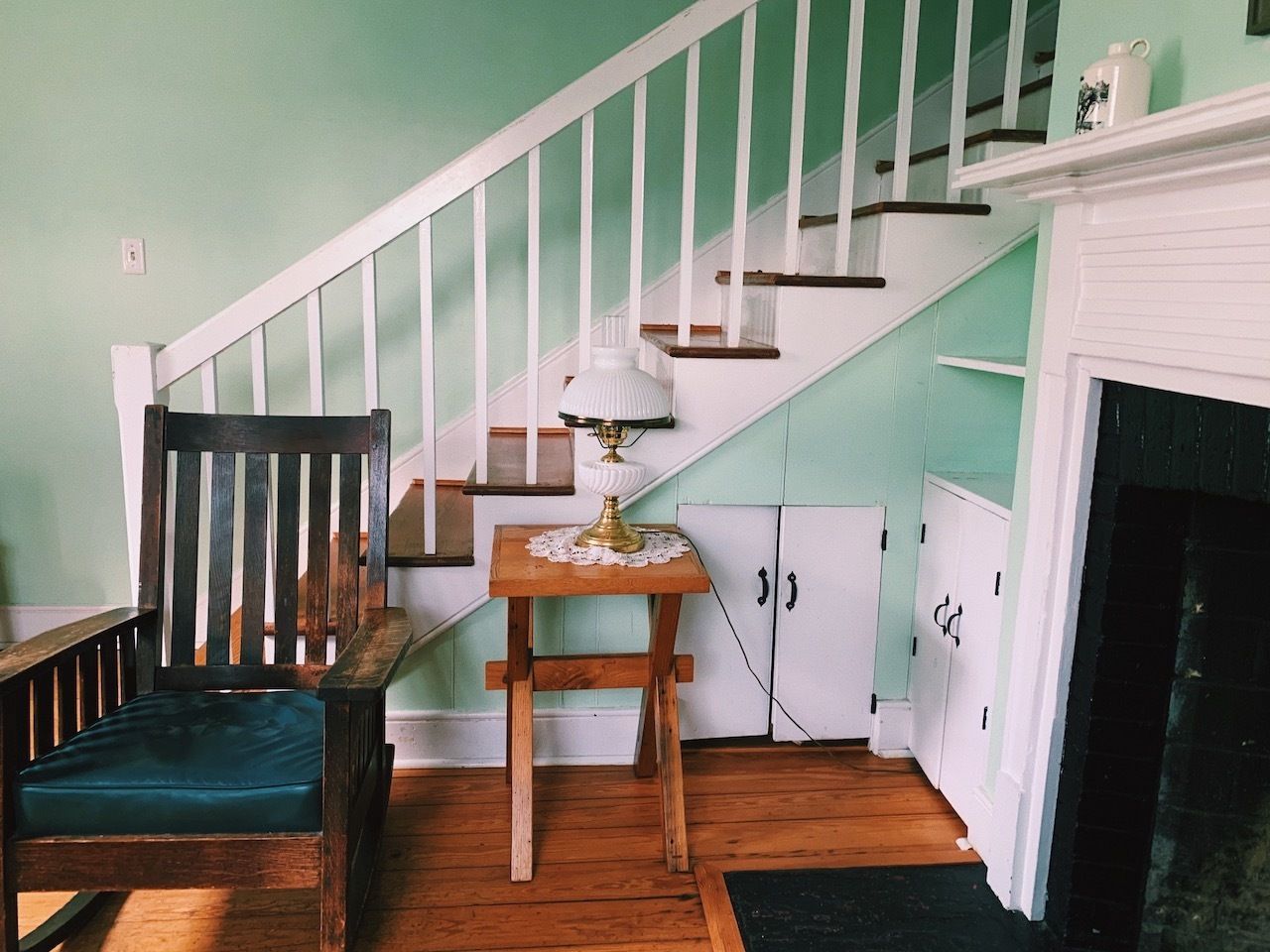 Photo: Laura Reilly
Whether you read a book on the porch, roast marshmallows at the fire pit, or go birdwatching in the surrounding forest, you can expect total relaxation and an enviable Instagram pic at Lockhouse 10. Perfect for families, couples, or a solo getaway.
Amenities: electricity, A/C, heat, fast cell service, bathroom with tub/shower, kitchen, private screened-in porch, fire ring
For a rustic step back in time: Lockhouse 22, 25, or 28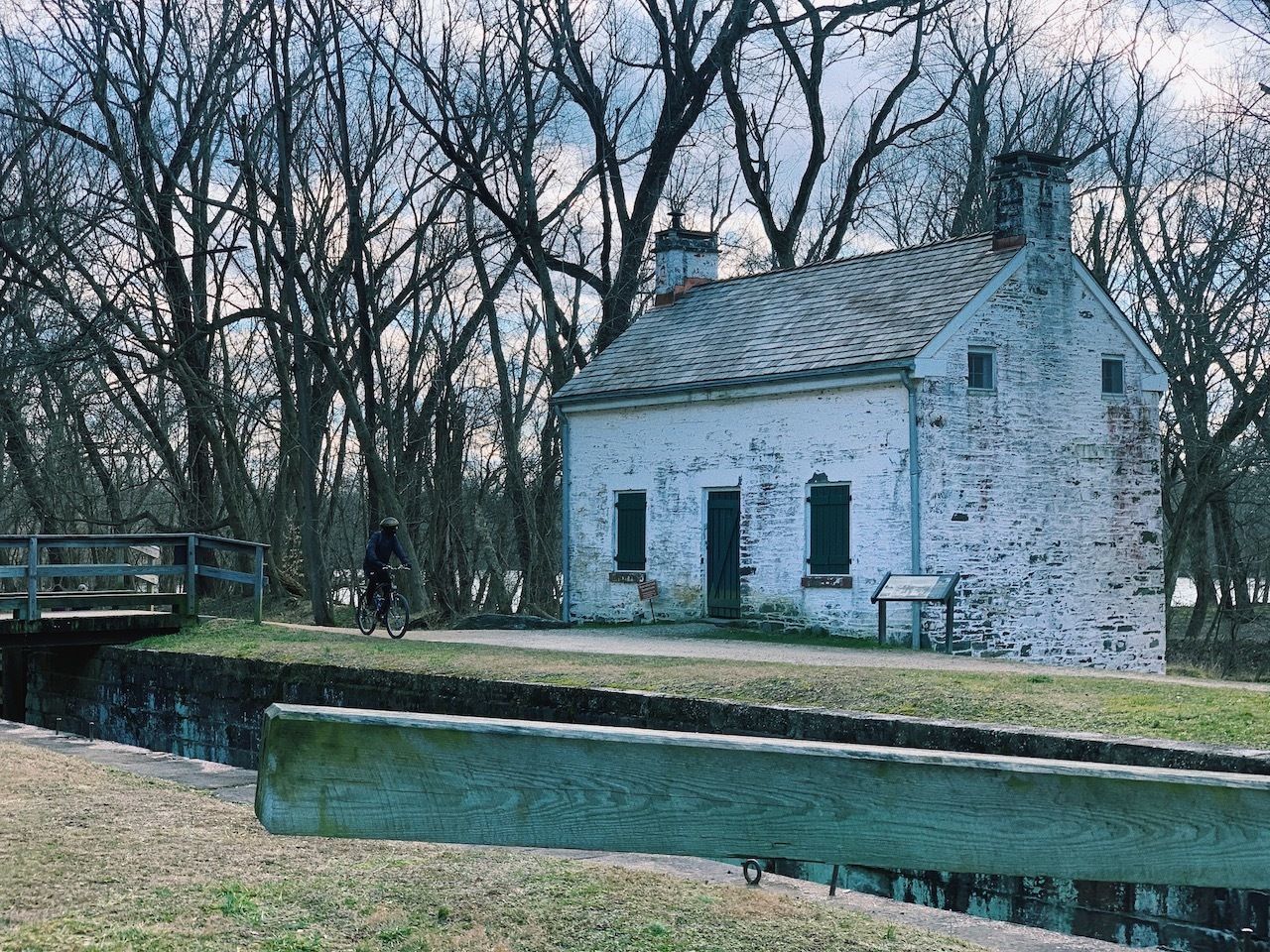 Photo: Laura Reilly
If you're coming in winter or on a cold rainy day, stop thinking of these rustic lockhouses as a house, and start thinking of it as a tent made of stone — capable of blocking out the wind but not keeping you any warmer than you'd be outside. All three of these lockhouses depict the mid-1800s and lack modern amenities like heat, water, and electricity. I stayed at Lockhouse 22 in the dead of January, and while I really thought I could handle the cold thanks to all my camping gear and hand warmers, it was a massive struggle by lantern light. Then again, I'm the type of person that sleeps in fuzzy pajamas even when it's 80 degrees out. If you're a seasoned camper and don't mind the chill, you could stay in these lockhouses in the colder months. They'll certainly be available. Otherwise, it's best to opt for one of the more luxurious options.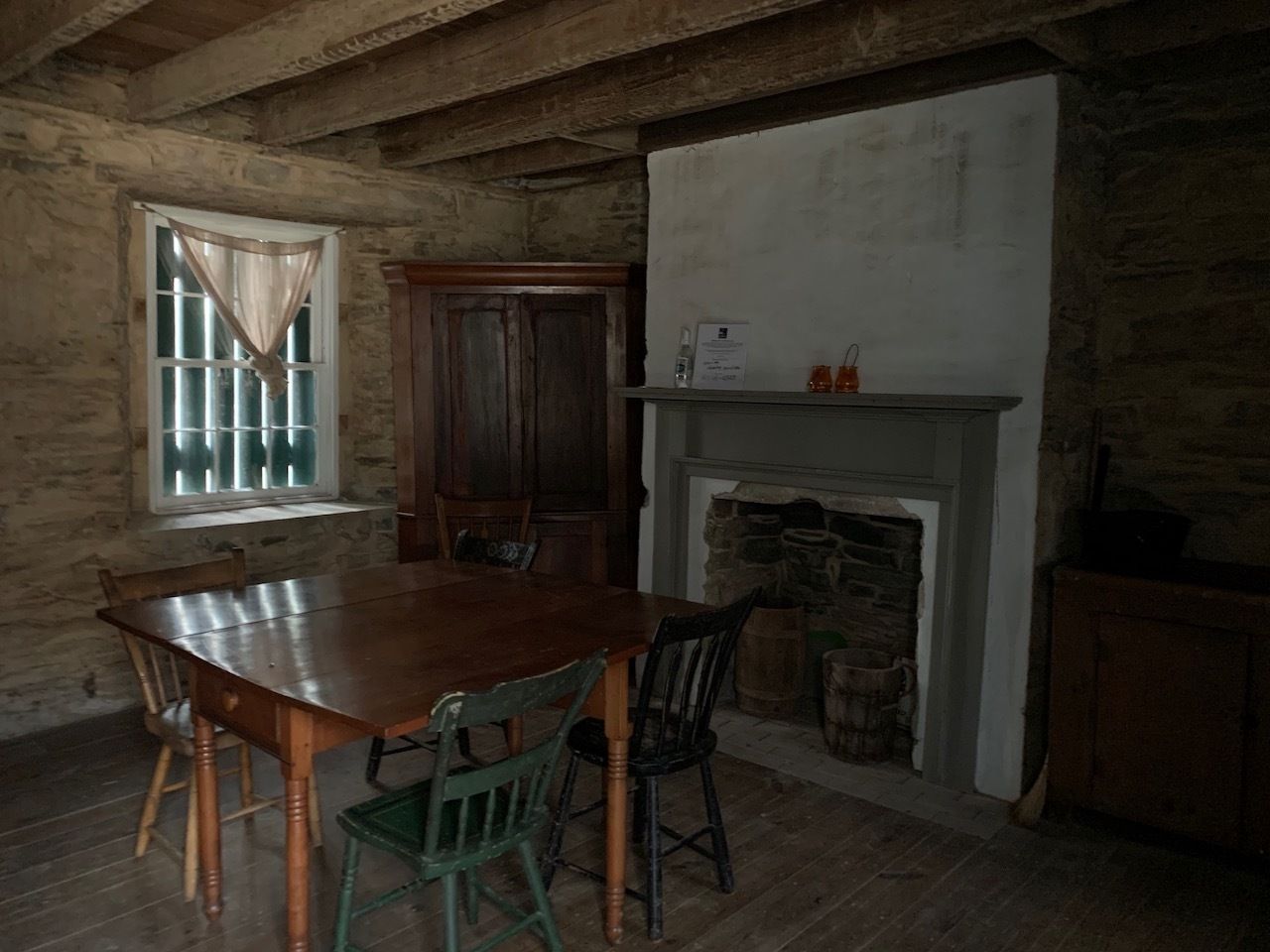 Photo: Laura Reilly
Thankfully, though, Maryland is known for its mild year-round weather. Things start warming up in the Mid-Atlantic around March and stay warm deep into September. These would be perfectly great options for the summer when you relax by the fire ring outside. The Canal Trust has even had families celebrate an Americana-infused Thanksgiving at the rustic lockhouses, cooking over the fire and playing old-fashioned games. Civil War history buffs will especially get a kick out of staying in period-authentic lodging while exploring the nearby Civil War Trail.
Amenities: Fire ring, picnic table, outdoor portable toilet. No running water (water pump at the towpath between April and November), no electricity, no light, no heat. Lockhouse 28 is wheelchair accessible, but a half-mile from the nearest parking.
For a remote, quiet retreat: Lockhouse 49, "Four Locks"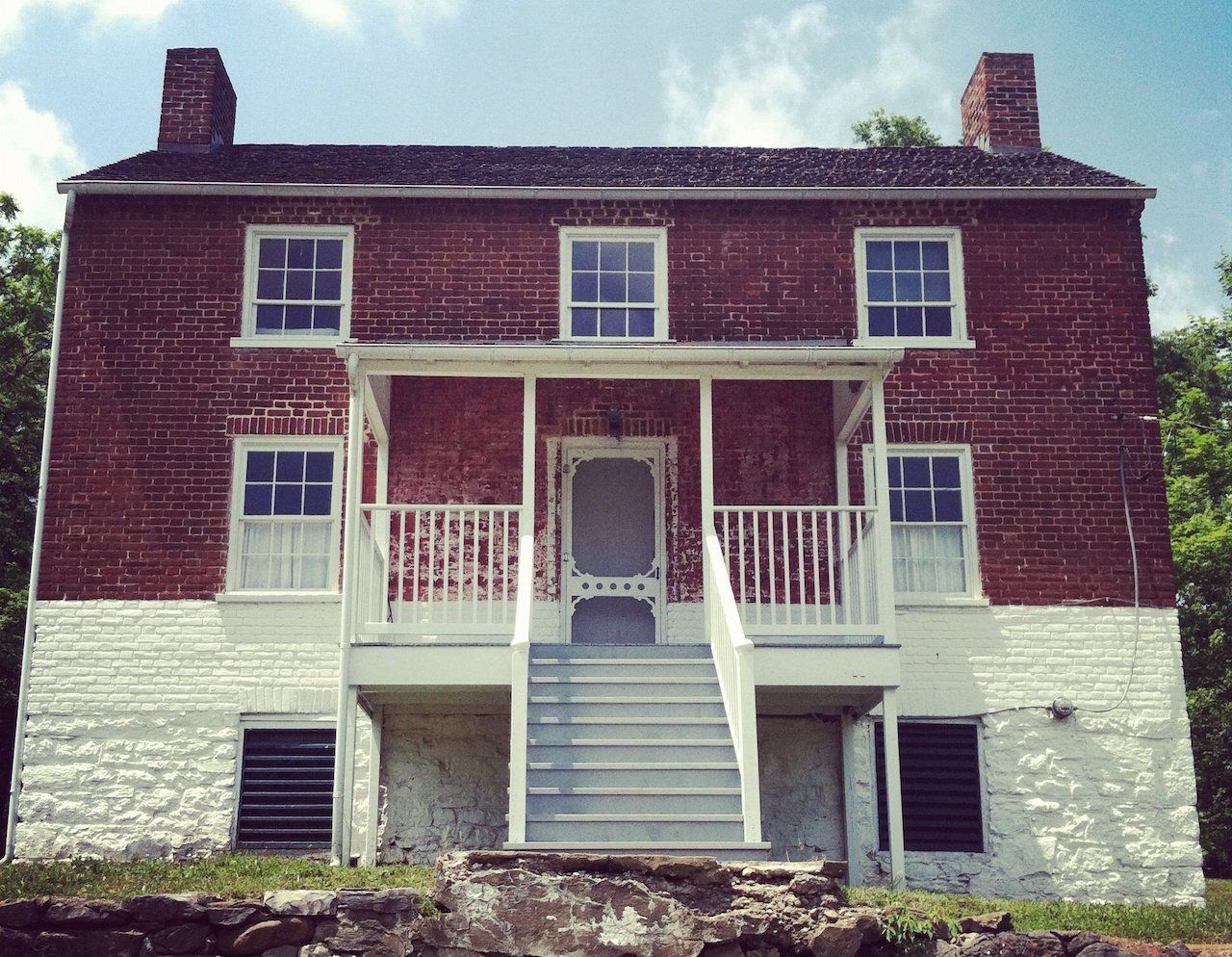 Photo: C&O Canal Trust/Facebook
Nearly all of the lockhouses are clustered around Montgomery County's quaint small towns or within a short drive to bigger cities like Rockville or DC. Lockhouse 49 is the exception, set way up in Western Maryland at the border of Pennsylvania and a short drive from West Virginia. Take a slow, long drive up the C&O Canal Scenic Byway, stopping at towns like Brunswick and Hagerstown along the way. Hiking opportunities abound, as do wineries like Antietam Creek Vineyards and Blue Mountain Wine Crafters. The tree-lined byway would be especially pretty in the fall when seasonal farm stands are in full swing. There are also lots of Civil War historic sites in Maryland and across the zigzagging state borders; the iconic Harpers Ferry National Historic Park in West Virginia is an easily accessible short detour.
Photo: christianthiel.net/Shutterstock
At the end of your drive, retreat to Lockhouse 49, otherwise known as "Four Locks." Set in the 1920s, this large lockhouse was once a mainstay of the canal community. Lockhouse 49 is a good balance between modern luxuries and a more historically accurate retreat, offering perks like baseboard heat and electricity, but forcing you to go outside for the bathroom and water pump. It's another great option for a family or for anyone hoping to experience everything the C&O Canal has to offer, top to bottom.
Amenities: electric baseboard heat, fire ring, picnic table, close to a boat ramp, portable toilet, water pump nearby year-round