THE LAYER CAKE of rock that makes up the Ozark Mountains in Arkansas is less a mountain range and more like a very old eroded plateau. The rock that has been uplifted and the rivers that have eroded make for a rather spectacular result for hikers, photographers, and outdoor enthusiasts. The characteristics of that erosion process have created steep-sided mountains, sheer bluff faces, distinctive flat-topped ridges, and narrow hollows. Trails to these geologic marvels can be found in wilderness areas as well as nearby urban centers and hiking to the top of these bluffs is rewarded with stunning views. Arkansas also has a moderate temperature in every season, so hiking for every ability is enjoyable year-round. From the iconic Whitaker Point to Sam's Throne on Mount Judea, here are our favorite hikes with stunning views found in the Arkansas Ozarks.
1. Whitaker Point Trail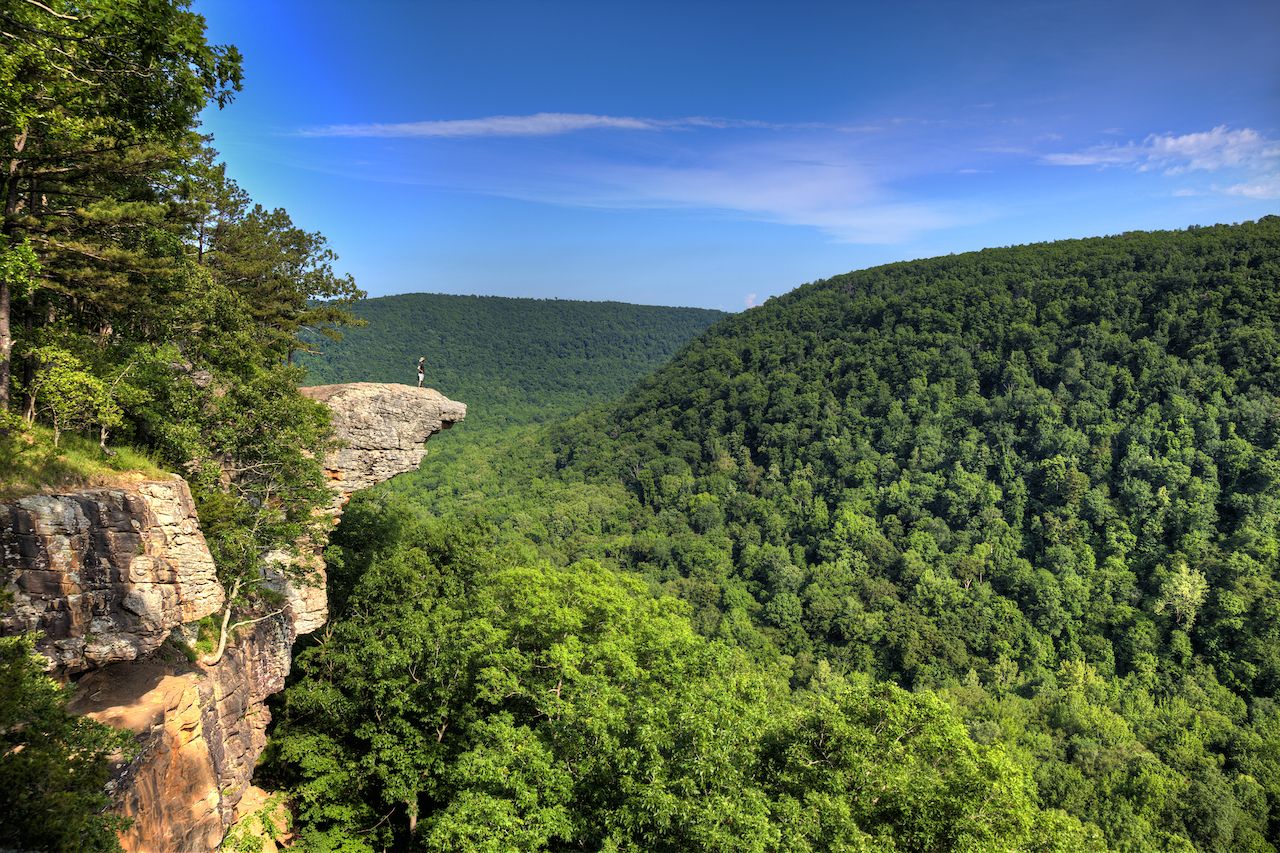 Photo: Brandon Alms/Shutterstock
Whitaker Point, the most iconic spot in the Ozark Mountains and perhaps the most photographed crag in the state, is also known as Hawksbill Crag by locals. This sandstone rock outcrop jutting out about 100 feet above the forest floor is located in the Upper Buffalo Wilderness Area near the Buffalo National River. This region containing the nation's first national river is known for exquisite hiking, floating, and wildlife watching opportunities.
Dense hardwoods line this three-mile round-trip trail with a portion of it meandering along the cliff line. This makes it somewhat dangerous, so taking children is not advisable. It's a popular spot, so head out for this hike on weekdays if possible. During the spring and summer, hikers can rest and enjoy waterfalls and swimming pools, and in fall the vantage point offers a view over a sea of colorful leaves.
2. Big Bluff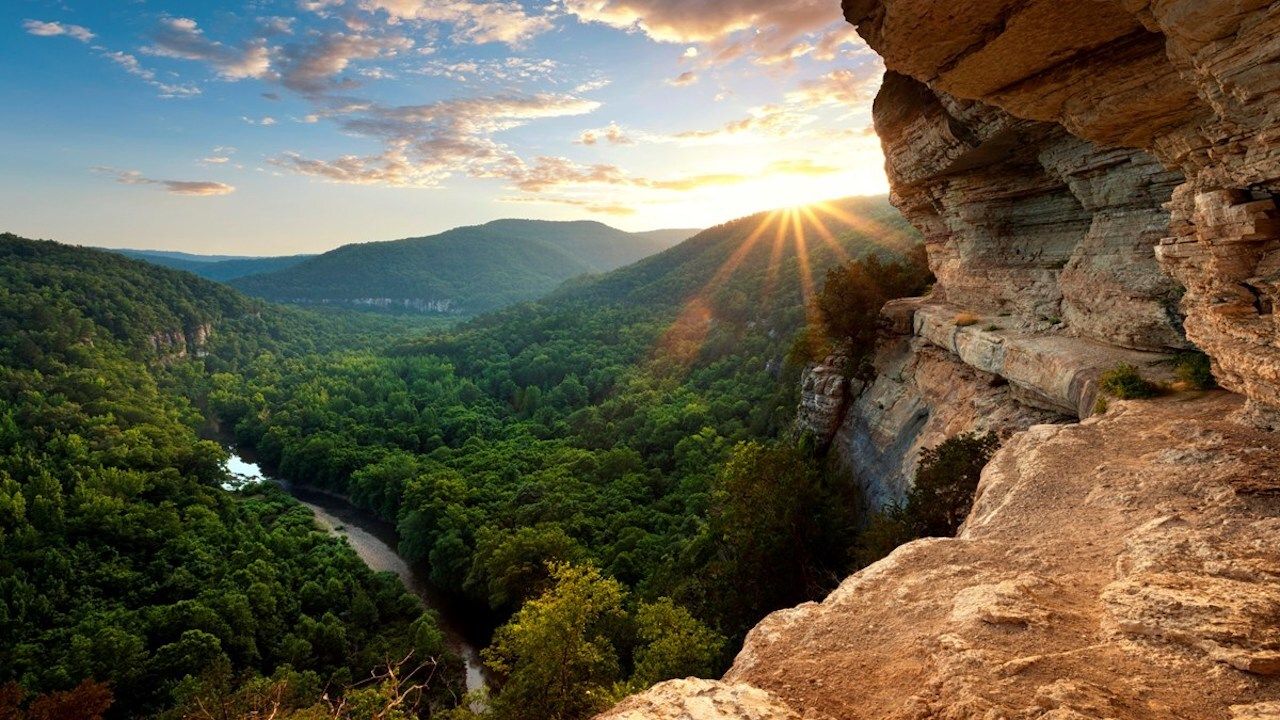 Photo: National Park Service
Located inside the national park boundaries of the Buffalo National River, the hike to Big Bluff is rugged and strenuous but worth it when you see the expansive view. Aptly named, the Goat Trail — which takes hikers across the face of Big Bluff — is narrow and dangerous. From this vantage point about 340 feet above the river, you can gaze down at canoeists while they gaze up toward you and the large vertical slab of limestone and chert you're perched on.
It is advisable to start early in the day for this hike. From the head of the Centerpoint Trail which connects to Goat Trail, it's about six miles out and back with an average hiking time of four to six hours. It's all downhill hiking Centerpoint Trail to the spur trail, so getting back out is an uphill trek and not for the fainthearted.
3. Sam's Throne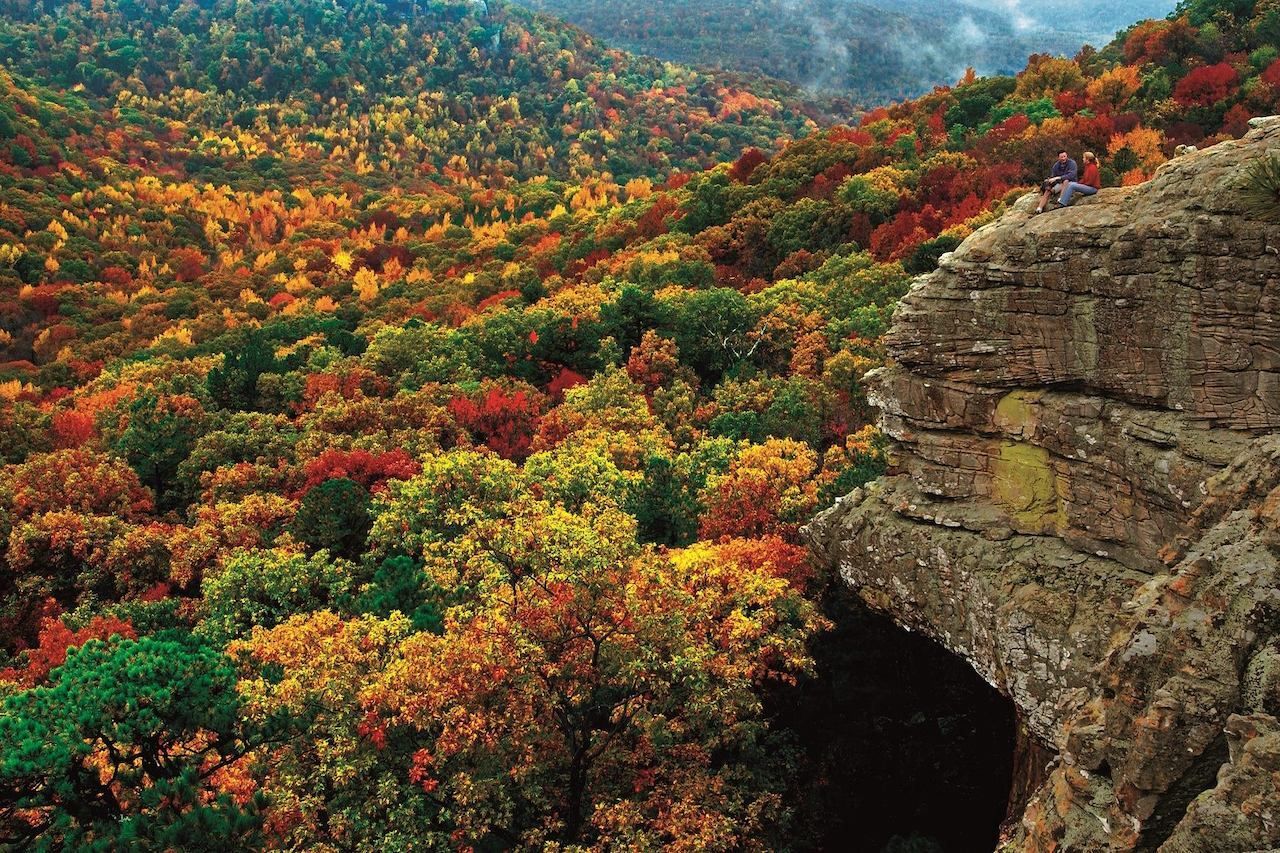 Photo: Arkansas State Tourism/Facebook
The sandstone outcropping that makes up Sam's Throne on Mount Judea is mostly known for traditional rock climbing. Whether you're hanging off the side of the mountain by a rope or standing on top of the cliff, hiking to see the scenery from the vantage point of Sam's Throne is a must. A 2.6-mile loop trail leads to this overlook of Big Creek valley.
Enjoying the Throne on a day hike is the best way to experience it, but this spot is no secret and is heavily trafficked, particularly on the weekends. The road up Mount Judea is extremely steep and crooked; your first clue that you're in for a visual treat. It's worth noting that there are only a few primitive camping areas here and a vault toilet.
North Carolina: Mountains to Sea
4. White Rock Mountain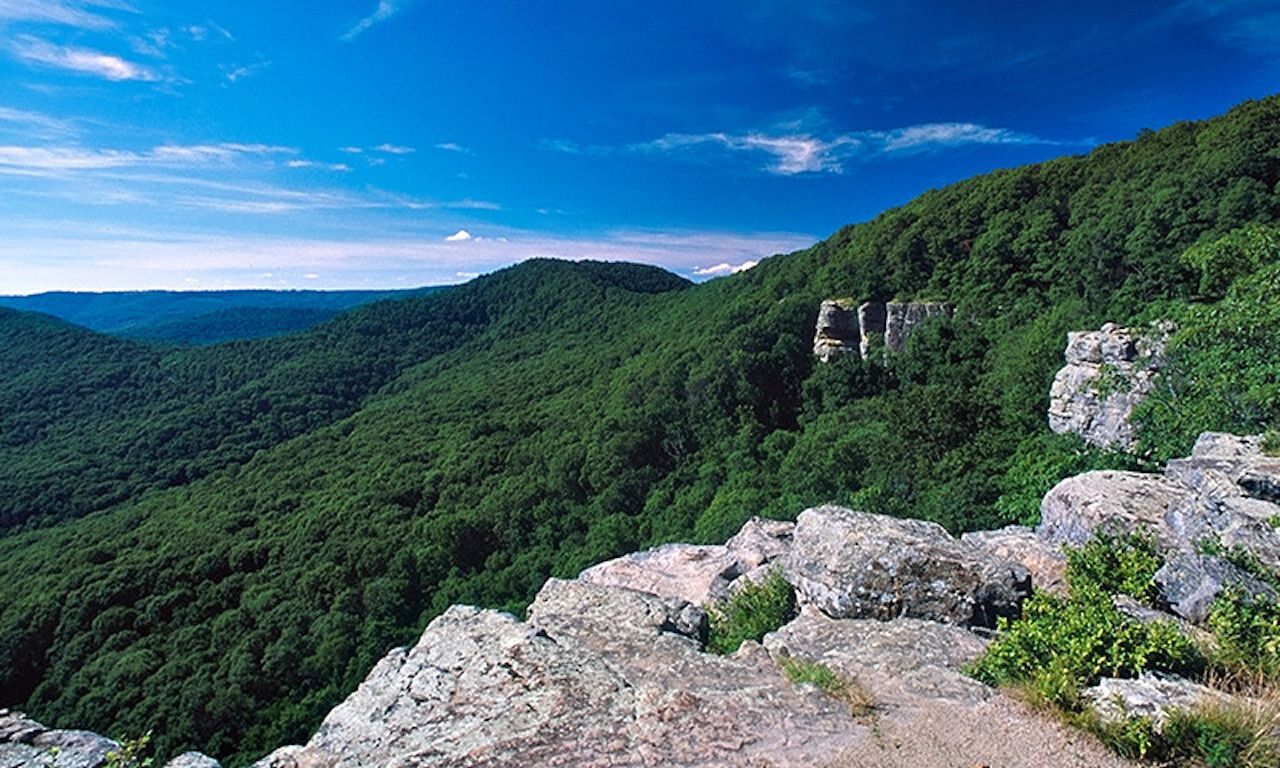 Photo: Arkansas
While the Buffalo National River corridor is home to many grand views, the Ozark National Forest lays claim to other hot spots, like White Rock Mountain. Hiking and taking in the scenery is a prime activity here. For a bird's-eye view of the vast and rolling Ozark countryside, you have your choice of White Rock Rim Trail, an easy two-mile loop circling the 2,309-foot mountain, or the White Rock West Trail, a moderate hike along beautiful bluffs. The Rim Trail is perfect for watching sunrises and sunsets.
White Rock Mountain is the hub for several trail systems including the Ozark Highlands Trail (OHT) that runs more than 200 miles through the Ozarks. Rustic cabins and campgrounds book quickly, especially in the fall, and there are nominal fees per vehicle for day use or overnight parking for the OHT.
5. Yellow Rock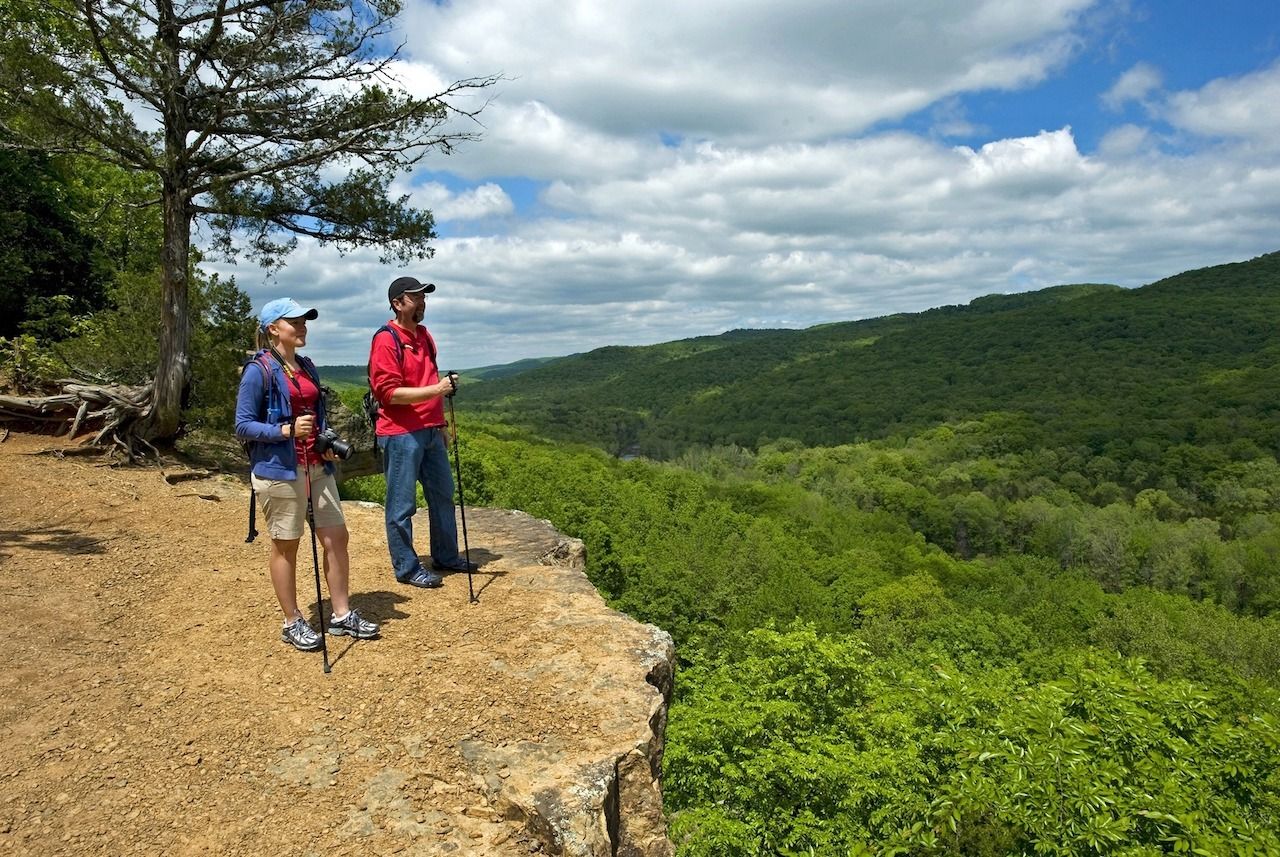 Photo: Arkansas State Tourism/Facebook
Encompassing about 2,000 unspoiled acres adjoining the Ozark National Forest is Devil's Den State Park, one of the most popular parks in the Arkansas State Parks system. Known for its Civilian Conservation Corps-built buildings and trails, it's also a big draw for its spectacular scenery. The park's Yellow Rock Trail shows off cedar glades, interesting rock formations, and a lofty view of Lee Creek Valley.
Just three miles, round trip, this is a day hike of moderate difficulty. A National Recreation Trail, it also has a starring role in the critically acclaimed HBO crime drama True Detective, which was filmed in and around the nearby college town of Fayetteville. Devil's Den State Park also offers backpacking, equestrian and mountain bike trails, RV spaces, tent camping, seasonal swimming pool, nature programs, cabins, and interpretive programs.