IN "BORN AND RAISED," a season four episode of Parks and Recreation, the show's protagonist, Leslie Knope, reads a passage from her book. "Every town claims that its diner's waffles are the best in the world, but somewhere, in some town, there really are the best waffles in the world," she says. "Somewhere those waffles exist. Why can't it be here?"
This sentiment perfectly encapsulates how I feel about sandwiches in New Jersey (and not just a particular town, but the whole state). I'd wager that nearly everybody in America, in every state, has eaten a sandwich of some kind, and at one time or another thought to themselves, "This is the best sandwich I have ever eaten." But I truly believe that the actual best sandwiches in the country come from New Jersey.
There are a couple of reasons for New Jersey's mastery of the sandwich arts: First of all, our produce is simply superior to the produce in most other states. Our tomatoes are plump, juicy, gloriously bright red orbs, and our lettuce is crisp and crunchy. Secondly, we are a state of immigrants. According to data from 2020, New Jersey is the fourth most diverse state in the country. Jersey is populated by folks who lovingly pass down treasured recipes through generations — people for whom preparing food for others is a love language. Many facets of New Jersey's cuisine fuse Jewish, Portuguese, Cuban, Italian, Indian, and Irish flavors and ingredients — and you can find restaurants and delis across the state that celebrate culinary traditions from all of these places.
I'd also argue that the long history of radical labor movements in New Jersey has something to do with the state's sandwich dominance. In 1903, a woman named Mary Harris Jones (known as Mother Jones) led a 100-mile march of child laborers demanding better working conditions through parts of New Jersey, holding rallies in places like Elizabeth, Newark, Paterson, Passaic, and Jersey City. In 1946, the Local 41 of the Electrical, Radio, and Machinist Workers Union in Elizabeth held a 270-day strike to protest poor wages and working conditions; Woody Guthrie performed a song for the striking workers at a local rally.
What does all this history have to do with sandwiches? Jersey has always been a state of blue-collar workers and people who need portable, convenient, hearty, nourishing food that helps them work and keeps them full. Perhaps initially the sandwich was popular by necessity, but over time the sandwich blossomed into a full-blown, state-wide obsession, no matter your profession.
In justifying my devotion to all Jersey sandwiches, I've gotten off track. What you really want to know, of course, is what sandwiches to eat next time you visit our fair and lush state of industrial factories and farmland. Here are nine sandwiches that New Jersey has elevated to an art form.
Matador's Newsletter
Subscribe for exclusive city guides, travel videos, trip giveaways and more!
1. Italian hero cold cut sandwich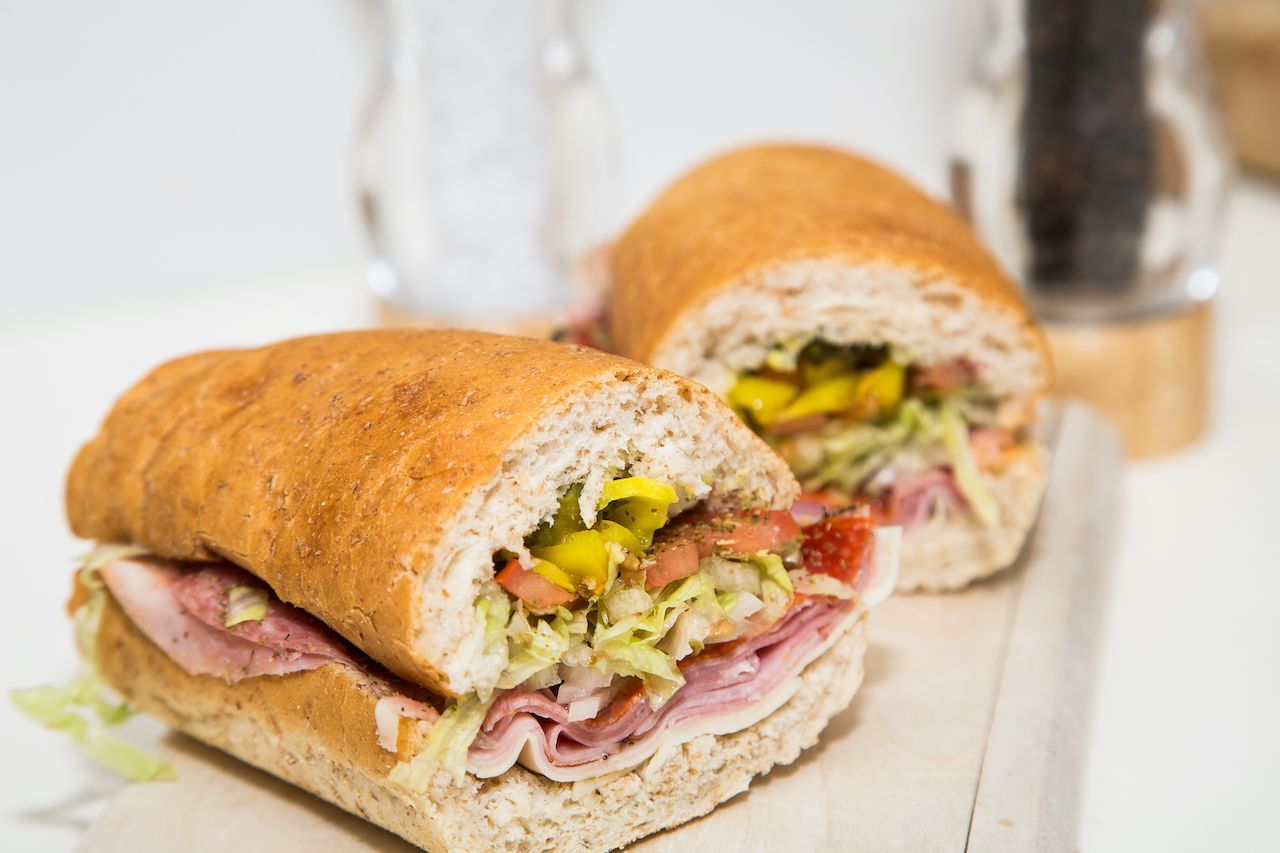 Photo: Darryl Brooks/Shutterstock
There are a couple of elements that must come together to make the perfect Italian sub, or hero, sandwich. The lettuce should be shredded. The tomatoes need to be fresh because a soggy tomato will ruin the texture. There should be a layer of raw chopped onions for extra crunch and tanginess, and just enough vinaigrette that the sandwich has bite but not so much that the bread is soaked. Next comes the pillowy layer of mozzarella or provolone, and below that the cold cuts — salami, ham, and prosciutto are the best options, but you'll also find spicy pepperoni or mortadella on some.
This is typical Italian deli fare that you will find all over Jersey, but done right, the Italian sub can be an absolute culinary masterpiece, a divine mingling of flavors and textures: the slight sweetness from the cheese, the tart onion and vinaigrette, and the salty cold cuts all paired with the crunch of the vegetables and the softness of the bread.
Where to try it: Cappelluti's Deli 278 Belleville Turnpike Kearny, NJ
2. Fat sandwich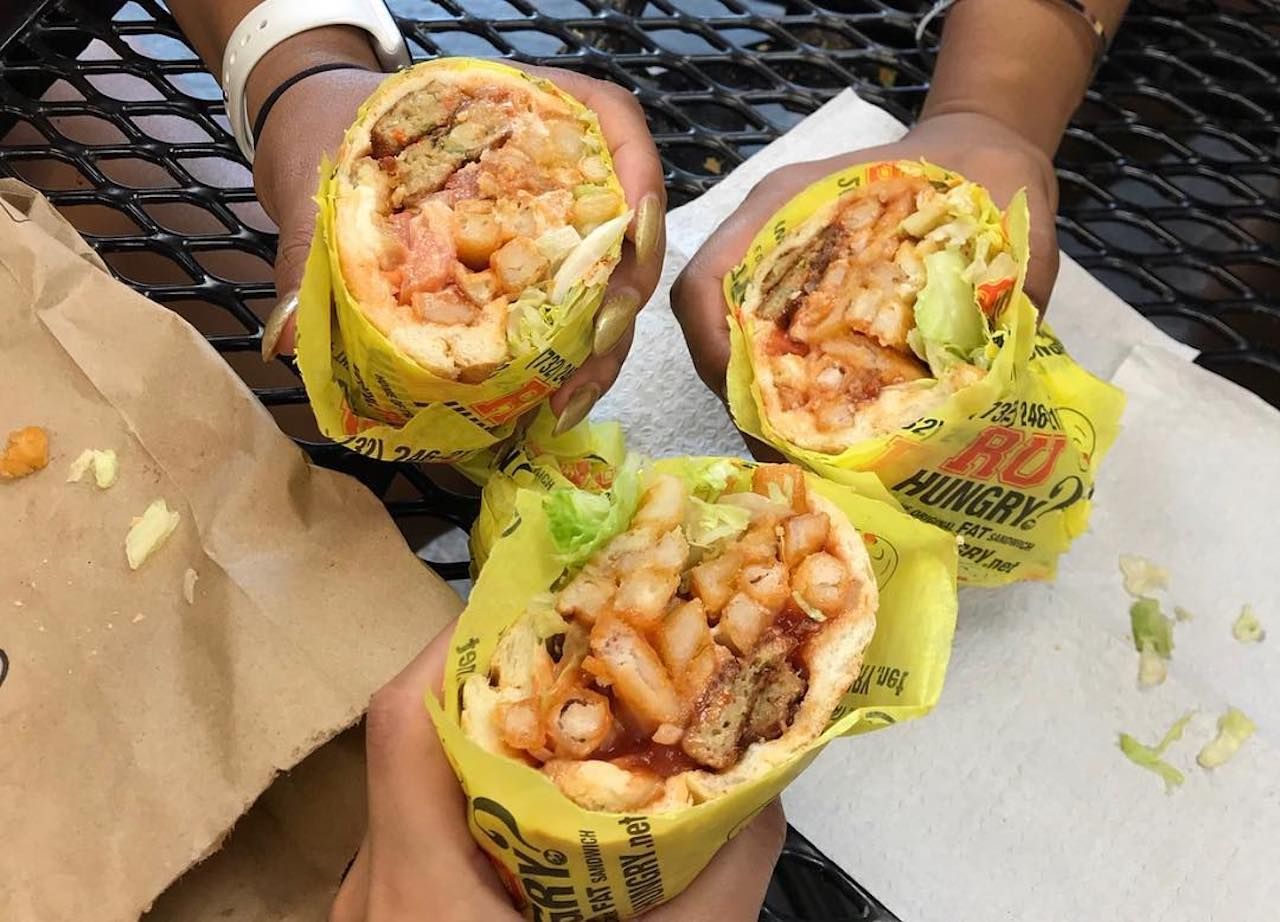 Photo: RU Hungry Rutgers/Facebook
Invented in Princeton but popularized at Rutgers University as an easy and effective hangover cure for hard-partying college students, the most famous fat sandwiches are sold out of so-called Grease Trucks — the fleet of food trucks that used to line the College Avenue Campus before getting the boot from their unofficial lot in 2017 (you'll still find them scattered around the university, though). The menus are long, and they can be filled with any combination of ingredients, like french fries, mozzarella sticks, chicken fingers, gyro meat, and more. They're pretty legendary around campus for fueling a night of partying or nursing a hangover the next day. The food trucks might not be a staple of the campus anymore, but you can find one of the originals, R U Hungry?, at one of its brick-and-mortar locations. If you're overwhelmed by the menu options, just go with the iconic Fat Darrell.
Where to try it: R U HUNGRY? 95 Hamilton St, New Brunswick, NJ, 08901
3. Sausage and peppers sandwich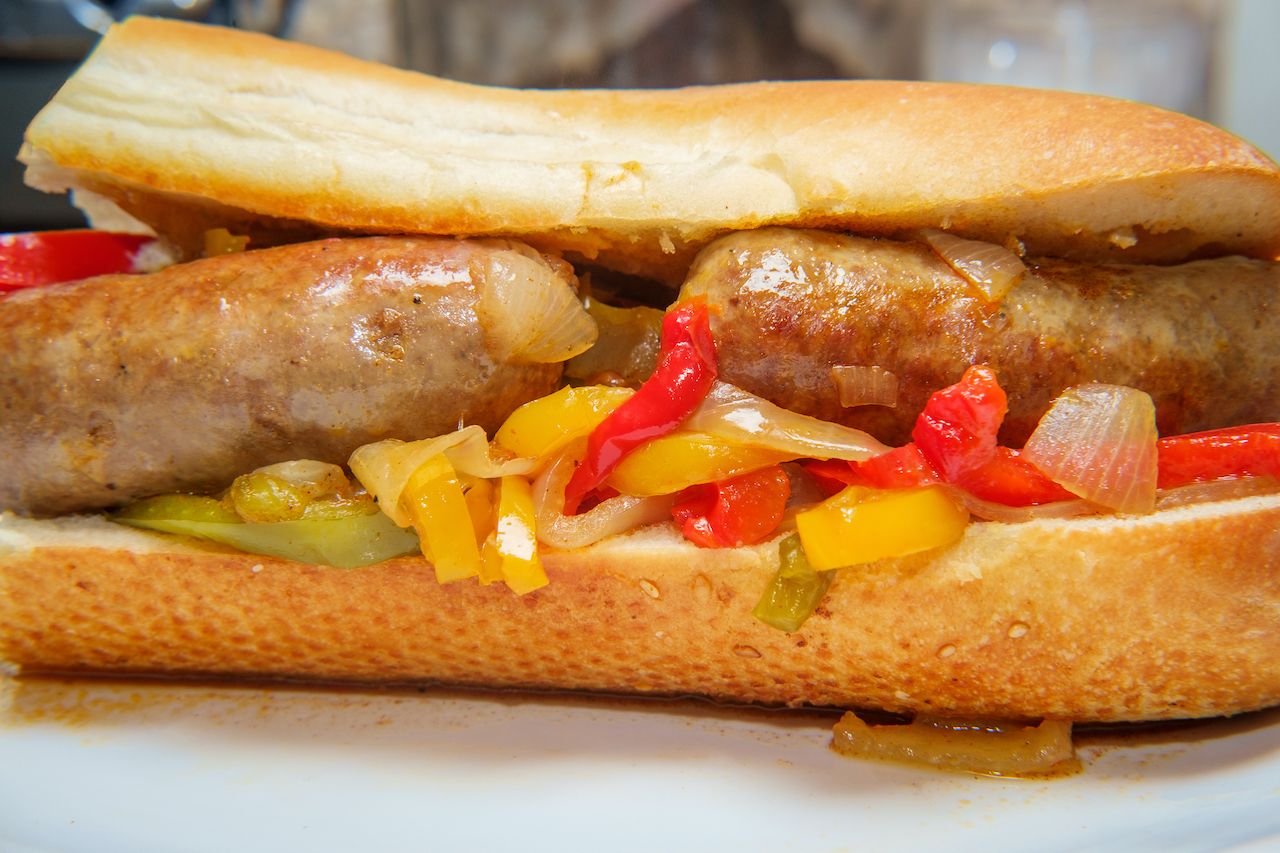 Photo: Ezume Images/Shutterstock
This simple sandwich of sweet Italian sausage mixed with grilled peppers and onions, which is stuffed into a loaf of Italian bread split in half, is especially popular down the shore, as we say in New Jersey. All that means is that this sandwich is a staple on the Jersey Shore boardwalk. But the sausage and peppers sandwich is so easy to make, with ingredients that are likely already in the refrigerator, that it's one sandwich on this list that is just as commonly made at home as it is purchased at a restaurant or deli. This is also one of the most popular foods to grab at county fairs and Italian heritage festivals in the summer.
Where to try it: Any major Shore boardwalk (Seaside Heights, Point Pleasant, Wildwood) or your favorite Italian deli
4. Pork roll, egg, and cheese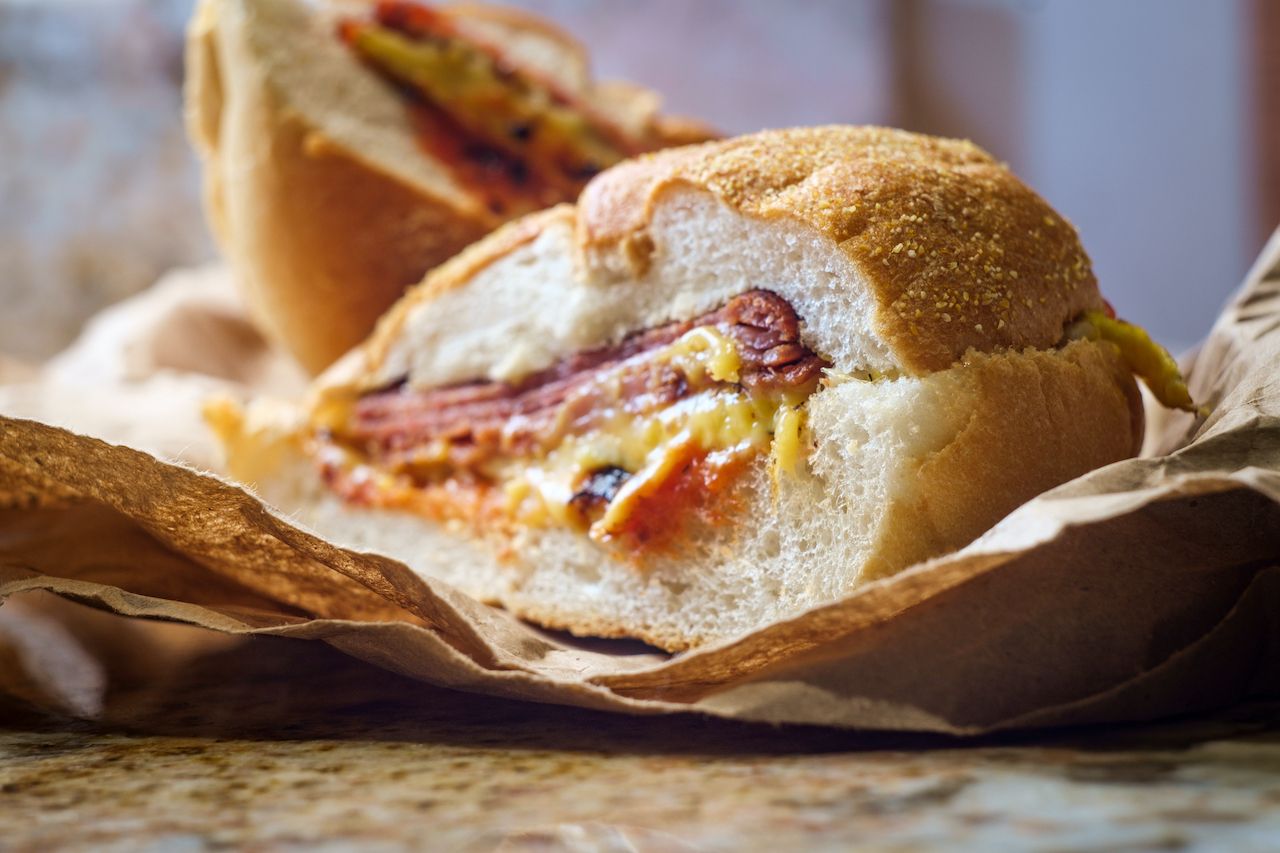 Photo: Ezume Images/Shutterstock
It's impossible to not include the iconic pork roll (or Taylor ham if you're in North Jersey, the debate over what exactly to call this sliced and fried pork product rages on endlessly), American cheese, and egg sandwich on this list. At the deli counter or bagel shop, be sure to add "SPK" to your order if you want salt, pepper, and ketchup on the sandwich. In New Jersey it's a right of passage to find the deli in your neighborhood that serves your own ideal version of this sandwich, whether it's served with SPK, on a roll or bagel, or with a scrambled or runny fried egg. My personal favorite is on the corner of Eerie and 5th in Jersey City. And yes, I call it Taylor ham.
Where to try it: No matter where you are in New Jersey, the bodega on the corner or the local bagel place will have a delicious pork roll, egg, and cheese.
5. Chicken parm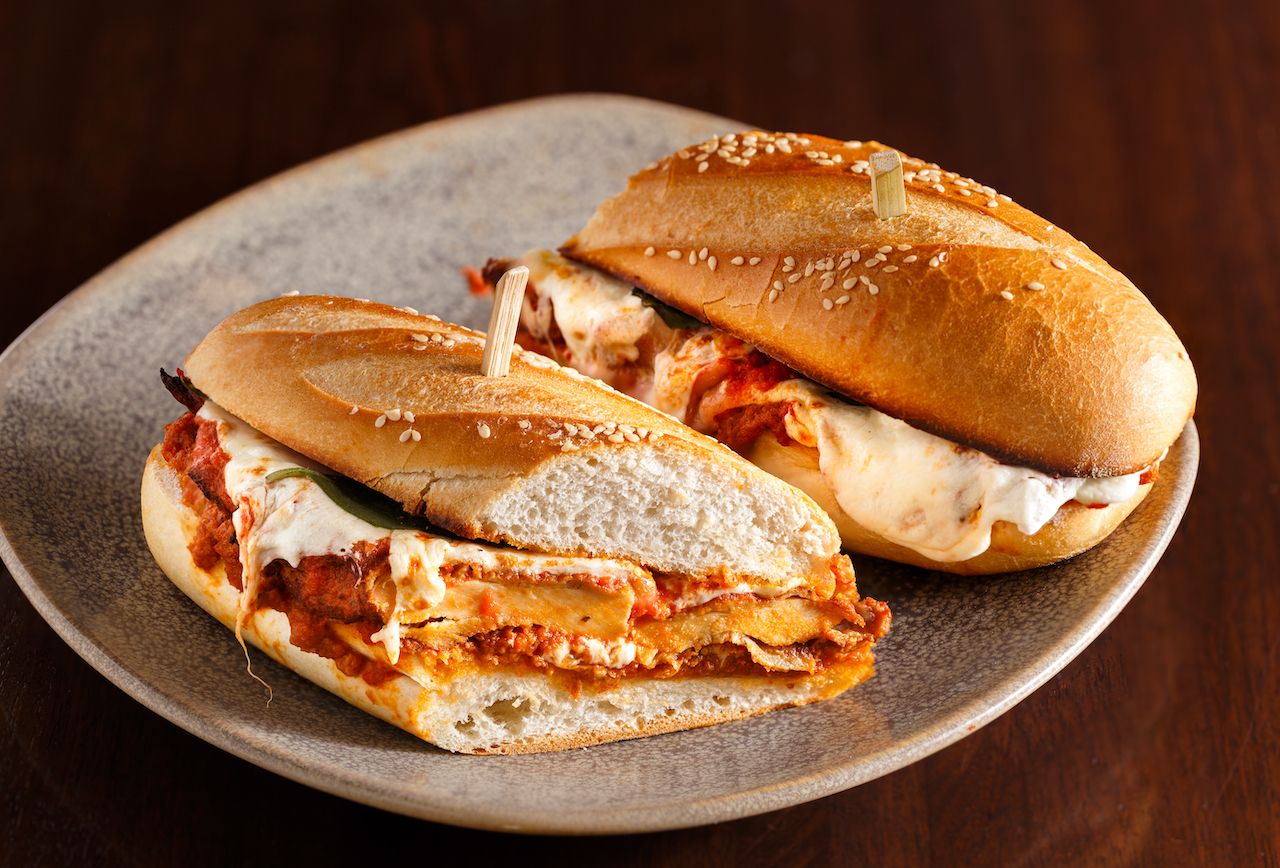 Photo: Linda Hughes Photography/Shutterstock
Another Italian classic, the chicken parmigiana or parmesan sandwich (just call it "parm") is a staple at most pizza places, but you'll also find it on the menu at Italian delis and casual Italian eateries, too. A layer of parmesan and mozzarella cheese blankets a breaded chicken cutlet, which is drenched in rich, chunky tomato sauce and then tucked between two pieces of Italian bread. Chicken parmigiana is often served at upscale Italian restaurants, without the bread of course, often with a side of pasta. Eggplant parm is a solid option for vegetarians, though it's more hit or miss, and shrimp parm is a decadent splurge if you're feeling fancy.
Where to try it: Your favorite pizzeria or Italian deli
6. Sloppy Joe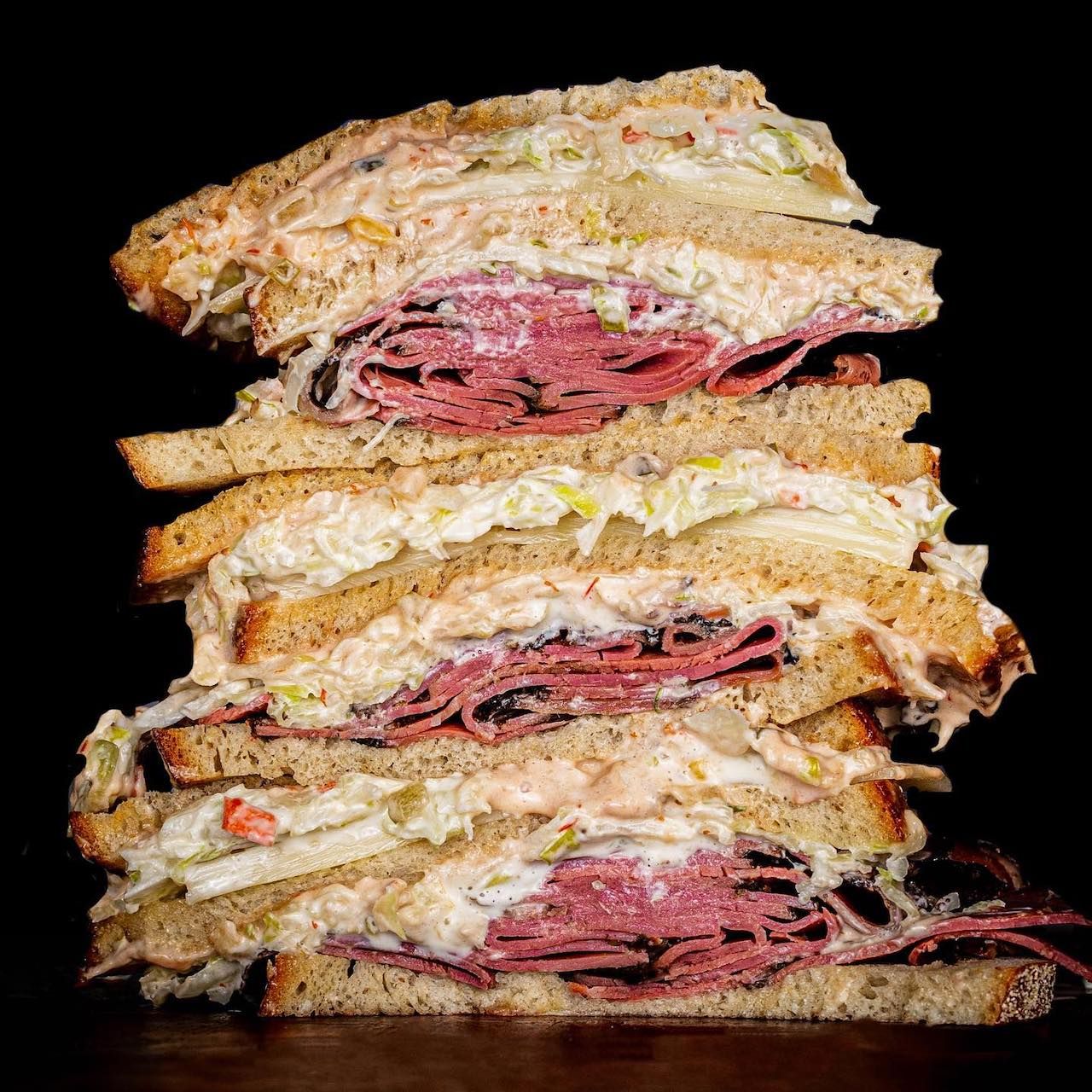 Photo: Millburn Deli/Facebook
Ask someone who is not from the Jerz (sorry) what a sloppy joe is, and you'll get the typical answer: It's ground beef drenched in a thick gravy and stuffed between two burger buns that is really, really messy to eat (hence the name). But in our quest to stand out from a crowd, New Jerysians reinvented the Sloppy Joe.
Especially popular in North Jersey, this sandwich is a double-decker combination of rye bread; cold cuts ranging from turkey, ham, or pastrami to corned beef or roast beef; and a topping of Swiss cheese and coleslaw. The sandwich's signature topping is Russian dressing — for the uninitiated that's a mixture of mayonnaise, ketchup, and Frank's Red Hot Sauce. Town Hall Deli in South Orange claims it invented the Sloppy Joe, but another equally legendary version can be found at Millburn Deli in Millburn.
Caveat: Family members who were born and raised in New Jersey say they've never heard a pastrami and coleslaw sandwich referred to as a Sloppy Joe, nor has my Jersey-born editor. But if you know, you know.
Where to try it: Town Hall Deli, 74 1st St, South Orange, NJ 07079
7. Meatball sub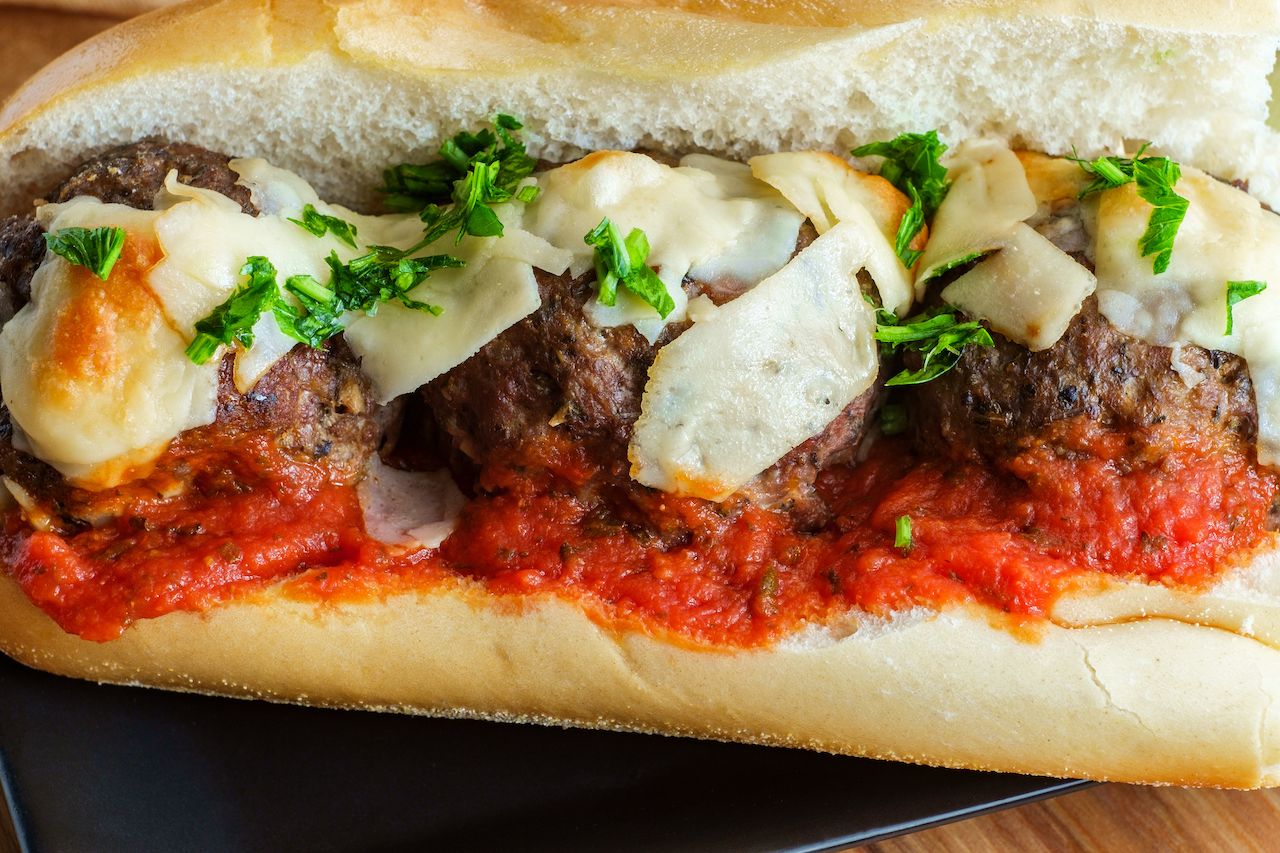 Photo: Ezume Images/Shutterstock
If you've watched The Sopranos closely, you might be familiar with Carmela Soprano's (anti-hero Tony's wife) cookbook, Entertaining with the Sopranos, which actually contains a recipe for meatball and mozzarella subs. Carmela's version is drenched in Sunday sauce. Also known as gravy (Jersey people really love to fight over the names of food), Sunday sauce is a canonical ingredient in Italian-American cooking that involves slow cooking red sauce, meatballs, and sausage on the stove all day before it's enjoyed for dinner over pasta — or in some cases, subs or heroes topped with melted cheese. Don't have time to cook your own Sunday Sauce? There is no shortage of sub shops and delis in New Jersey that will whip up a meatball sub for you.
Where to try it: Vitamia & Sons Ravioli Co, 206 Harrison Ave, Lodi, NJ 07644
8. Cuban sandwich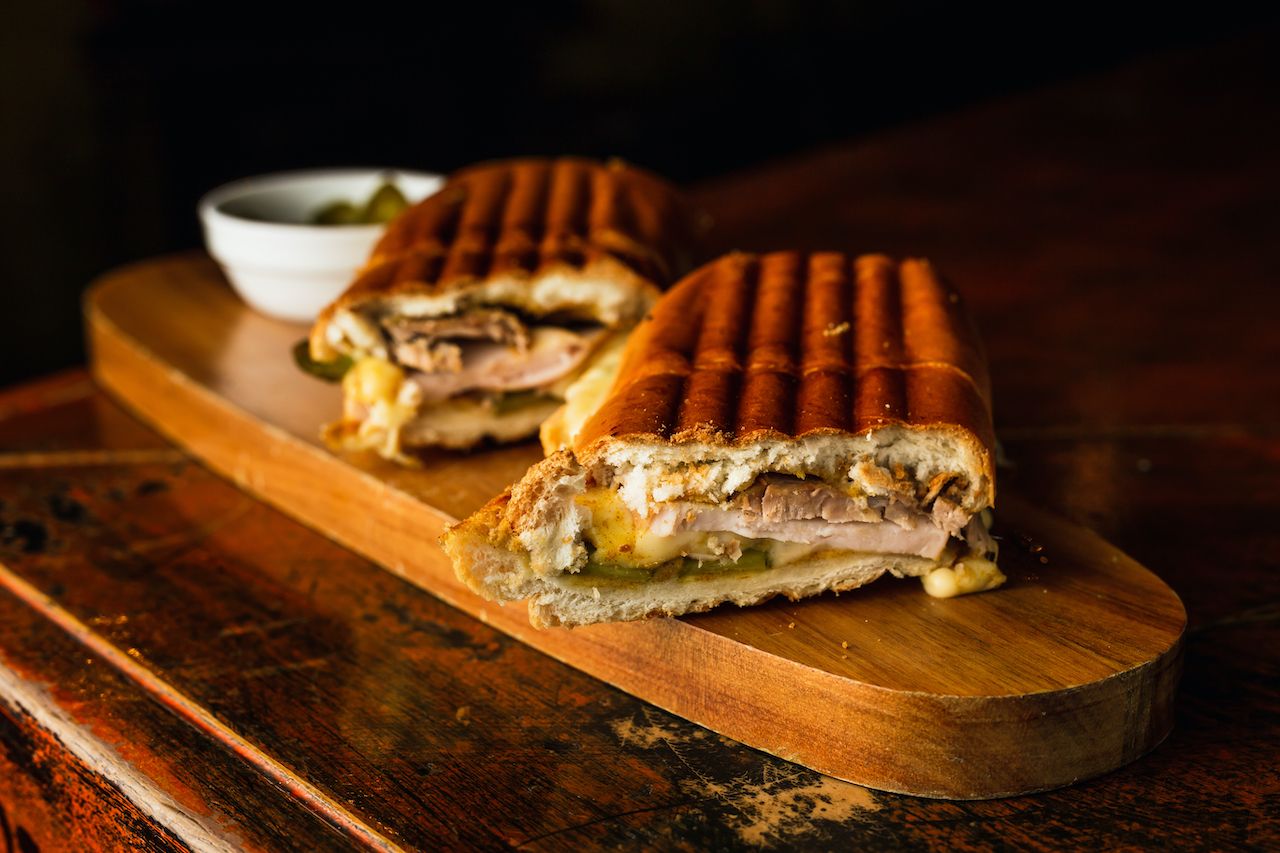 Photo: Elena Gordeichik/Shutterstock
New Jersey has the third highest population of Cuban people in the country, just after Florida and California. That means that there are Cuban sandwich shops, delis, and bakeries peppered throughout the state. Cuban food is as much a part of daily life for Jersey people as Italian food. For purists, a Cuban sandwich should consist of hand-sliced pernil (slow roasted pork leg or shoulder, not pulled pork) topped with melted Swiss and pickles, and slathered with mustard, all stuffed between two slices of toasted Cuban bread. Back in 2018, the Food Network personality Carlos Ruiz declared that the best Cuban sandwich comes not from Miami but from West New York, New Jersey, at a restaurant called La Pola.
Where to try it: La Pola, 5400 Palisade Ave, West New York, NJ 07093
9. Cheesesteak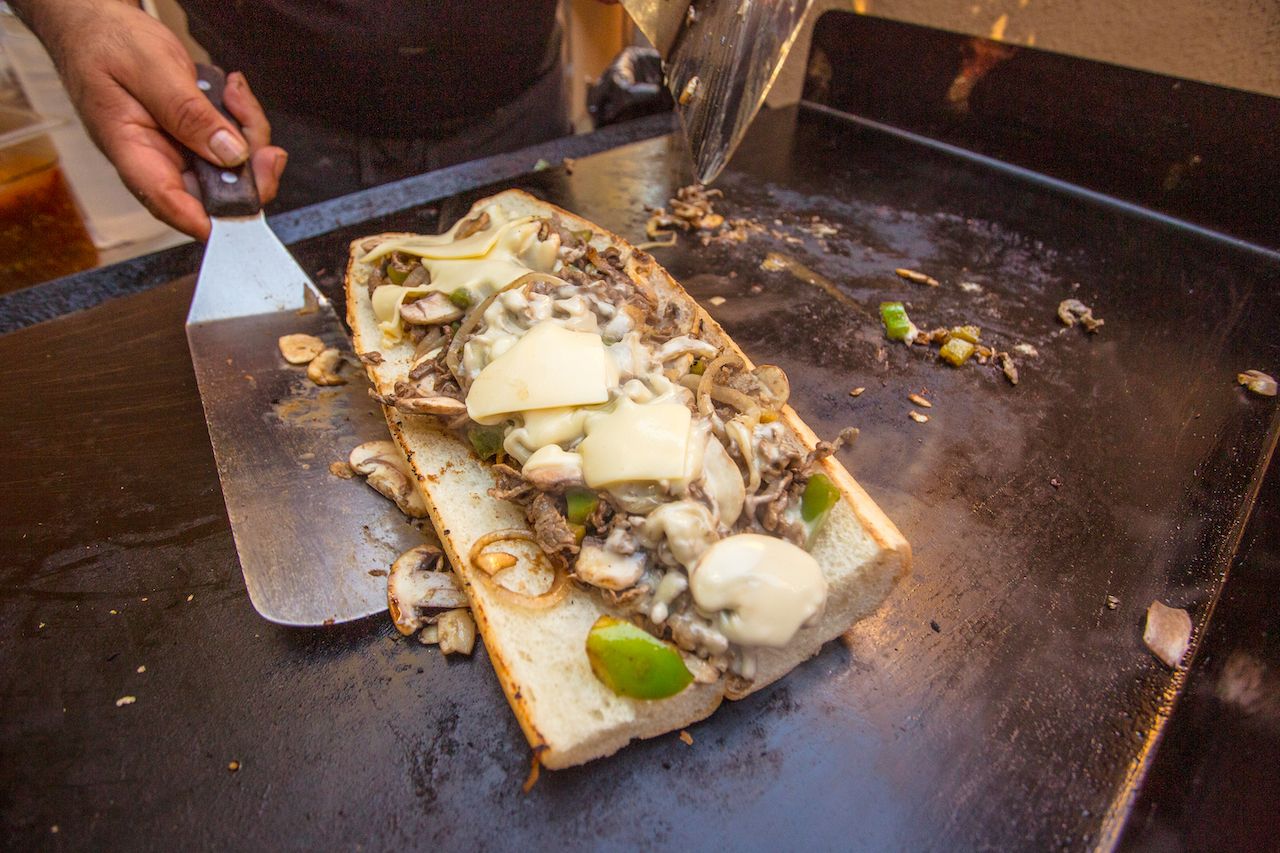 Photo: John Doukas/Shutterstock
Philadelphia arguably takes the crown for the best cheesesteak in America, but South Jersey, with its proximity to Pennsylvania, boasts some pretty fire options, too. For those who aren't acquainted, a cheesesteak is deceptively simple — it consists of chopped steak, mixed peppers, onions, and melted provolone or sometimes cheddar on a hoagie — but its hearty, meaty flavor has inspired countless diehard fans. In 2019, Delaware resident Jim Pappas set out to eat 275 cheesesteaks; on his blog, he declared that the very best came not from Philly but from Meatheadz in Lawrence, New Jersey. Not surprisingly, Jersey residents have lots of strong feelings about where to find the best cheesesteak in South Jersey; these competing opinions might call for your very own South Jersey cheesesteak road trip.
Where to try it: Meatheadz Cheesesteaks, 2653 Brunswick Pike, Lawrence Township, NJ, 08648