he bright zing in a cool, crisp glass of Riesling — Germany's flagship wine — is pretty hard to beat. And though one out of every five German grapes may wind up in a bottle of this classic white, the country's also globally known for its Pinot Noir and dozens of other varieties, some of which may be complete strangers to your table.
To celebrate Germany's long, long love affair with the wine grape — German viticulture goes back some 2,000 years, and there are now 14 distinct wine regions — five wine routes have been designated across the country. They offer visitors a concise way to explore the birthplaces of their favorite bottles…and to find their next obsession. Which route best matches your palate?
1. Baden Wine Route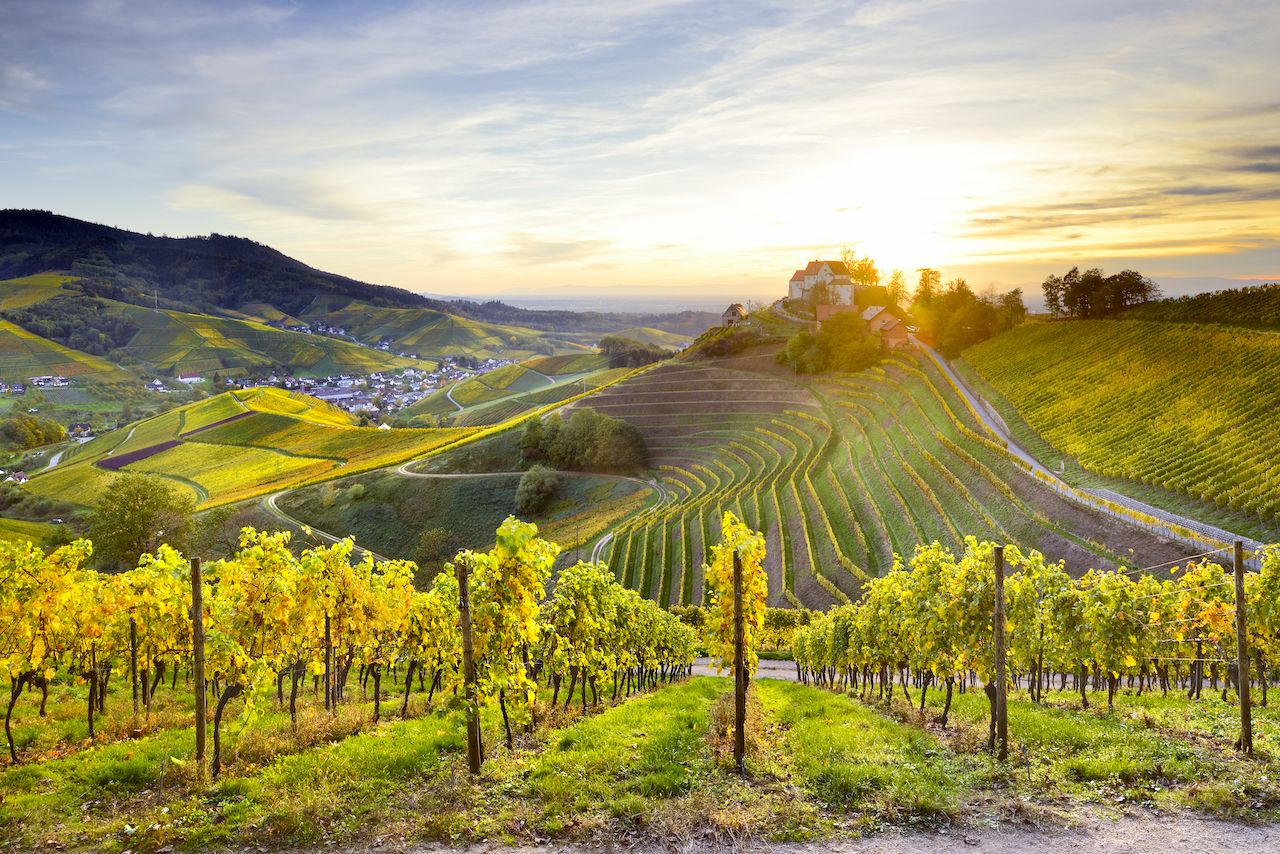 Photo: Francesco Carovillano/GNTB
The Baden wine region is the third-largest in Germany, and this exploratory route winds through it for an impressive 310 miles. Established in 1954, the route introduces visitors to the region's principal wine-growing villages and producers, as well as scenic areas like the Black Forest, the Upper Rhine Valley, and the Markgräflerland, known as the "Tuscany of Germany" for its natural beauty.
The wines here range from Pinot Noir and Müller-Thurgau (a woefully underrated light white great for pairing with appetizers and, well, anything really) to Pinot Gris and Riesling, and they can be sampled at the vineyards themselves as well as various restaurants and taverns en route.
There's plentiful history and culture along the way, too — think grand castles and atmospheric monasteries, museums, and striking architecture in places like Freiburg and the picturesque spa town of Baden-Baden. Active travelers with nothing but time can also hike or cycle the route.
2. German Wine Route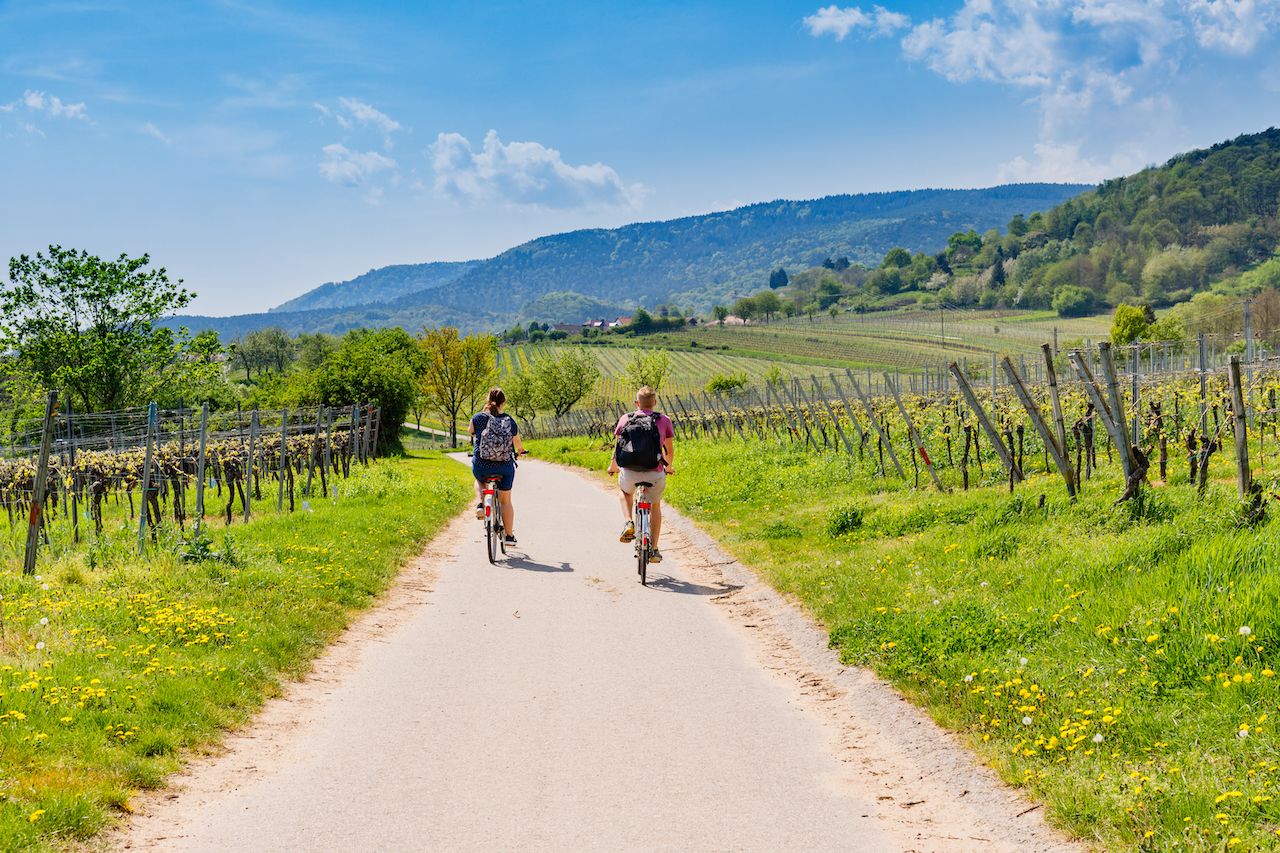 Photo: nnattalli/Shutterstock
Snaking its way through Germany's pretty Palatinate (Pfalz) region, from Schweigen-Rechtenbach to Bockenheim, this 52-mile route is one of the country's oldest and most popular. The Palatinate region is world-famous for its Riesling, and you certainly won't struggle to find a perfectly chilled glass — or bottle — at one of the many Strausswirtschaft (pop-up wine bars) along the way.
Of course, there are other varietals to sample too, as well as a wealth of natural and cultural attractions to break up the itinerary. In Deidesheim, visit the Museum of Wine Culture and dine at Michelin-star restaurants; take in Hambach Castle for its serious historic significance for German democracy (which you'll learn about in the associated museum); and don't miss the Dürkheim Barrel, the largest of its kind in the world with space for around 650 people to enjoy fine dining and wine tastings. Yes, it's literally a barrel.
If you're traveling in September, visit Bad Dürkheim for the biggest wine festival in the world, Dürkheimer Wurstmarkt, which attracts around 600,000 oenophiles each year.
3. Saxon Wine Route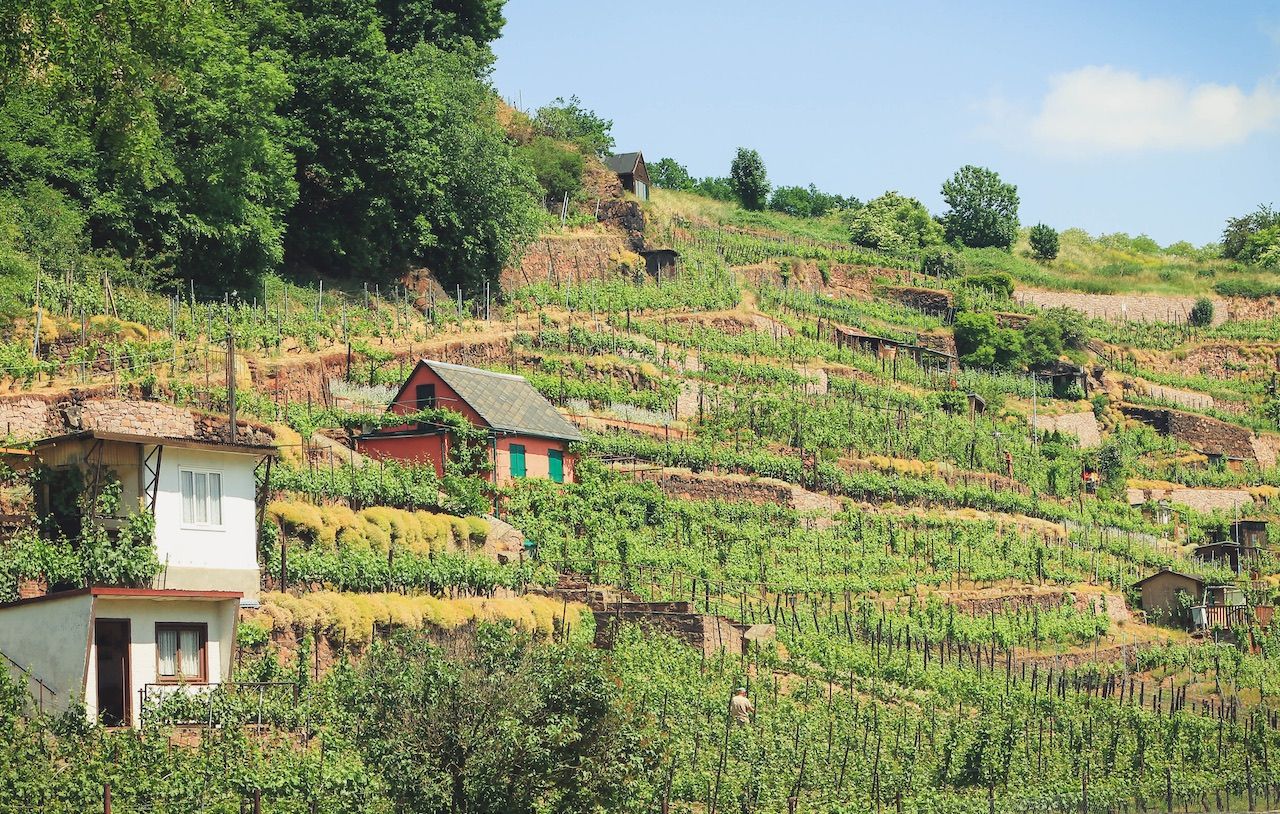 Photo: Werner Karol/GNTB
It might only be 34 miles long, but this wine route packs in a lot. Meandering through the Elbe Valley in the East German state of Saxony, it showcases over 30 varieties — mostly whites, from Riesling and Weissburgunder to Grauburgunder, Traminer, and Scheurebe — at the many local vineyards. Most offer incredible culinary delights, too, as you can't tackle any of these routes on wine alone.
The Saxon Wine Route is just as appealing in terms of its cultural offerings. In Pillnitz, explore the splendid castle complex and the Museum of Decorative Arts; in Pirna, take in the impressive castle — Schloss Sonnenstein — and the DDR Museum, allowing you to explore life in former East Germany; and in Meissen, visit the world-renowned porcelain factory dating back to 1710, along with the imposing Gothic cathedral (it'll make the 18th century look like yesterday).
The main cultural destination along this route, though, is Dresden — one of Germany's most attractive cities — with its slew of impressive sights like the baroque Frauenkirche and the galleries and gardens of the Zwinger palace complex.
4. Tauber Valley Wine Route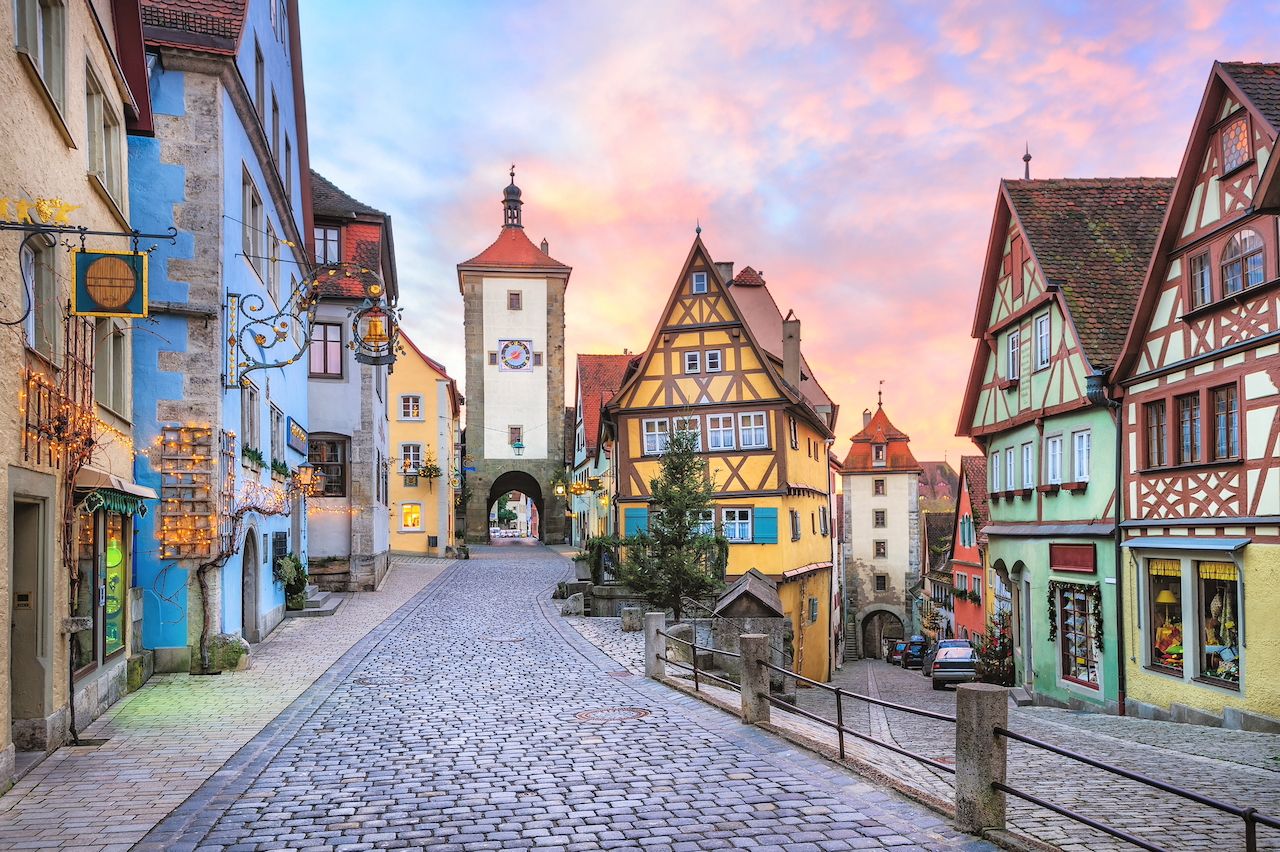 Photo: Boris Stroujko/Shutterstock
At just under 125 miles, this route provides visitors with a deep dive into the myriad charms of the Tauber Valley, managing to pass through no fewer than three different wine-growing regions: Baden, Württemberg, and Franconia.
Starting in the charming town of Wertheim-Dertingen and ending in Rothenburg ob der Tauber, you'll traverse beautiful landscapes as well as major landmarks like Wertheim Castle, the Cistercian abbey of Bronnbach, the residential palace of Mergentheim, and Weikersheim Palace — all vistas and structures worthy of the finest glass of Tauberschwarz.
While much of the region is dedicated to the cultivation of white wines like Müller-Thurgau, Sylvaner, and Weissburgunder, you'll also find delicious reds like Schwarzriesling, Spätburgunder (Pinot Noir), and Tauberschwarz, plus lots of regional cuisine to boot.
5. Bergstrasse Holiday Route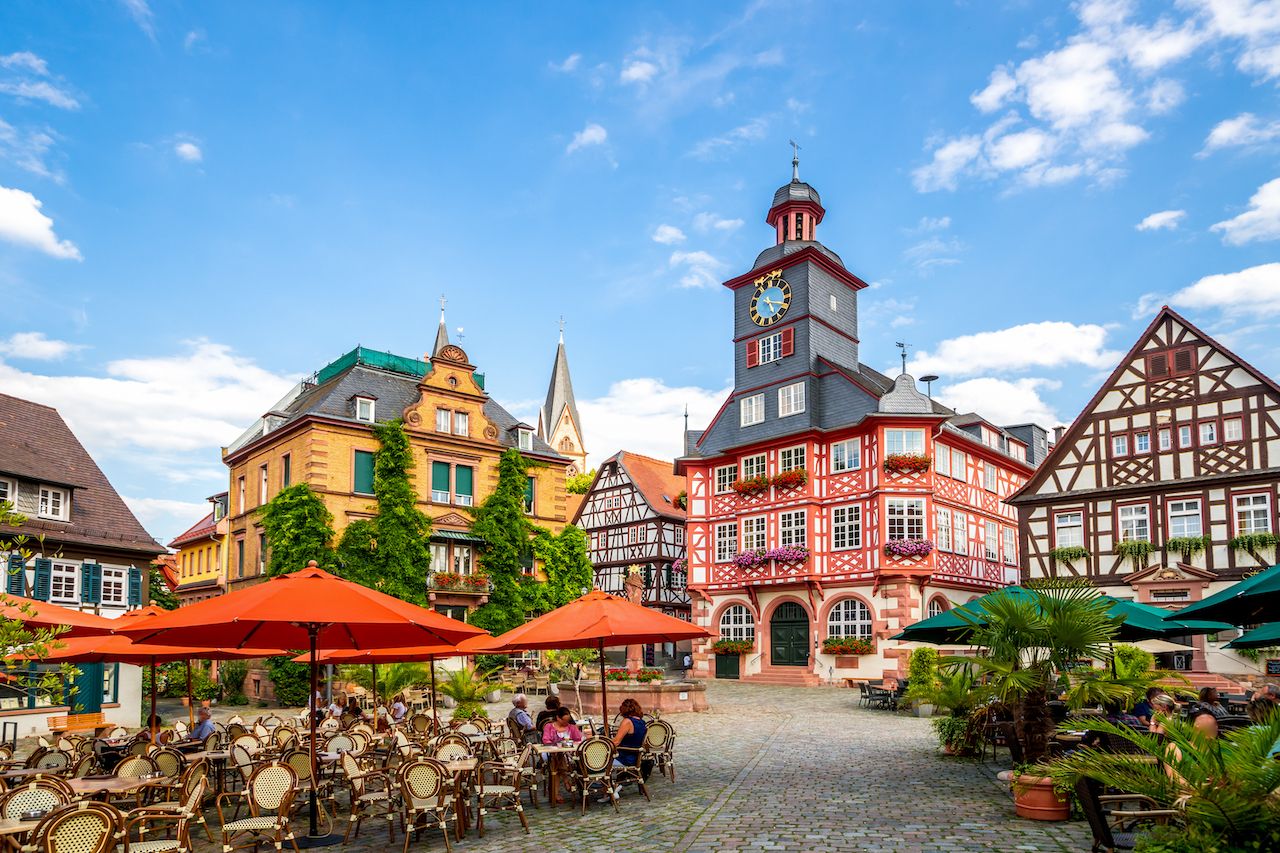 Photo: Sina Ettmer Photography/Shutterstock
Running between the Upper Rhine Plain, the Main and Neckar rivers, and the Odenwald hills, this 50-mile route officially begins in the vibrant university city of Darmstadt and ends in the wine-growing town of Wiesloch. As well as vineyards cultivating fine Rieslings, Pinot Blancs, Pinot Gris, Müller-Thurgaus, and Pinot Noirs, the route is characterized by its abundance of picturesque countryside, charming medieval towns with winding cobbled streets, plus more castles, palaces, stately homes and abbeys, and even Roman-era sites than you could ever hope to visit on a single trip.
Specific highlights include the stunning eighth-century Abbey of Lorsch, the Odenwald UNESCO Global Geopark, and the historic towns of Heppenheim, Zwingenberg, and Michelstadt. Between spring and autumn, you can also find a full calendar of wine-related events, from festivals like the "Bergstrasse Spring" and markets to wine-focused hikes and tours. Safe to say, your palate won't be the same upon your return home.