We hope you love the spaces and stays we recommend! Just so you know, we may collect a small commission from the links on this page if you decide to book a stay, and listed prices are accurate as of the time of publication.
ATLANTA HAS THRIVING art, music, and food scenes that make it an ideal place for a weekend staycation. A sprawling metro surrounded by hilly forest, Atlanta's delightfully green cityscape surprises many first-time visitors. This makes renting an Airbnb over a hotel a really nice option, especially for those who like to be able to enjoy the amenities of the city but prefer a peaceful home to return to. All of the options listed below are perfect for a couple of solo travelers. From tiny houses to a renovated airstream, these rentals might be on the smaller side, but they have heaps of character. Here are seven of the best Airbnbs in Atlanta, Georgia.
1. Designer two-bedroom tiny house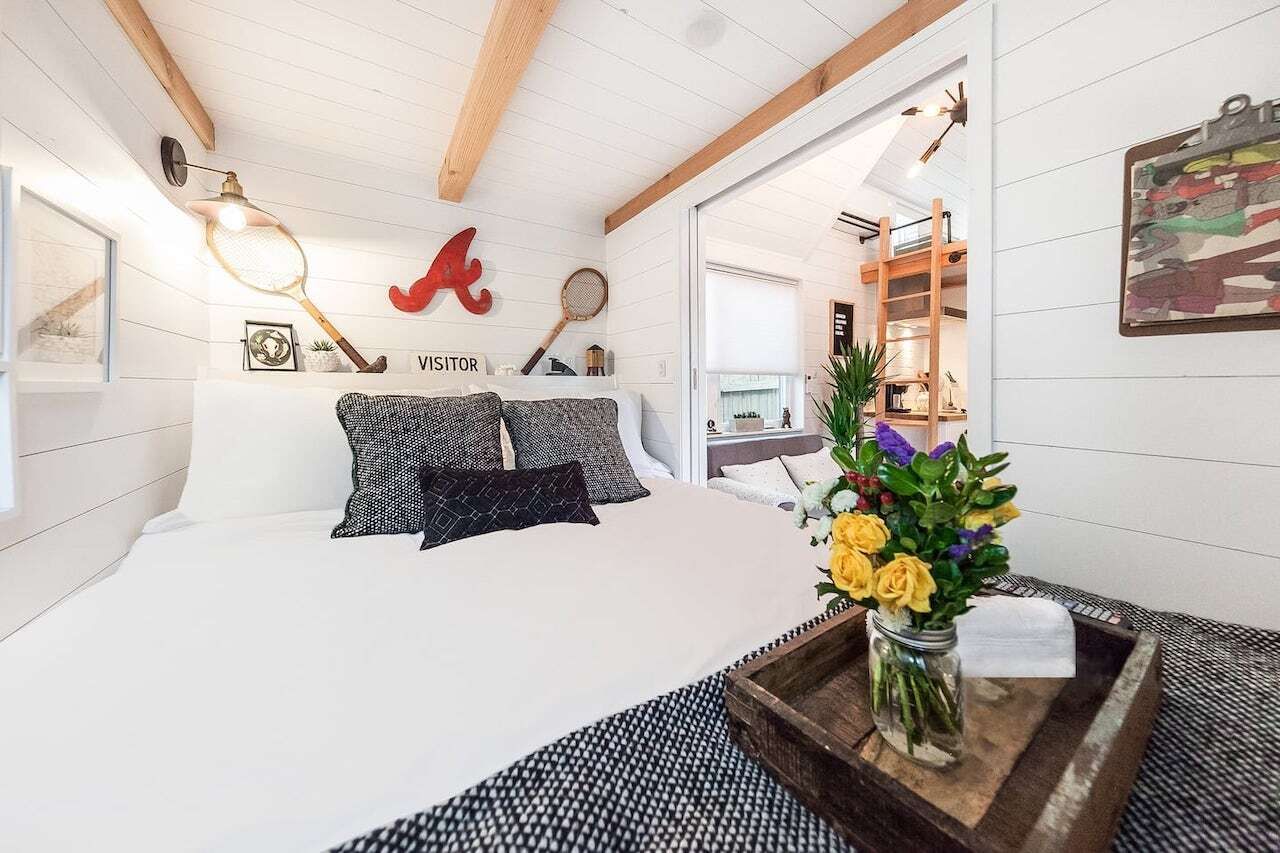 Photo: Airbnb
This modern chic tiny house has two queen-sized beds, one on the ground floor and another in a loft space. It's a charming place with a large farm-style dining area, an outdoor fire pit, and a ping pong table. Guests rave about the host's hospitality and the rental's location. It's a short walk from the vibrant hub of Ponce City Market, one of the world's best food halls at Krog Street Market, and the Atlanta Beltline.
Price: $103 per night
2. Secluded treehouse minutes from downtown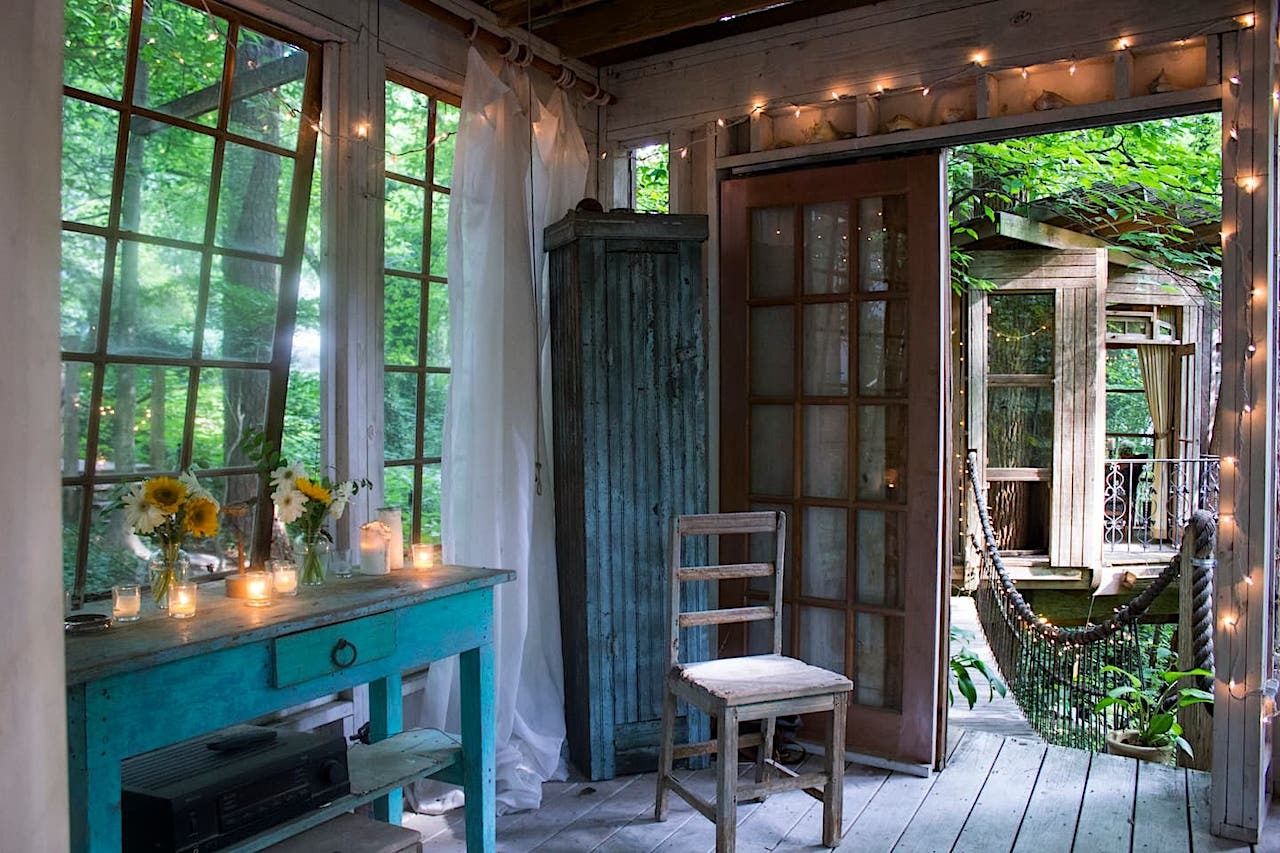 Photo: Airbnb
Named one of Airbnb's most wish-listed properties, this rental might look like it's in a secluded forest, but it's actually in the heart of Atlanta. The treehouse is made up of three separate structures, a sitting room, a double bedroom, and a hammock deck. The bathroom is located on the ground level in the main house, which guests have private access to. One of the main draws of this rental is its natural surroundings and its open-planned layout. It also has a double bed on wheels, so if the weather permits, guests can choose to sleep outside on the deck.
Price: $389 per night
3. Tiny one-bed farmhouse
Photo: Airbnb
An Airbnb Plus listing, this one-bed farmhouse is located near downtown but is hidden away in a peaceful wooded area. The white timber walls are accented with tasteful blue and green soft furnishings, artwork, and tiles. It comfortably sleeps four, but it is a perfect place for a trip with a loved one or for a solo booking. Downtown Atlanta is 10 or so minutes away and offers a wealth of historic sights, as well as Atlanta sporting venues where the Hawks and Falcons play, restaurants, boutiques, and cafes.
Price: $99 per night
4. One bed carriage house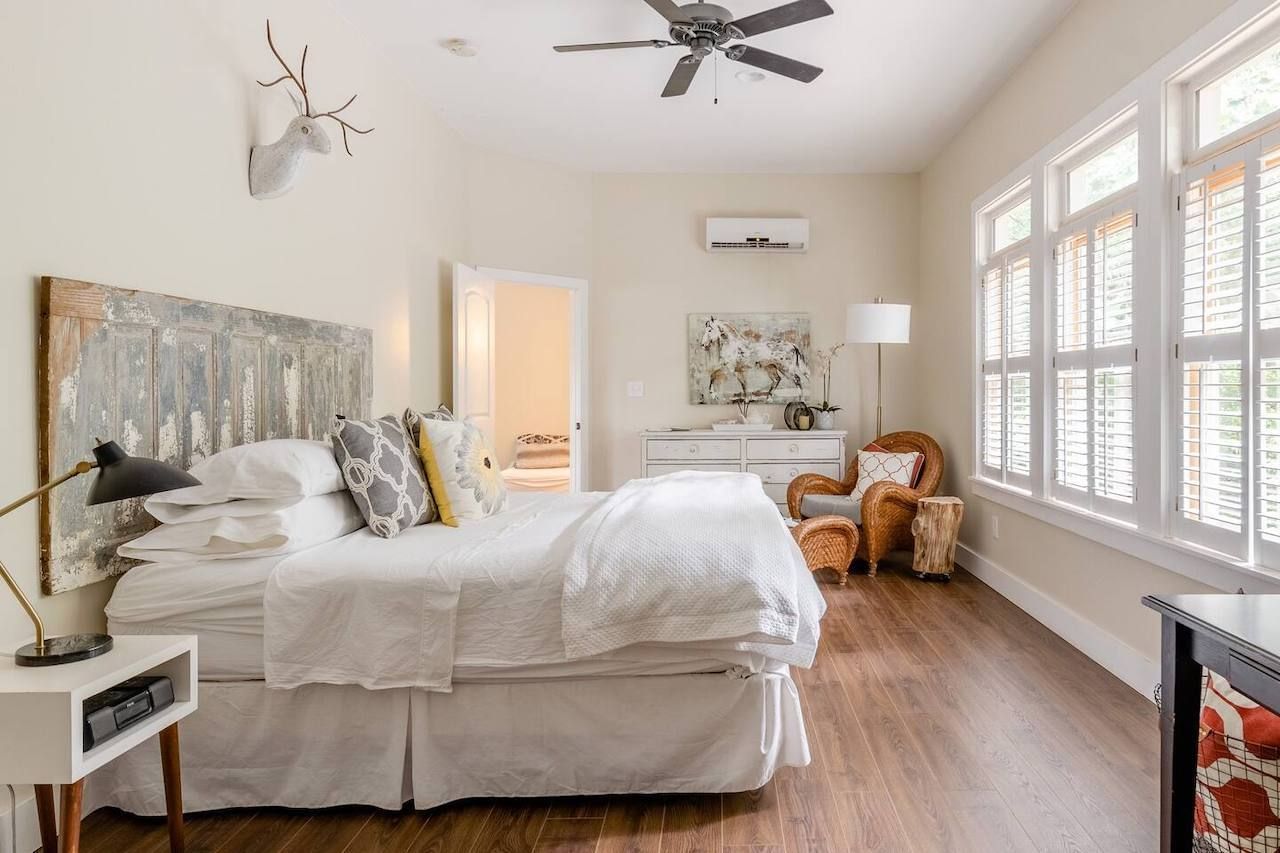 Photo: Airbnb
Secluded on the outskirts of Atlanta, this carriage house is a great option for those who want to be close enough to the city to do a little shopping and sightseeing but prefer a more low-key vacation. The interior is modern and stylish, with a very well decked-out kitchen and comfortable living room. Outside there is a smart patio area with seating, a grill, and an open fire. Some frequent guests have made it a regular place to stay as it's a super base for exploring the city.
Price: $99 per night
5. Charming cottage with Alpacas Llamas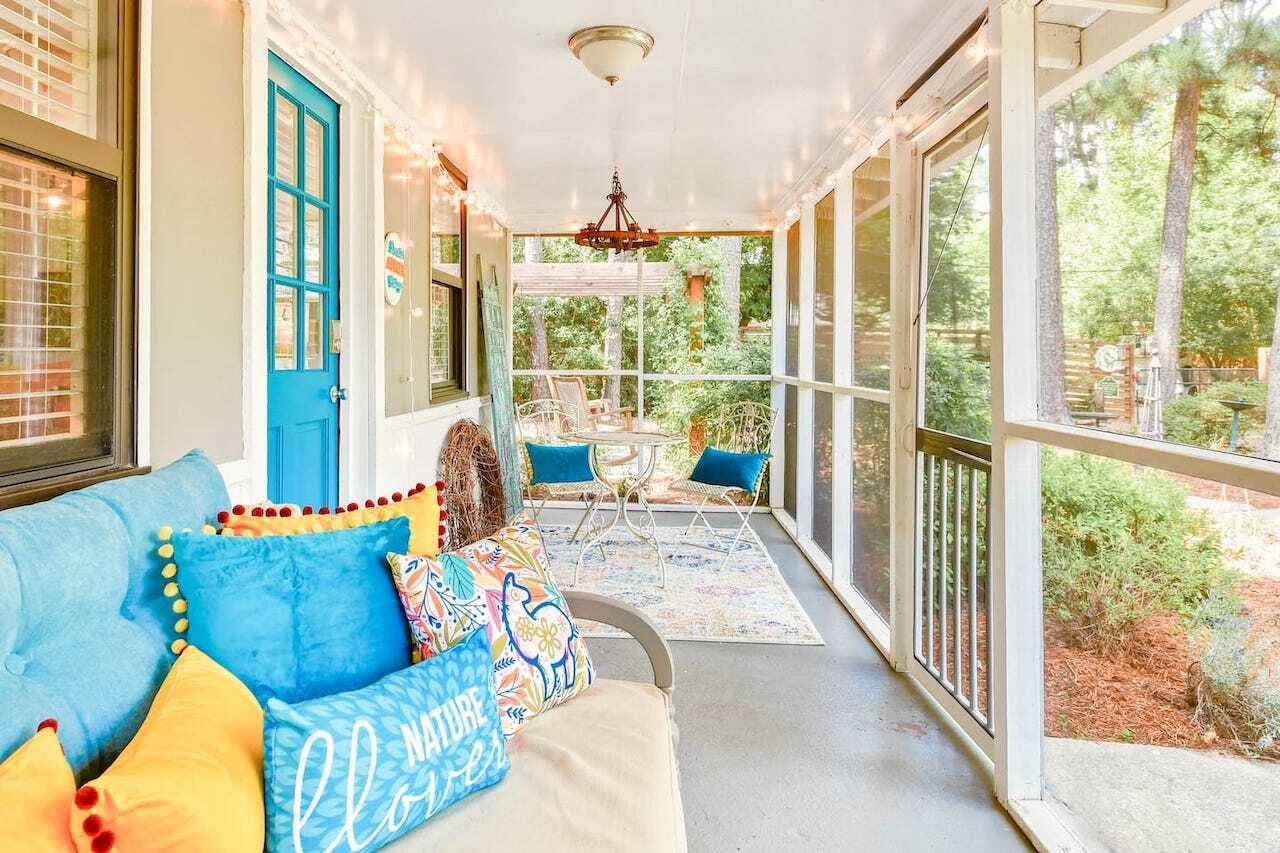 Photo: Airbnb
This unique and charming cottage is located on a family-run urban farm that is home to a herd of alpacas and llamas. This is another well-appointed property that would be great for those who have a vehicle and want to be outside of the city limits. The cottage is surrounded by dogwoods and pines, expansive perennial gardens, and an organic vegetable garden. The interior is stunning, with white timber-clad walls and brightly colored furnishings and textiles. There are many things to love about this property, but its porch (with a daybed) looks particularly welcoming as an ideal spot to relax with a book and hang out with some of the resident farm animals.
Price: $339 per night
6. Vintage two bed airstream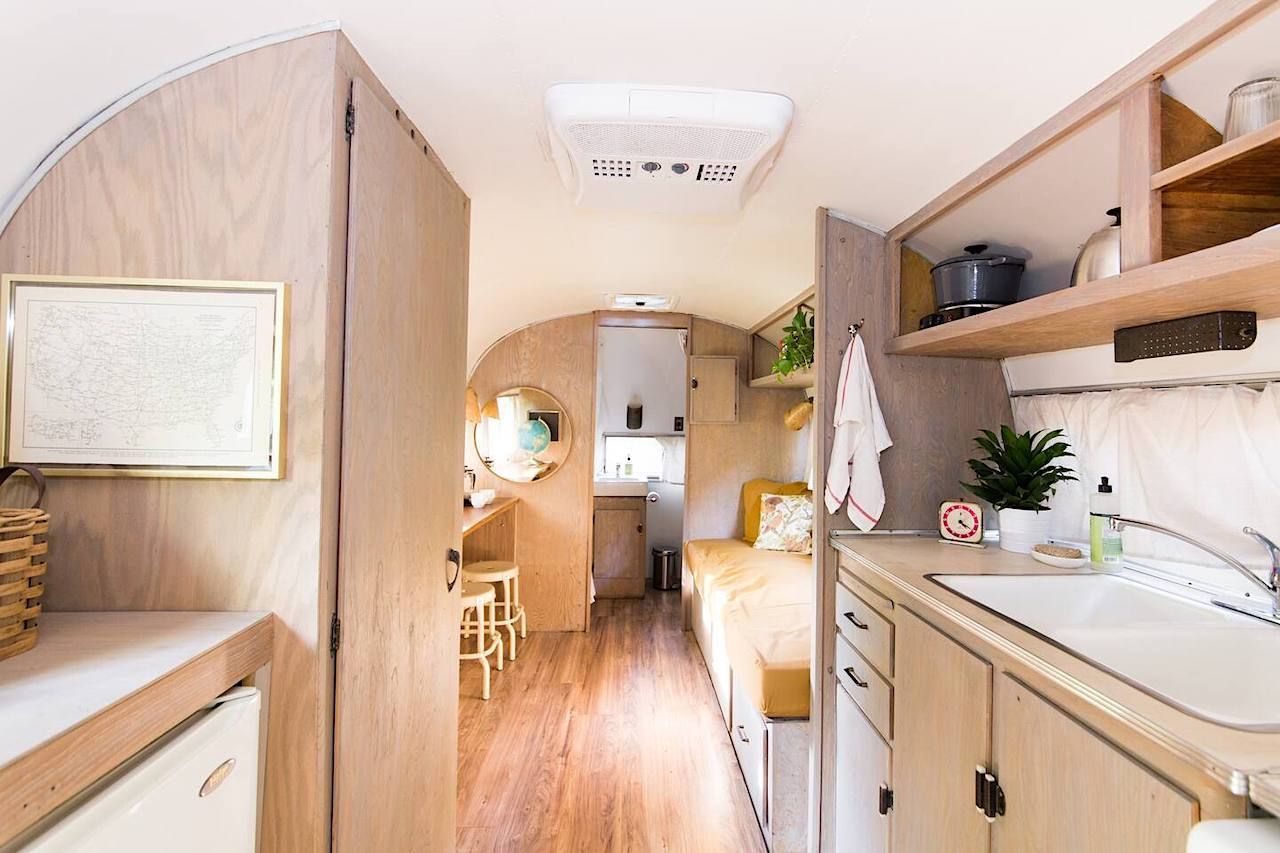 Photo: Airbnb
This restored 1957 airstream is located minutes from downtown in the Grant Park area. It's within walking distance from some of the city's best coffee shops, breweries, a weekly farmers market, and a huge range of restaurants. The recent renovation sleeps three, but due to its open-planned structure, it would be a great place to rent for a couple or solo traveler. It's described as a comfortable experience despite some limitations — the airstream does not have hot running water — but everything else from a fully functioning kitchen to a memory foam mattress makes staying here far from uncomfortable.
Price: $95 per night
7. Treetop view apartment in Candler Park bungalow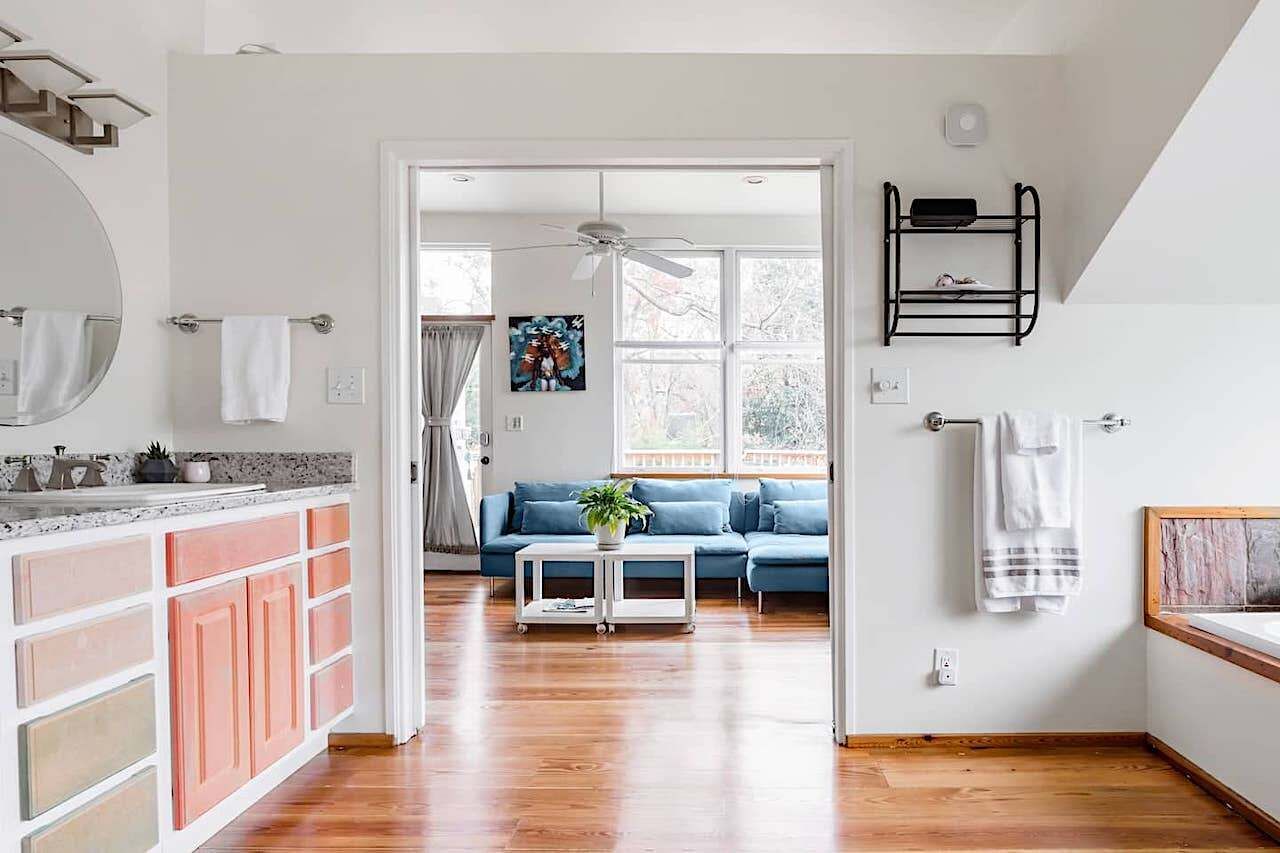 Photo: Airbnb
This studio is located on the second floor of a bungalow and is walking distance from the leafy Candler Park. The one-bed is spacious with 21-foot ceilings and a lovely porch with unobstructed city views. The decor is a pleasant blend of modern with antique accents. The property comes with a kitchenette — meaning no full-service cooking facilities — but for those who enjoy eating out, the neighborhood of Little Five Points is close by and has a range of excellent restaurants. Highlights include local favorite The Vortex Bar and Grill, The Porter Beer Bar, and natural food joint Arden's Garden.
Price: $99 per night