EVERY WEEKEND GROWING up, Calvin Eng would hop in the car with his parents and drive to Chinatown from their home in Bayridge, Queens, to visit his maternal grandparents. His mother would grocery shop in the neighborhood while Eng visited with his grandparents. They lived in Chinatown for 50 years in the same apartment on Bayard Street that they found when they first immigrated to New York City, and it's the same apartment Eng's mom grew up in when she immigrated here in 1964 at the age of 13 (she followed her parents, who set up their new life before she and her siblings arrived).
Manhattan's Chinatown, in other words, played an influential role in Eng's life from childhood.
At first, Eng, a young kid understandably eager to fit in with his peers, did not appreciate the tradition.
"To be honest, I was not a fan of Chinatown growing up," he tells me. "I thought it was dirty and loud, and I was ashamed of being Chinese and having to spend my weekends there. I barely had any Asian friends growing up in school. That's obviously changed now, but it's difficult and complicated when you're young. When you're young, you just want to fit in with everybody else and be accepted. It feels good to be where I am now, fully embracing my culture and myself."
Still, his memories of those weekend excursions to Chinatown aren't unpleasant. Eng remembers ordering lunch with his family, or if it was a special occasion, gathering at a family friend's restaurant to share a meal "over a large lazy susan table." Over the years, Eng has watched the neighborhood shift and evolve, as his family's favorite go-to spots close down or get remodeled until they're unrecognizable.
"Mei Lai Wah is a super old-school diner across the street from my grandparents' apartment," Eng recalls. "My go-to order was their beef cheung fun and baked pork buns because they used actual slices of marinated beef in the rice rolls, as opposed to ground beef, which made all the difference. They also used to sell these fried bowtie-shaped sweets that were piled high in the window, which I can still see very clearly. A lot has changed, and it has since been renovated; the bowties and the sliced beef cheung fun don't exist there anymore, unfortunately."
Though Eng once struggled to embrace his identity and heritage, he now calls Manhattan Chinatown his "favorite and most-visited neighborhood in the city." Eng speaks Toisan, the Chinese dialect spoken by the older generation of immigrants who live in Chinatown today, which makes it easier for him to navigate. But he's also honest about how long it took him to feel fully comfortable and at home in Chinatown.
"I would say I have only felt this way for the last five years or so to be honest," he says. "Like I said, it's complicated when you grow up. If it wasn't for the food, I'm not sure if I would have ever felt this way — I'm not sure I would have been given the opportunity to connect with it like I have. So I'm appreciative for that."
Today, food is a central facet of Eng's identity and career. As a professional chef, he's worked at Brooklyn's Taiwanese-American restaurant and bakery Win Son. This summer, Eng will open Bonnie's in Williamsburg, a Cantonese-American restaurant that he says is all about "embracing my culture — the culture I spent so long trying to reject growing up in this country." Eng's mother is the restaurant's namesake, a touching tribute to the woman who first introduced him to Cantonese cuisine (she also inspired the CBD-infused chili crisp oil he and a friend recently released, called Loud Grandma). But it wasn't until he landed one of his first professional cooking jobs at Nom Wah, arguably the most legendary and beloved restaurant in the neighborhood, that he learned to love the neighborhood he grew up with.
"I didn't fall in love with Chinatown until my time working for Nom Wah in 2016," he says. "I would grab breakfast from the rice roll carts on my way to work, and grab meat skewers on my way to the train after a shift, all on the same block. Taking the train to and from Chinatown every day, and walking along the streets, was incredibly inspiring for my growth, and it made me want to pursue Chinese food further."
Manhattan's Chinatown has been hit hard in the wake of the pandemic, which forced the closure of businesses that had survived the ever-evolving city's many upheavals for decades. Eng says now is the time to visit Chinatown in order to keep those that remain afloat. And the rash of horrific hate crimes against Asian-Americans sweeping the country makes it even more crucial to support the neighborhood now that safe travel is once again possible.
"I've noticed the younger generation is really trying to help preserve and keep Chinatown alive, especially during this last year with coronavirus and the increase in hate crimes," he says. "It's super inspiring to see the support from people who are young and motivated, and really proud of their heritage."
Eng adds that it's crucial for outsiders to show solidarity with the neighborhood too.
"I would encourage people to visit the spots that don't have a social media presence, the ones that rely on foot traffic and word of mouth," he says. "If you're not comfortable with indoor dining, hit up multiple spots for grab-and-go dishes and snacks."
One of his favorite day-long Chinatown routines: "Get a haircut, buy some frozen baos to go, take and share pictures, pick up fresh produce for the week, grab ingredients to make a dinner, pick up take out from your favorite spots," Eng says. "One of the simplest ways to support the community, to stand with us, is to put your money into our businesses. Chinatown is important to so many people, and a huge tourist attraction as well, so we need to continue to give back to a neighborhood that has been through so much and gives us even more. And the food is delicious."
Chef Calvin Eng's top five restaurants in Chinatown and what to order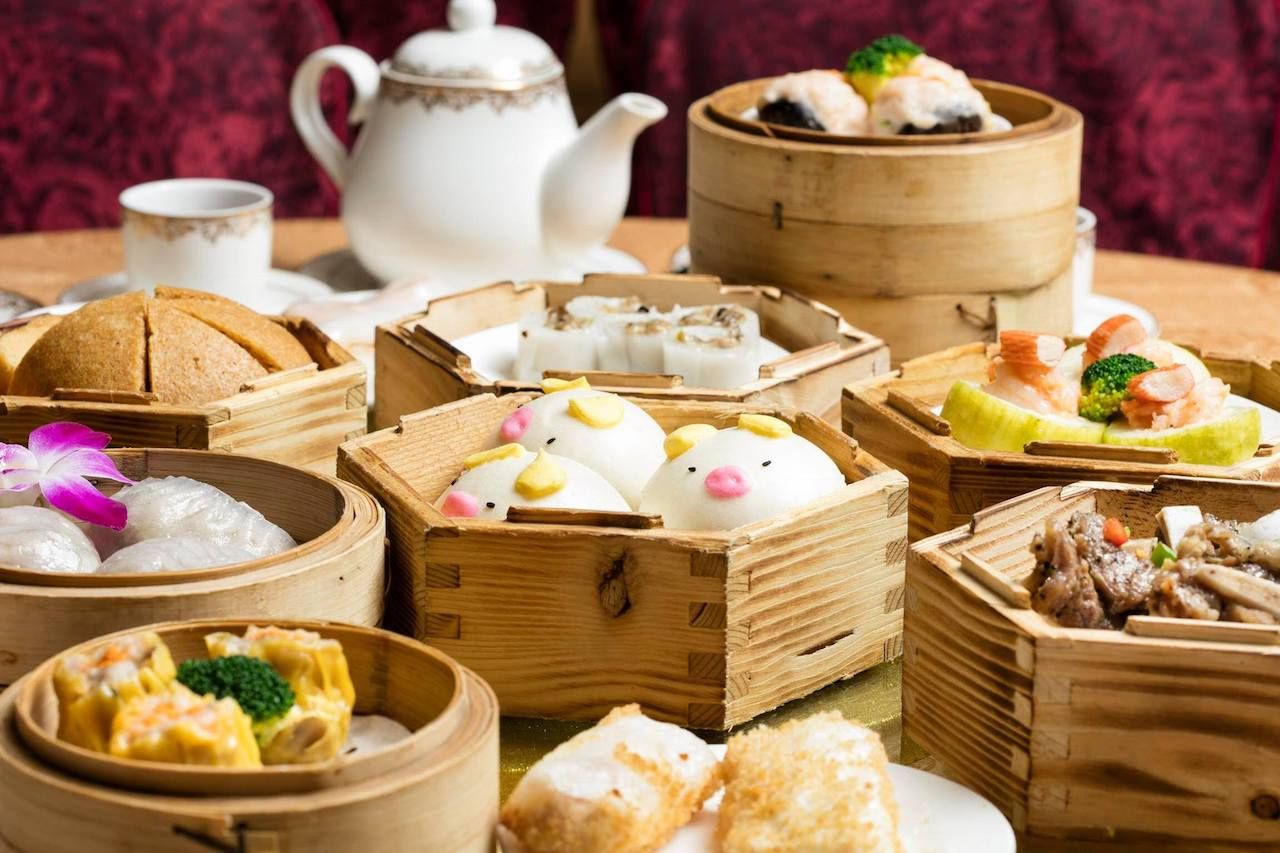 Photo: Kings Co./Facebook
King's Kitchen: "Serving Cantonese cuisine, King's Kitchen has a variety of options, but it is their roast meats that stand out," Eng says. "Order the cha siu, but ask for half fatty and half lean; you won't regret it. If that's not your preference, they do a great job with all of their roast meats, from pig to duck and goose, so you'll be satisfied no matter what. It's one of the newcomers that serves a newer generation while still accommodating and serving the locals as well."
Where: 92 E Broadway, New York, NY 10002
Bo Ky: "Bo Ky is an unassuming and authentic Teochew restaurant that should be on everybody's list," Eng says. He recommends trying the noodle soups, and the Whole Country Style Duck, which, he adds, "is very different from the Peking style that most Chinatown establishments offer."
Where: 80 Bayard St, New York, NY 10013
Grand Street Skewer Cart: "Opening and closing whenever they like, the Grand Street Skewer Cart is one of my go-to spots for street meat," he says. For a late-night snack, look for the stall near the Grand Street subway station corner. "Go for the lamb skewers, but get it spicy; the amount of fat throughout mixed with the heavy use of cumin works perfectly."
Where: Near Grand Street subway station
M Star Cafe: "M Star Cafe is a Hong Kong-style cafe and, in my opinion, the best one in NYC," Eng says. "The aesthetic, vibe, staff, and even the other customers will keep you coming back. Go for the rice noodles with peanut butter and hoisin for an authentic HK dish that you'll absolutely be ordering again."
Where: 19 Division St #1, New York, NY 10002
Ho Won Bake: "My mom used to love their wife cakes, which are chewy desserts filled with sweet winter melon," Eng says. "Chueng fun with dried shrimp, scallions, and pork is my go-to, but make sure you order at least two. It's across the street from Hong Kong Supermarket, which I frequent very often for dry goods and snacks, and also recommend."
Where: 146 Hester St A, New York, NY 10013