IN INDIA, no occasion takes place without desserts. A dessert is served at celebrations from birth to death, and religious feasts and festivals are big on sweets.
Traditionally, a homemade dessert was a must after every Indian meal, though a piece of jaggery (a brown sugar from palm tree sap) was offered if a full dessert was absent. Desserts like rice kheer are mentioned in ancient Sanskrit texts of India. They're offered to deities and form an integral part of Hindu festivals. Desserts like phirni, a must in Ramadan feasts, have Persian origins while the multi-layer cake bebinca, a favorite during Goa's Christmas, has Portuguese influence. Foreign invaders, settlers, migrants, and traders have all contributed to the smorgasbord of desserts India has.
Today, Indian desserts are usually made of milk, sugar, lentils, jaggery, coconut, and cereal grains, but the exact type of dessert served depends on what part of India you're talking about.
There are few common pan-Indian desserts, and there are as many options as are there are different communities, cultures, religions, and geographical regions in the country. Every region, and in some cases every town, boasts its own dessert or a local version of a common one. Visit any old lane of a city and you'll find the traditional sweets maker, called a halwai, deep frying a sweet or stirring a kadhai (a type of deep cooking pot) full of milk.
These 10 regional Indian desserts will satisfy any sweet tooth.
1. Kheer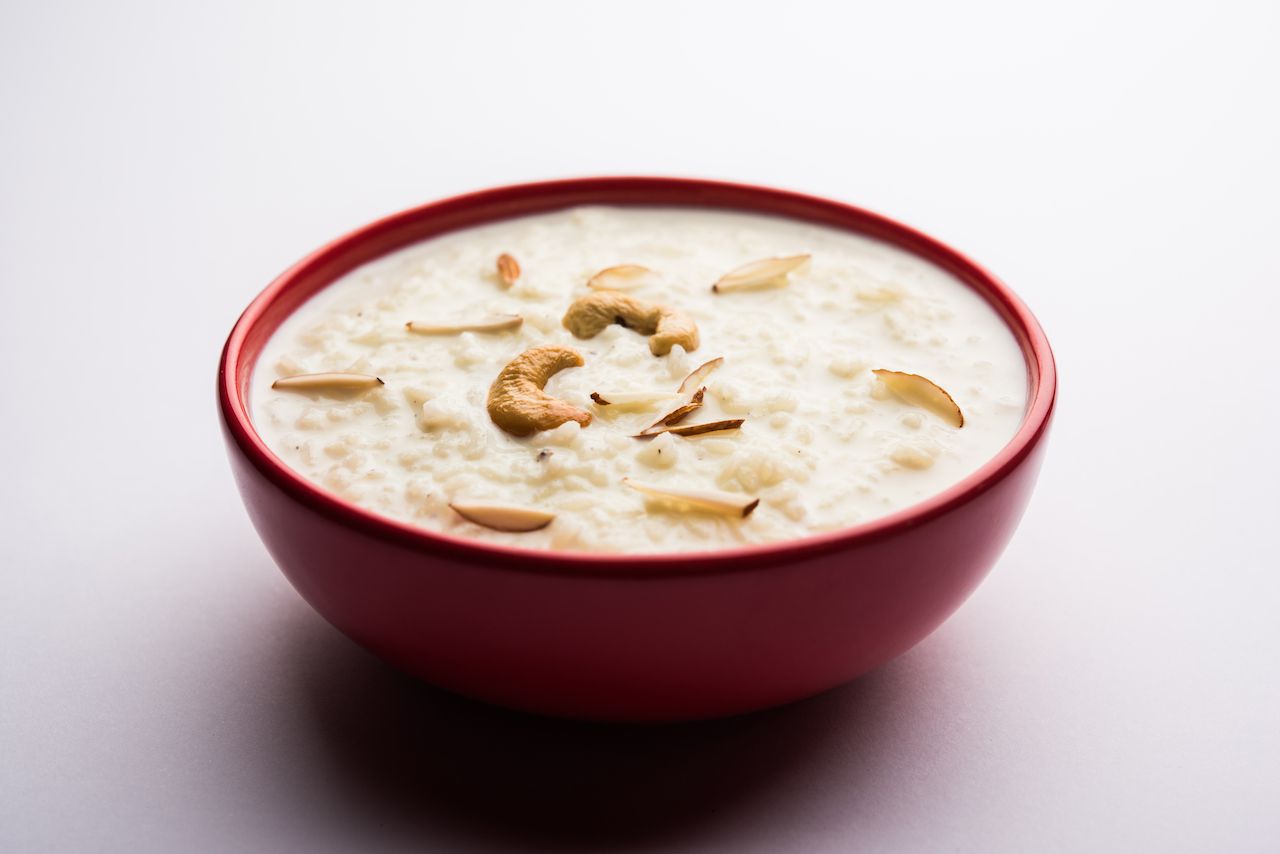 Photo: Indian Food Images/Shutterstock
Kheer is one of the most ancient Indian desserts, and it's found all over India with some regional variations. A sacred dessert, a festive dish, a fasting food, or an occasional indulgence at home, it's easy to make and delicious to eat. It's made by boiling milk and then adding an aromatic rice variety and simmering in low heat until the mixture thickens. It's then garnished with bits of dry fruits and cardamom powder and viola: a no-fuss fragrant and sumptuous dessert is ready.
Depending on the region, the rice could be replaced with sooji (semolina), phool makhana (foxnut), sabudana (made with tapioca roots), or even grated carrots and lauki (a type of bottle gourd). Kheer made with short cut vermicelli noodles called seviyan (or sometimes semiya payasam) is a must during the Muslim festival Eid. Parsis in India make kheer with a hint of nutmeg that's known as doodh pak.
India's northeast state of Manipur produces the finest black rice, chakhao amubi, and kheer made of this black glutinous rice is a delicacy there.
In south India, kheer is called payasam and is served during celebrations or momentous events. It is rich and creamy, with the most traditional preparation replacing milk and sugar with coconut milk and jaggery, a truly vegan dessert. During the Hindu festival Pongal, recently harvested rice is boiled in milk with jaggery, and the Onam festival in Kerala features kheer in a festive feast called sadhya.
2. Pitha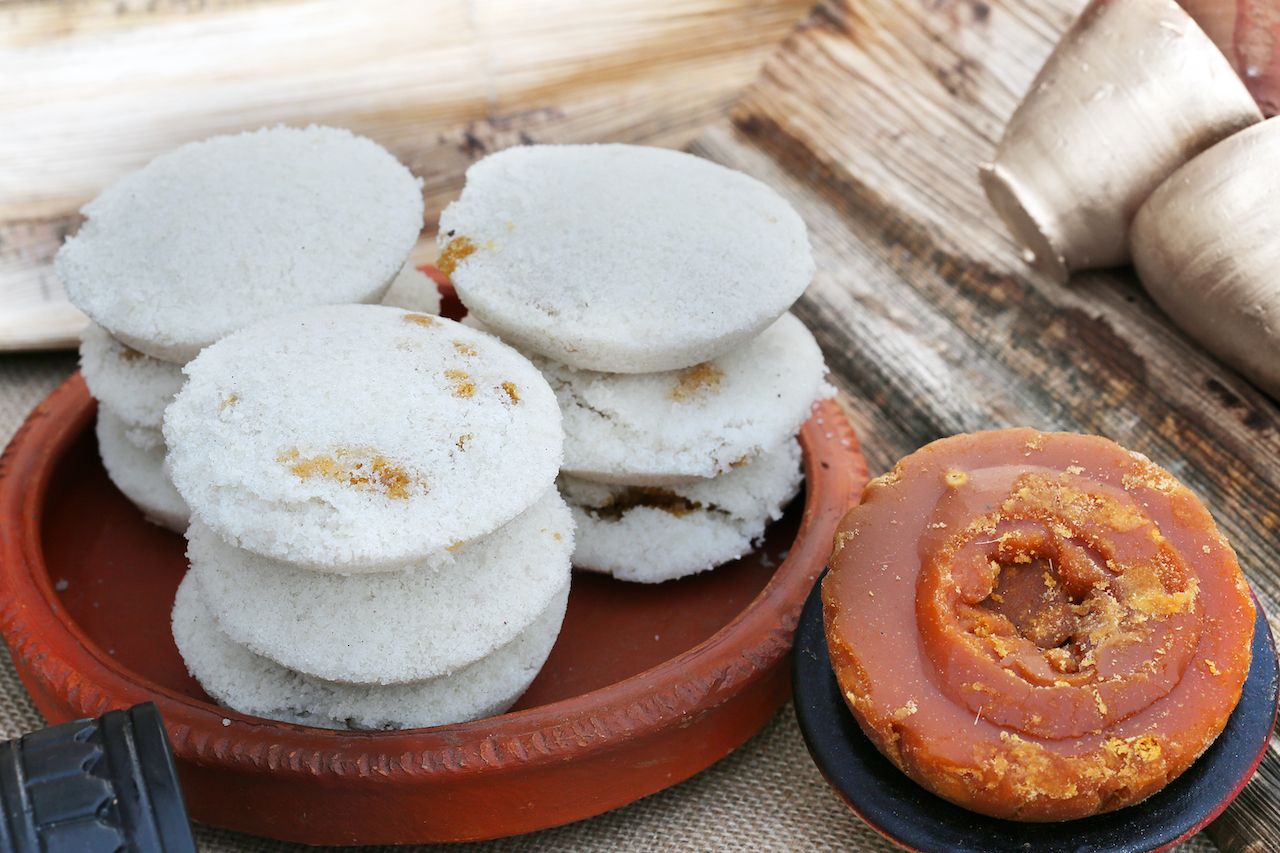 Photo: Susmita Dutta Saha/Shutterstock
Rice is the staple food of India. The cereal grain is used to make a traditional, sweets-filled rice flour dumpling dessert called pithas — especially in the rice-producing regions of east, central, and south India.
Pithas are steamed rice flour dumplings filled with a sweet stuffing like jaggery, coconut, til (sesame), khus khus (poppy seeds), and mawa (dried whole milk), among others. They're commonly prepared during the rainy season and winter. During the harvest festival of Makar Sankranti on January 14, Bengal's version, called bhapa pitha, and doodh puli pitha (dumplings in milk) are a delicacy. In the northeastern state of Assam during the harvest festival Bhogali Bihu, pithas are a pancake of sticky rice stuff with til and jaggery.
During the popular Ganesh Chaturthi festival in the western state of Maharashtra, steamed pitha known as modak is stuffed with jaggery and freshly grated coconut and offered to Lord Ganesha. In Kerala, a similar pitha known as kozhukattai is made during Easter by Syrian Christians.
3. Pua and malpua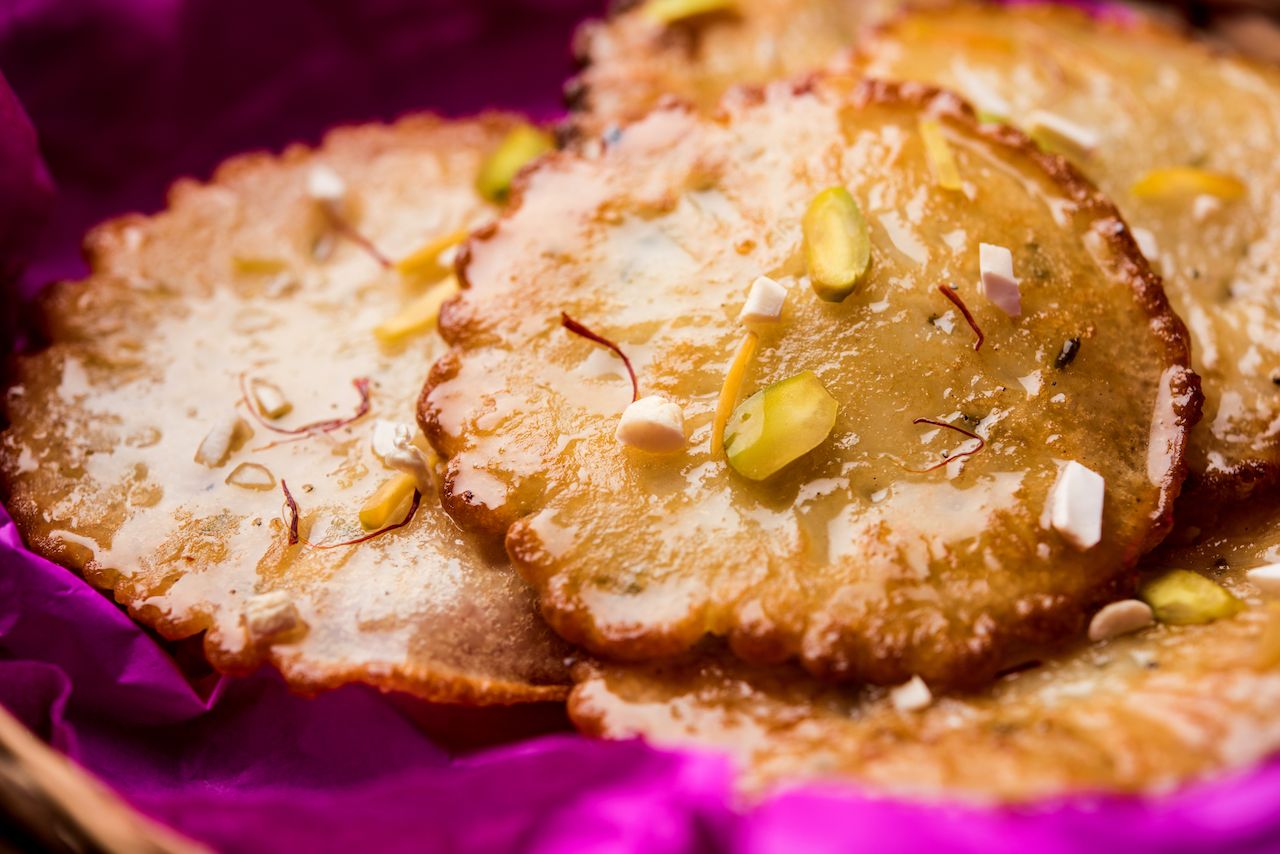 Photo: Indian Food Images/Shutterstock
Pua are discs of deep-fried sweet pancakes that are soft on the inside and crispy on the outside. They're made with maida (refined white flour). Pua are mentioned in the ancient Veda text as apupa, where they're made of barley flour sweetened with honey.
Pua is a popular dessert during the Holi festival in the states of Bihar and Uttar Pradesh. It's also a common temple offering. It can be made in several ways: dry, ras pua, malpua, or chhena pua.
Dry pua has sugar mixed in the batter of milk, maida, and mashed banana, and it's fried on low heat. Ras pua is soaked in sugar syrup after it's fried, while malpua is rich in dry fruits or nuts. Malpua is an indulgent dessert with lots of dry fruits and eggs in the batter. It's eaten during iftar (breaking fast) during Ramzan leading to Eid-ul-fitr festival. The sizzling malpuas of Mohammad Ali Road in Mumbai are famous.
Chhena (cottage cheese) malpuas are found only in Rajasthan. Pushkar in Rajasthan is synonymous with malai malpua, which is topped with raabdi (a sweetened milk) and found in lanes around the Pushkar lake. In eastern state of Odisha, malpua is a popular street food.
4. Phirni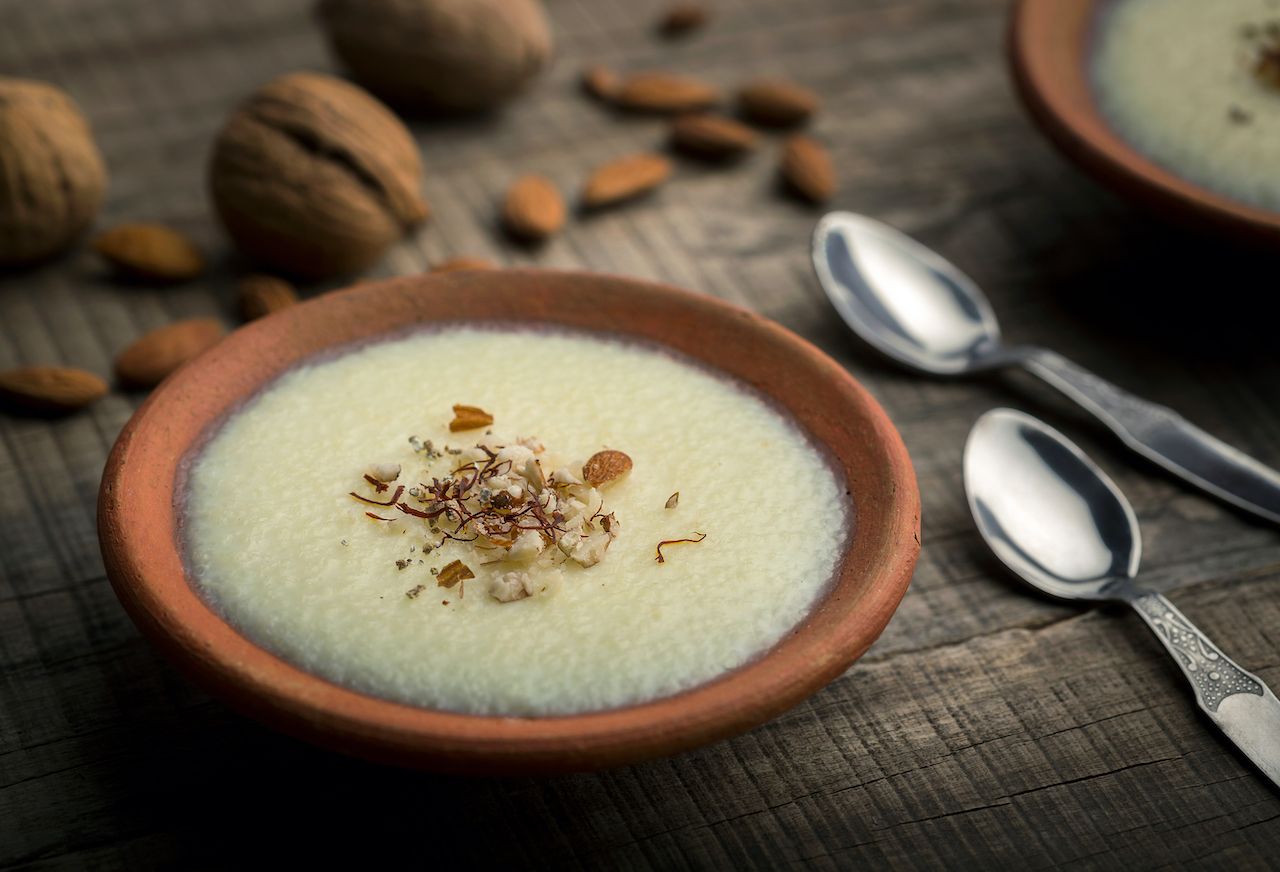 Photo: Prabhjit S. Kalsi/Shutterstock
Associated with the Muslim festivals of Eid and Ramadan, phirni is a popular dessert in north India and is still found in the winding lanes of Delhi and Lucknow. It's made with fine basmati rice that's coarsely ground and simmered in whole milk and flavored with cardamom, rose water, and saffron. It looks royal garnished with slivers of almonds and pistachios and vark (silver leaf).
Phirni is served in earthen cups called sakora or mitti ki kasoor that soak up any excess water and lend an earthy fragrance. The mildly sweet, thick, creamy, and grainy dessert melts in your mouth when served chilled. It's a grand finale to heavy Mughlai meals or biryani feasts.
It is wildly speculated that phirni came to India from Central Asia prior to, or with, the Mughal invaders from the northeast. Similar milk-based dishes are still popular in Central Asia, and phirni was a regal dish relished by the Mughals.
5. Halwa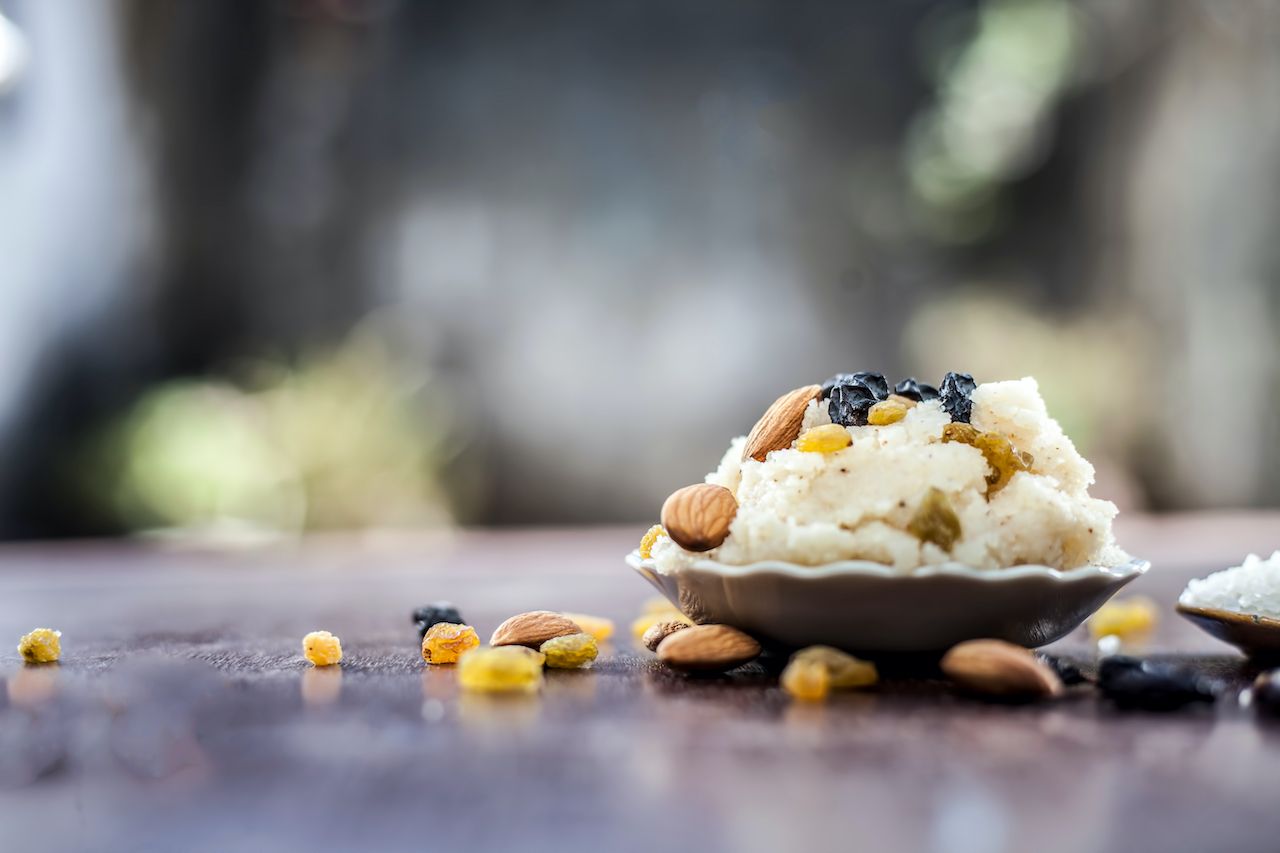 Photo: mirzamlk/Shutterstock
Halwa, or halva, is a sweetened flour, ghee, and jaggery dessert that's very popular all over India. It's even served as a special treat for hard-working government workers: During the halwa ceremony, the country's government finance workers are presented with a massive bowl of halwa.
Halwa seems like it's endlessly customizable. Halwas can feature anjeer (fig), badam (almonds), kaju (cashew), doodhi (bottle gourd), besan (chickpea flour), sohan halwa (mawa and dry fruits), Bombay halwa (transparent cornflour halwa), and mandua ka halwa (ragi) to name a few.
Halwa is also a divine offering in temples and gurdwara (a place of worship for Sikhs). Sooji ka halwa (made with semolina) is a common offering during the Navratri festival. In Sikhism, a halwa made with wheat flour called kada prasad holds divine significance. Sooji ka halwa is also turned into an anytime dessert with dollops of ghee, sugar, and dry fruits. Moong dal halwa made with yellow mung lentils are popular in Rajasthan, and gajar halwa made with carrots is delicacy of north.
6. Laddu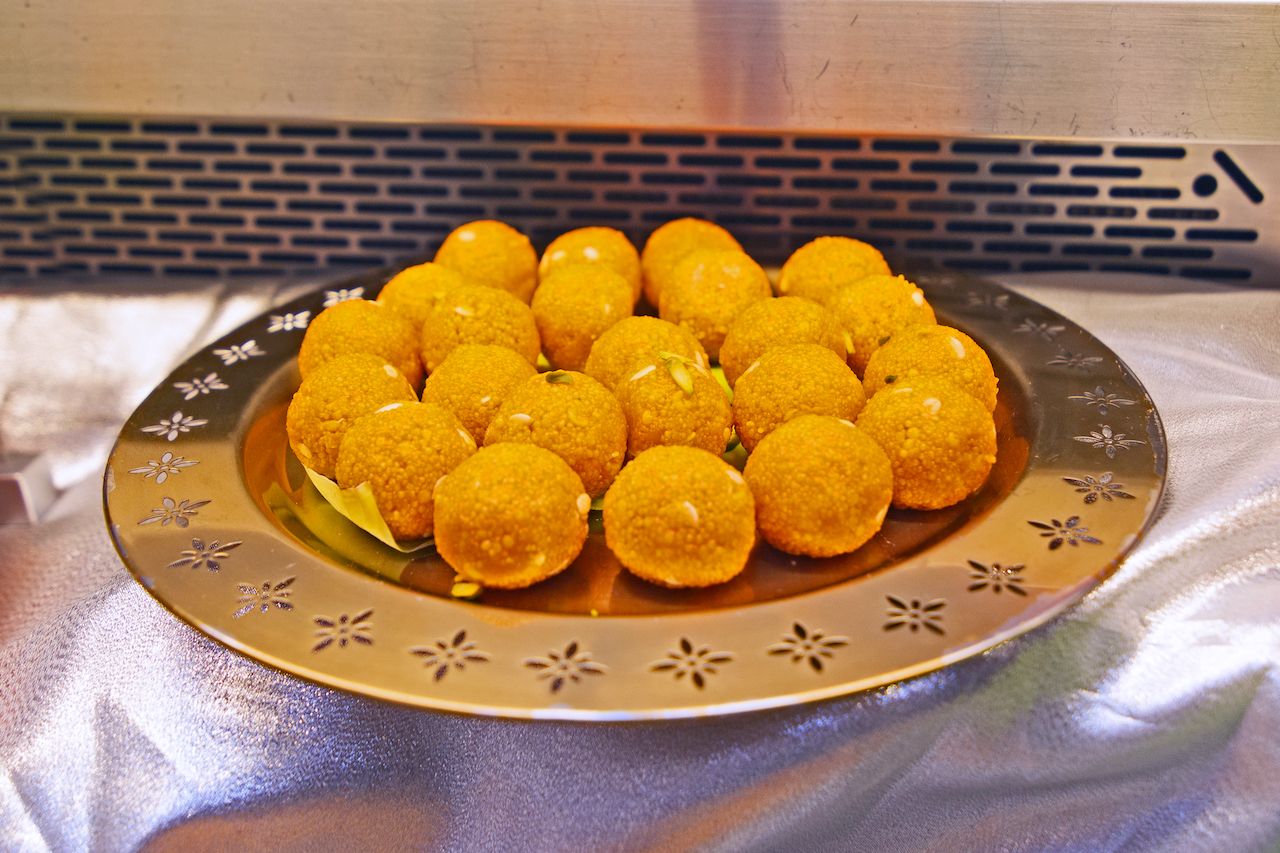 Photo: Sanoop.cp/Shutterstock
These sweet balls made of flour, fat, and sugar are a must-buy from every sweet shop. The versatility of laddu, also sometimes spelled ladoo, makes it special. It can be made of a variety of ingredients, which can change depending on the season or event. The name of the dessert is related to joy of all kinds: To any good news, people will say, "laddu baato" (distribute laddus).
Til ka laddu (roasted sesame and jaggery) is made in the winter during the Makar Sakranti festival. Other warming laddu that are common in the colder months include panjiri ki laddu (a mixture of foxnut, semolina, wheat flour, and dry fruits), sonth aur methi ka laddu (dry ginger and fenugreek), and gondh ka laddu (edible gum resin). The sonth methi laddu is traditionally given to lactating mothers.
Like some of the other desserts on this list, laddu are also common offerings in temples — particularly besan (ghee and cardamom), motichoor (smaller laddu), and nariyal (coconut) laddu. Then there are the crispy and crunchy murmura (puffed rice) and chura (flattened rice) laddu.
Some temples' claims to fame are not only the revered deities but also the laddu prasad (offering) they have. The laddu of Tirupati temple and Shirdi and Sankatmochan (in Varanasi) are delicious.
During COVID-19, many sweet shops started making Ayurveda-based laddu of different herbs and seeds, selling them as immunity booster laddu like the Muesli-Ashwagandha laddu.
7. Rasgulla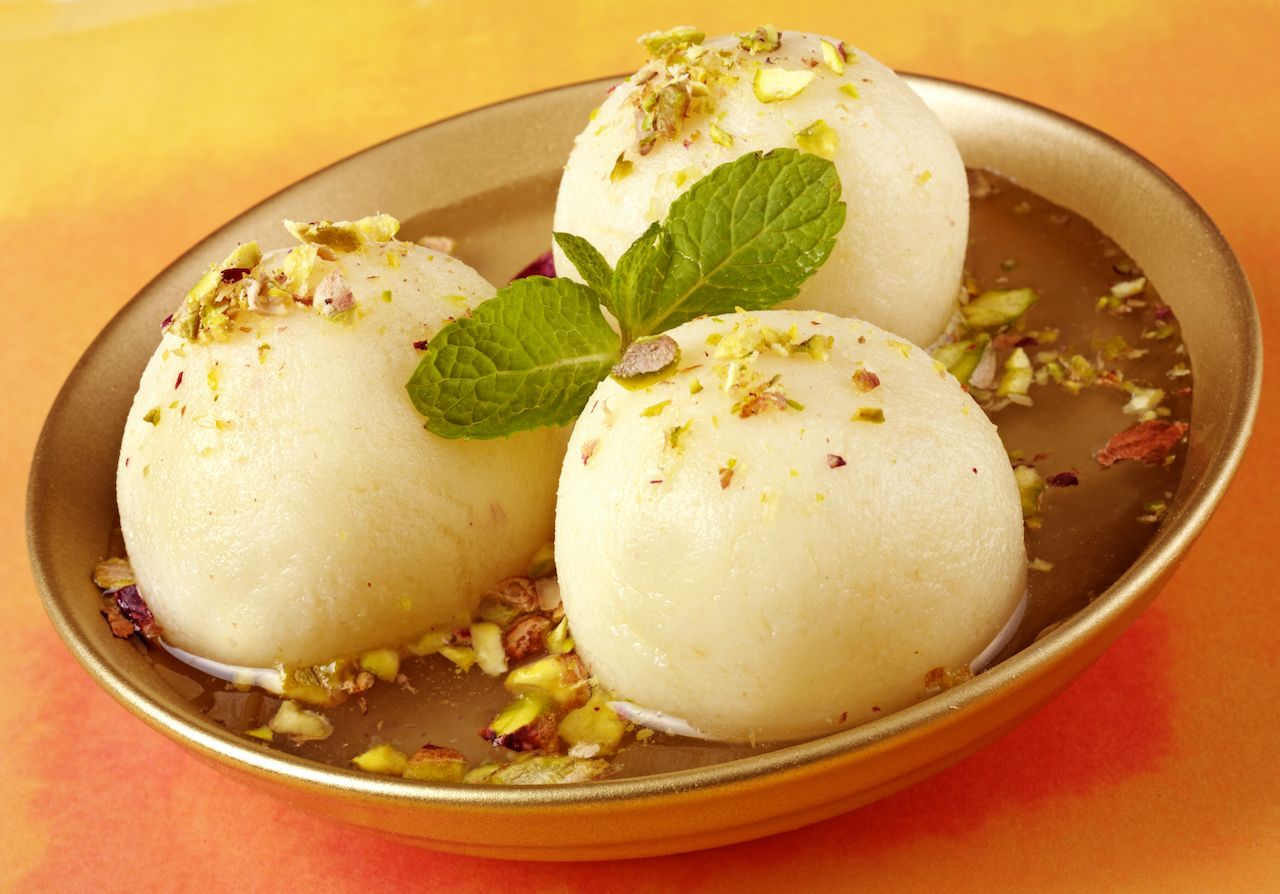 Photo: CKP1001/Shutterstock
Rasgulla, a round ball of chenna (cottage cheese) that's dunked in a light sugar syrup, is a much-loved dessert in eastern India. If you pop one in your mouth, it oozes with sweetness, and British colonizers were extremely fond of the sweet.
The dessert's origins are a bit hazy. One story is that Nobin Chandra Das, a Kolkata confectioner, invented rasgulla in Bengal in the 19th century, though the state of Odisha disputed it. The rasagola (in Odiya) had been offered as bhog (food) to the Goddess Lakshmi in the revered Jagannath temple in Odisha long before that.
Bengal's rasgulla is soft, spongy, and chewy while the Odisha one is soft and not chewy. Rasgulla made of chenna and nolen gur (palm jaggery) is a winter specialty of Bengal. All versions of rasgulla are delectable desserts.
8. Kulfi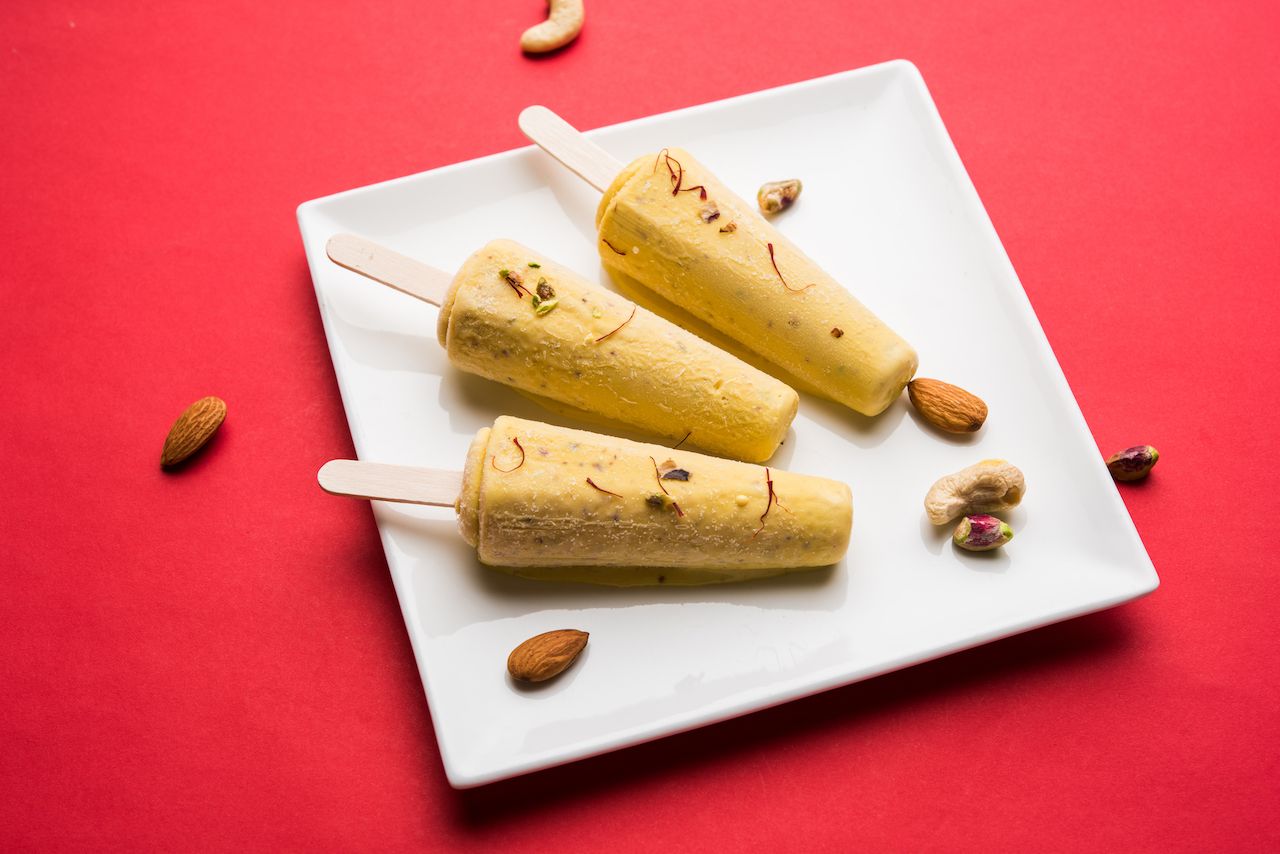 Photo: StockImageFactory.com/Shutterstock
Kulfi is India's version of rich and creamy ice cream. It's made by heating milk over a low flame until it thickens, and then is left to cool.
Traditionally this reduced milk was mixed with nuts (typically almonds and pistachios), sugar, and cardamom or saffron for flavoring. It was poured in kulfi moulds and placed inside a matka (earthen pot) filled with the ice and salt mixture. This resulted in fast freezing and a delectable smooth kulfi. These are served dipped in raabdi (sweetened milk) or cut in circular discs.
The available flavors today include mango, kesar-pista, chocolate, custard apple, and even paan kulfi made with betel leaf.
9. Jalebi
If you're hit with a heady sweet smell while walking down a street in India, chances are that you're smelling jalebi dunked in sugar syrup and served hot. Made of a fermented wheat flour called maida and a yogurt mixture that's then fried, jalebi-making is an art. It's often accompanied with raabdi to make a delicious dessert. Other popular types include chenna jalebi with cottage cheese and a version popular in central India that's shaped into a spiral called mawa jalebi.
10. Bebinca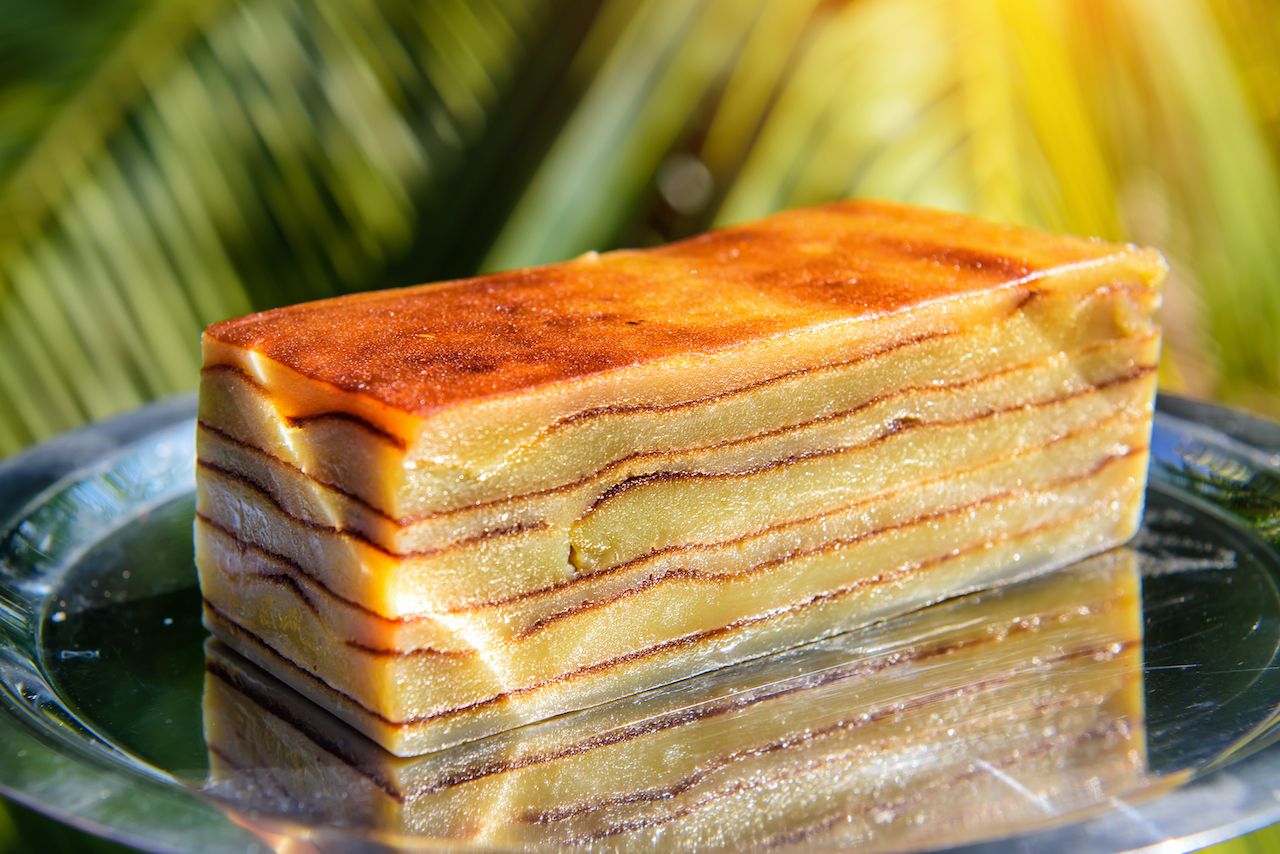 Photo: exebiche/Shutterstock
Known for its sun, sand, and beaches, Goa has a strong Portuguese influence in its culture and cuisine. One of the most popular Goan-Portuguese desserts is bebinca (also known as bibik), which is a multi-layer cake made during Christmas, Easter festivals, and on any celebratory occasion. It's a rich, decadent, and gooey dessert made with lots of ghee, flour, eggs, sugar, and coconut milk.
Though the ingredients are simple, it takes immense patience to make. A minimum of seven layers are baked one at a time before adding the next layer. The slow cooking helped earn bebinca the moniker "the queen of Goa" desserts.
Bebinca was created during the 17th and 18th centuries. The Portuguese ruled Goa during that time, and legend has it that one of the nuns from the convent of Santa Monica invented bebinca. The nuns used egg whites to whiten their habits, which left them with a lot of yolks. So they whipped them with flour and created a new dessert.